When it comes to Reverse Engineering and Inspection we are always aiming at offering you high-quality, userfriendly and accessible 3D scanning tools in combination with cutting edge software technology. This time we teamed up with our trusted software partner Verisurf to offer you a unique hybrid solution in a double sense:
EinScan HX Hybrid Light handheld 3D Scanner
meets Verisurf Hybrid Software Solution
Because the best is just good enough for us and we are aware that each of you has different requirements in their everyday work and life when it comes to 3D scanning, Inspection and Reverse Engineering we came up with 3 bundles at a very attractive price to upgrade your industrial 3D scanning jobs easily and efficiently.
EinScan HX & Verisurf Reverse Engineering Software Bundle
EinScan HX & Verisurf Inspection Software Bundle
EinScan HX & Verisurf Premium Bundle (Reverse Engineering & Inspection)
Uniquely incorporating laser and structured light 3D scanning technologies in one device, EinScan HX is the perfect entry level industrial 3D scanner facilitating reverse engineering and inspection tasks in a wide array of disciplines and environments and empowering anyone to acquire high accuracy 3D scanning data at fast pace.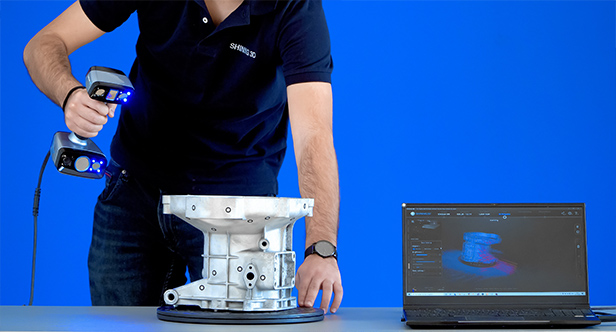 Verisurf is a 3D measurement platform for manufacturing inspection, tool building and reverse engineering.  The open platform and enterprise-wide interoperability allow customers to complete any measurement and extensive reverse engineering task in the respective software solution. Being an open platform for CMM and 3D scanning solutions simultaneously, Verisurf enables users from a broad range of contexts to manufacture precisely the answers to the customers´ needs.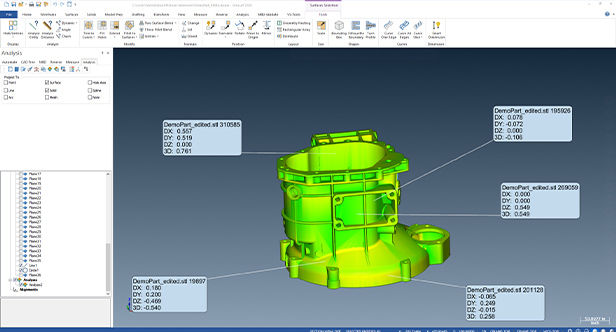 With the fusion of the joint capacities of both the EinScan HX hybrid light laser and LED 3D scanner and the powerfully tailored software bundles by Verisurf you can now explore unprecedented accuracy and efficiency to effectively meet the needs of your project. Select your software bundle depending on the main focus of your daily working routine and unlock innovation with blue laser, LED light and strong digital tools for inspection and reverse engineering. Start manufacturing answers: fast, efficient and smooth – with EinScan HX powered by Verisurf.
Offline Inspection Suite
The Verisurf 3D Scanning and Inspection Suite integrates Verisurf's CAD and ANALYSIS modules and tackles inspection challenges head-on. Verisurf's unique, CAD-based architecture can read any file format and has the most flexible reporting capabilities available. Create colorful deviation plots highlighting any nonconformance between measured parts and nominal CAD—all in a Windows-standard graphical interface that always delivers a superior user experience.
Flexible best fit options reduce scrap and rework
Embed stunning color results in your reports
Fastest align-inspect-report
Measure any 2D or 3D feature type
Memorize steps to create reusable plans
Full MBD (GD&T) import and annotation
Compare as-built to any nominal CAD source
Advanced best fit increases conformance rates
Offline Reverse Engineering Suite
Verisurf's 3D Scanning and Reverse Engineering Suite includes CAD and REVERSE modules and is uniquely suited for any reverse engineering project. The suite features an extensive set of tools for editing, meshing, and surfacing pointcloud and mesh data. Because all Verisurf solutions are CAD based, the suite also includes an extensive toolset for completing the 3D CAD model using your measurement or scan data.
Verisurf is fully compatible with the Mastercam NC programming application—allowing you to measure, mesh, and model your part and then use Mastercam (sold separately) to program and drive CNC or additive manufacturing equipment to complete the manufacturing process using a single file.
Import scan or probe data from any device. You can even start with a drawing
Verify solid model to part conformance
Extensive pointcloud meshing and surfacing tools
Align multiple pointclouds to each other or to CAD
Fit contiguous smooth surfaces through pointclouds and meshes with Power Surface
Extensive editing, smoothing, and best fit tools
Offline Reverse Engineering & Inspection Suite
The Reserve Engineering & Inspection Suite unites the capacities of both software modules and offers the best solution for applications  requiring high flexibility in quality control and reverse engineering.