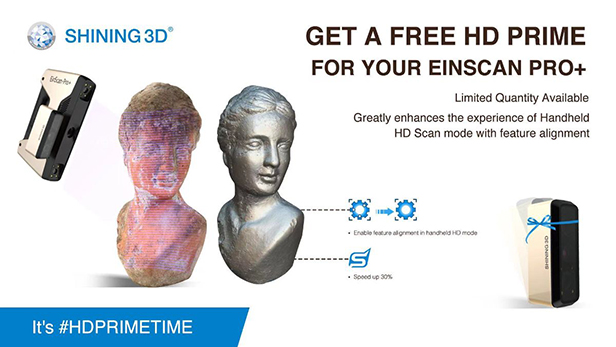 We want to celebrate the origins of EinScan. If you don´t own the HD Prime Pack yet, this is for you!
We will be giving away for FREE a limited quantity of HD Prime Packs for EinScan Pro +.
How it works: you apply for the HD Prime Pack by submitting a project idea you want to complete with your Pro + and the Prime Pack via the button below.

The HD Prime Pack allows makers-free scanning under Handheld HD Scan mode when the object surface has enough geometries, greatly enhancing the scanning efficiency. The scanning speed is increased by 30% under Handheld HD Scan mode, rapidly capturing high-accuracy and high-resolution 3D data. Want to learn more? Watch now!
The SHINING 3D Team will evaluate your proposal, if you are selected you will get the Prime Pack for free. You carry out your project and share project photos, videos, case study with the SHINING 3D Team and on social media with #hdprimetime.
Your content will be featured on our blog and channels as well ( you will get the credit).
As already mentioned limited quantities only, so hurry! We´d be excited to have you on board!
If you have any questions, please feel free to reach out to us via marketing@shining3d.com.