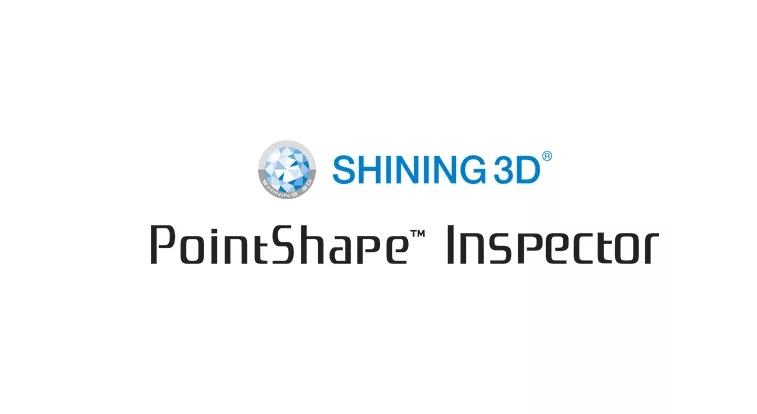 Hangzhou, China, 27th Oct 2017 – SHINING 3D, the leading company in 3D digitizing and 3D printing industry, announced a joint partnership with PointShape, the well-known engineering and software developing company. This new partnership provides users with both world-leading 3D scanning technologies and cutting-edge industrial 3D software, empowering and streamlining a competitive solution for our users' application in terms of inspection, measurement process, custom modification, reverse engineering and many others.
Currently, both the PointShape Inspector Full version and the PointShape Inspector Lite version will be available to all SHINING 3D users. The combination offers customers' access to world-class tools for various industrial applications. The PointShape Inspector software makes industrial product inspection easier and greatly improved the efficiency of the measurement process.
With more than 13 years' proven experience, SHINING 3D is continuously working to maintain its role as an innovative pioneer, and it is not only committed to continuously bringing the latest 3D technologies and products to customers, but also push the boundaries for offering effective digital 3D solutions with a lower price. "Through cooperation with sharing OEM partners with a similar vision, such as the likes of PointShape, our combined solutions are aimed to increase overall efficiency of 3D inspection projects, enable engineers to leverage 3D point cloud data at levels that exceed traditional measurement methods", said Oscar Meza, VP of global sales at SHINING 3D.
SHINING 3D owns various 3D metrology scanners to meet all kinds of industrial applications. The FreeScan series is a portable handheld 3D laser scanner series, applicable for a wide range of operating environments and a variety of measured objects. The OptimScan series equipped with latest blue light scanning technology in the market, is suitable for high-end applications.
Learn more from http://en.shining3d.com/.
PointShape Inspector is a powerful industrial 3D metrology software allows importing all major CAD programs raw data. It's especially applied to industrial quality assurance by digitizing parts with 3D scanners and evaluating the deviation of the manufactured parts with the nominal CAD data. With a simple workflow and user-friendly interface, PointShape Inspector provides the users with the most accurate analysis and shortest time.
Learn more from http://www.pointshape.com/inspector/.
About SHINING 3D
SHINING 3D was founded in 2004 and quickly became China's first OTC stock company in the 3D digitizing and printing industry.  With business areas covering 3D scanning, 3D printing, 3D materials, 3D design and manufacturing service, and 3D network cloud platform, Shining 3D is the industry leader in multiple aspects, including overall strength, sales volume, technology varieties, and service support capability. As the leading Chinese 3D printing company, Shining 3D has won international influence with customers in more than 70 countries throughout Asia, the U.S., Europe, and the Middle East.
For more information, please contact us at
Tel: +86 571 82999050
Email: sales@shining3d.com
About Dream T&S
Dream T&S is a South Korea based company well known for engineering and software development. They have released the PointShape Advanced software, a powerful software that enables relatively detailed images and large data sets.  In February 2017, Dream T&S released Point Shape Inspector and has become one of the industry's leading inspection application. Learn more from http://www.pointshape.com/.