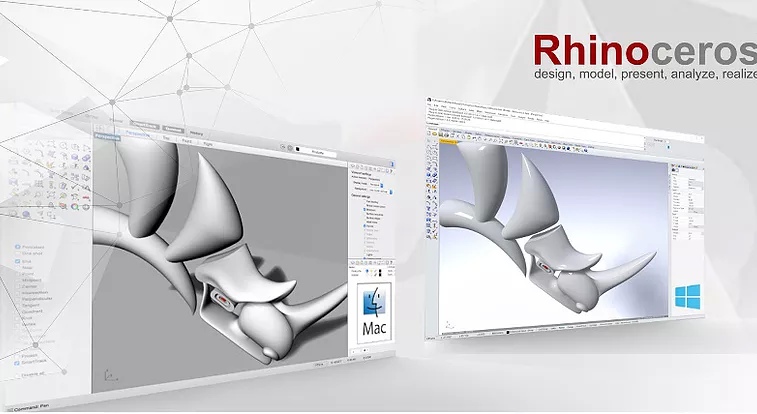 Hangzhou, China, 1st Dec – The leading company in 3D digitizing and 3D printing industry SHINING 3D and Robert McNeel & Associates, the developer of Rhinoceros software, today announced the availability of their joint 3D digitalizing solution of 3D modeling. Rhinoceros is a commercial 3D computer graphics and computer-aided design (CAD) application software developed by Robert McNeel & Associates.
Starting from today, all SHINING 3D customer can buy Rhinoceros software through Shining3D globally strong distribution network. The choices of software include Rhino, Flamingo, Penguin, Bongo, Brazil and other software bundles. Powered by Rhinoceros software and taking the advantage of the high accuracy, accessible and compatibility features, the solution allows the user to edit, analyze, document and design the 3D model of any level of complexity or size.
Oscar Meza, the VP of global sales at SHINING 3D said, "by partnering with Rhinoceros 3D, a company that shares same spirits, culture and vision, SHINING 3D creates innovation for small and big business with new technologies, creative ideas and powerful tools."
"We are pleased to work with SHINING 3D to offer customers with solutions that fit more users' demands and professional requirements", said, Scott Davidson, Robert McNeel & Associates. "Our customers can now leverage the additional expertise of SHINING 3D and the tools they provide to create a more productive 3D workflow."
About SHINING 3D
SHINING 3D was founded in 2004 and quickly became China's first OTC stock company in the 3D digitizing and printing industry. With business areas covering 3D scanning, 3D printing, 3D materials, 3D design and manufacturing service, and 3D network cloud platform, SHINING 3D is the industry leader in multiple aspects, including overall strength, sales volume, technology varieties, and service support capability. As the leading Chinese 3D printing company, SHINING 3D has won international influence with customers in more than 70 countries throughout Asia, the U.S., Europe, and the Middle East.
Media Contact:
Ms Icy Xie:
Tel: +86 571 82999050
Email: icy@shining3d.com
For more information, please contact us at
Tel: +86 571 82999050
Email: sales@shining3d.com
http://en.shining3d.com/
About Robert McNeel & Associates
Founded in 1980, McNeel is a privately-held, employee-owned company with development, sales support, and training offices and affiliates in Seattle, Boston, Miami, Medellin, Barcelona, Rome, Tokyo, Taipei, Seoul, Kuala Lumpur, Shenzhen, Shanghai and Lanzhou. We also have more than 700 dealers, distributors, OEMs, and training centers around the world.
Media Contact:
Scott Davidson
Email: scottd@mcneel.com
https://www.mcneel.com/