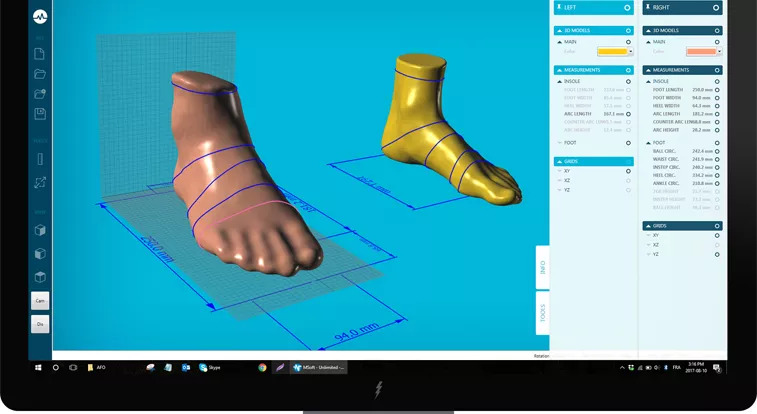 LAS VEGAS, NV—— TechMed 3D the leader of human body scanning technology and SHINING 3D one of the largest and most important Chinese providers of a wide range of 3D digitizing and 3D printing solutions, are excited to announce a new technology integration in partnership, to explore new possibilities in the human body digitizing global markets.
TechMed 3D has been focused on developing systems of human body scanning, while the software MSoft is the bridge they built for connecting the 3D scanner and customers' scanning needs. It features and combines an intuitive range of tools and ease of use, offering customers a simple and instant 3D scanning experience.
With over a decade of experience on 3D scanning technology, SHINING 3D'S EinScan-Pro was the first multi-functional handheld 3D scanner launched in the market. The EinScan-PRO offers a portable design and four different scanning modes, so that users can easily and quickly capture high-quality data, satisfying diverse consumer and commercial applications.
The rapidly growing market of human body 3D scan has created a broad range of applications for customized medical solutions, custom made orthotics and precise measurement. Combing the latest technologies and professionalism of both companies, SHINING 3D is going to develop the customized version of EinScan-Pro for TechMed 3D, which is specialized in parts of human body scan. By shorting the scanning distance and narrowing the scanning range, this specialized version of the scanner will easily meet our common customers' needs of acquiring high-accuracy data when scanning small parts, such as hands or human feet.
Michel Babin, the president of TechMed 3D, believes that this partnership will have a positive impact on the market and will help to TechMed 3D with his mission to make CAD-CAM technologies for human body accessible by developing and offer in the most user-friendly scanning system.
Oscar Meza, V.P. of Global Sales at SHINING 3D, said that it was a major accomplishment for SHINING 3D having had the opportunity of contributing in the development of this new vertical market in the medical field. SHINING 3D is committed in providing a professional and highly customized 3D digitizing solution for these market.
About TechMed 3D
TechMed 3D was founded in 2009 and is the missing link between the 3D scanners and getting measurements and capability for CAD-CAM of custom devices for human body.
TechMed 3D's mission is to make CAD-CAM technologies for human body accessible by developing and offering the most user-friendly and fast scanning system. TechMed 3D help practitioners in the orthotics, prosthetics and custom made equipment industry to seamlessly integrate technology to their business, increase their productivity, their turnaround time and their profitability.
Actually, TechMed 3D have customers in Asia, Australia, Europe and North America.
About SHINING 3D
SHINING 3D was founded in 2004 and quickly became China's first OTC stock company in the 3D digitizing and printing industry. With business areas covering 3D scanning, 3D printing, 3D materials, 3D design and manufacturing service, and 3D network cloud platform, SHINING 3D is the industry leader in multiple aspects, including overall strength, sales volume, technology varieties, and service support capability. As the leading Chinese 3D printing company, SHINING 3D has won international influence with customers in more than 70 countries throughout Asia, the U.S., Europe, and the Middle East.
###
Media Contact:
Carlos Alarcon
TechMed 3D
4188368100
carlos@techmed3d.com
Icy Xie
SHINING 3D
+86 571 82999050
icy@shining3d.com
Yuan Ruan
SHINING 3D
+86 571 82999050
ruanyuan@shining3d.com