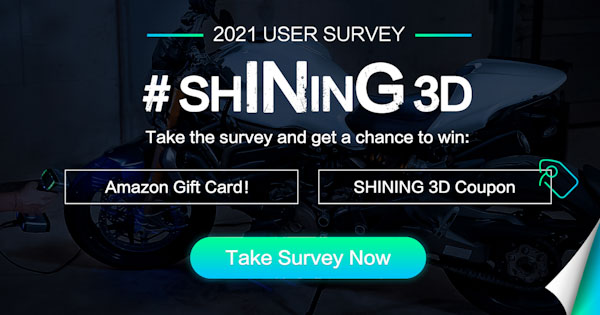 In 2021 we updated our software and product bundles. Despite the on-going situation, we found solutions to connect with you and stay close to you.
We are excited about all the positive feedback we have already received via e-Mail, personal contact or on our social media channels.
SHINING 3D is always striving to develop products meeting your needs, solving your problems and upgrading your workflow sustainably,
and in order to do so we would like to invite you to share your experience and thoughts by participating in this survey.
*All qualified participants that complete the survey accurately and in full will have the opportunity to receive a $10 Amazon gift card, or you can
choose $100 (desktop scanner) or $500 (handheld scanner) or $2000 (Geomagic Design X) discount coupon (can be used in conjunction with the trade-in policy, must purchase directly from SHINING3D)
Your participation is highly valued and will help ensure the representation of a
wide variety of best practices.
Thank you so much in advance for helping us to develop the EinScan
3D Scanners you need!
*The gift card or coupon voucher will be sent to you via e-mail upon completion of the survey.
*The event interpretation rights belong to SHINING3D
*If you already filled this survey from resellers, please ignore this email