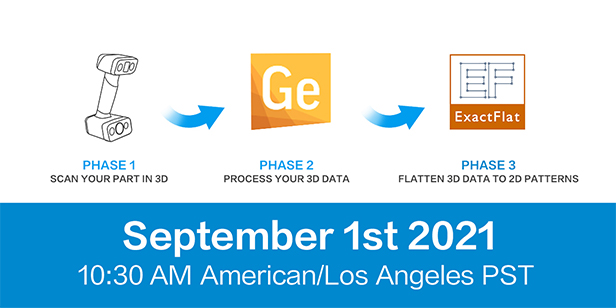 Lackschutzfolie ist eine thermoplastische Polyurethanfolie, die auch eine polymer kalandrierte PVC-Folie, ein Bindemittel und ein tonbeschichtetes Papier verwendet. Sie wird hauptsächlich bei lackierten Außenflächen wie Seitenspiegeln, Motorhauben, Türkanten, Türgrifftaschen, Stoßstangen, Schwellerverkleidungen und Radkappen verwendet. Die Folie schützt vor Steinschlag, Insektenbefall, Flüssigkeitsflecken, Teerflecken, Kratzern und Witterungseinflüssen.
Anwendungen umfassen:
Automotive
Electrical and Electronics
Aerospace and Defense
Others
Der digitale Ansatz mit SHINING 3D und ExactFlat
Lackierschutzfolien werden auf organisch geformten Oberflächen aufgeklebt, die schwer zu vermessen sind.  Der Einsatz von 3D-Scannern auf diesen Oberflächen, wie z. B. der unteren Stoßdämpferverkleidung eines Autos, ist eine schnelle, einfache und genaue Methode zur Erfassung der Geometrie.  Sobald die Scans verarbeitet sind, können sie mit ExactFlat geglättet werden, um Schablonen oder Muster für die Anwendung auf diesen Oberflächen zu erstellen.
Im englischsprachigen Webinar geben SHINING 3D und ExactFlat einen umfassenden Überblick über den 3D-Scan- und Designprozess für die digitale Mustererstellung, um Lackschutzfolien einfach und bequem aufzubringen.
Wir laden Sie herzlich ein, sich mit uns auf die Reise zu besseren und schnelleren Schablonen und Mustern für Lackierschutzfolien zu begeben!
Registrieren Sie sich für das Webinar am 1. September um 10 Uhr PST