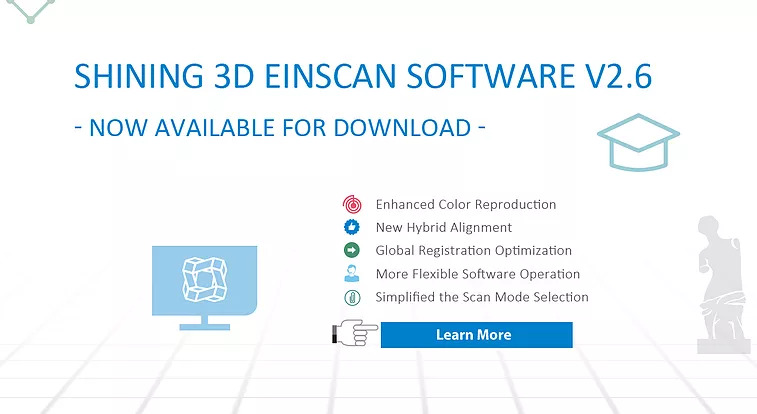 Hangzhou – 9th Feb 2018 — SHINING 3D today released the EinScan Software V2.6 with functional updates and also announced the winner of its recent Beta Tester Program. The final winner is a user from Germany, who was the first to report a problem found in the software V2.6 beta version. The winner will receive a prize consisting on the new launched EinScan accessory –EinScan HD Prime Pack.
Thanks to the beta testing of software V2.6, SHINING 3D benefited tremendously from the testers' valuable inputs; a total of 941 people, from more than 80 countries, participated in this beta tester program. The majority of testers were satisfied with the updates and rated more than 4.1/5 score the new software. Direct end-users' feedback is always important to SHINING 3D, for the continuous improvement of our software, helping us to meet the various requests from our customers in our attempt in making our software as easy and intuitive as possible.
Testimonials:
"Congratulations SHINING 3D Family, you did again the best which it is expected from you. I am very happy just because I have seen 2 of my prior opinions come true now with new release."
"I was very impressed by the free upgrade. The matching is better and leads to better 3D models. Also the addition of the correct color is cool!"
The SHINING 3D team has worked very hard on improving the software with more functional updates in this new release, V2.6. With the addition of new functions and by simplifying the work flow, the EinScan software is now more efficient and more flexible to use.
New in EinScan software V2.6:
Enhanced Color Reproduction Improved the texture quality through optimized algorithm and added texture brightness and contrast adjustment.
New Hybrid Alignment Enabled hybrid alignment of mixed markers alignment and feature alignment in handheld rapid scan mode (Only available for EinScan-Pro users who purchased R2 module and EinScan-Pro+ users)
Global Registration Optimization Added global registration function to optimize the overall accuracy performance of handheld rapid scan mode. (In EinScan-Pro&Pro+)
More Flexible Software Operation Enabled option of using the software without scanner connection.
Simplified the Scan Mode Selection Combined the automatic scan mode and fixed scan mode.