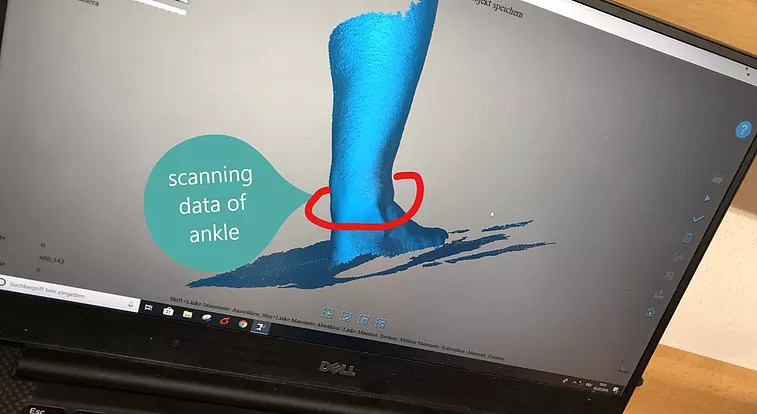 Stuttgart, Germany, Aug 31st—SHINING 3D (the industry leader in 3D digitizing and 3D printing technologies since 2004), in partnership with EXO-L (worldwide the most innovative patented ankle protection against ankle sprains, from the Netherlands), have announced an exciting and novel collaboration in customized ankle protection.
Ankle sprains have become a common worldwide problem with over 25 million recorded sprains per year in Europe and the USA alone, SHINING 3D and EXO-L are working together to explore a new solution to reduce ankle injuries worldwide by integrating advanced 3D scanning technology.
The EXO-L Ankle Brace is the newest and best protecting, worldwide patented, ankle protection for sports, work and daily life. Based on the anatomy of the human ankle, the EXO-L Ankle Brace works like a safety belt. It gives the user ultimate protection against ankle sprains with maximum freedom of movement.
To achieve the unique working principle and ultimate comfort a perfect fit is required. SHINING 3D EinScan-Pro & Pro+ multi-functional handheld 3D scanners offer high-quality 3D scanning and seamlessly connecting to 3D-printing, making the whole process much simpler, faster and more accurate.
The collaboration will enlarge EXO-L's service area worldwide. By utilizing the SHINING 3D network, EXO-L's customers can scan anywhere. A paid-per-scan service among worldwide EinScan users is launched with this partnership.
If you own, or are considering buying an EinScan-Pro or Pro+, we are interested to participate in a partnership offering the paid-per-scan 3D scanning services with you! Please contact EXO-L or SHINING 3D to join this ankle scanning service worldwide.
Get in contact with:
EXO-L via info@exo-l.com or +31 15 744 0155
SHINING 3D via sales@shining3d.com or +86 571 82999050
About EXO-L:
EXO-L developed a worldwide patented ankle protection for sports, work and daily life which is based on the human anatomy. EXO-L is now mainly active in The Netherlands, Belgium and Germany and has some users worldwide reaching from the rest of Europe to Australia, Argentina and South-Africa. After thorough research in collaboration with the Delft University of Technology and the Erasmus Medical Center Rotterdam, EXO-L entered the market 4 years ago and already helped over 3000 people including 300 professional athletes of which 35 have a Olympic Status. The EXO-L Ankle Brace is offering protection against up to 95% of the ankle sprains, without compromising any freedom of movement. This is a huge difference with conventional bracing or taping which protect up to 50% and also restrict the ankles in other movements.
Media contact:
M. Kwanten
mark@exo-l.com
+31 15 744 0155
www.exo-l.com/en
For more information, please contact us at
Tel: +31 15 744 0155
Email: info@exo-l.com
www.exo-l.com/en
About SHINING 3D
SHINING 3D, founded in 2004, rapidly became China's first listed OTC stock company in the 3D digitizing and printing industries segment. SHINING 3D develops, manufactures and commercializes a wide range of 3D technologies, including 3D scanners for multiple industries and applications, 3D printers for both consumer markets and additive manufacturing, 3D materials, offers 3D design and manufacturing services, and a 3D network cloud platform. SHINING 3D offers a position of strength in the market, excellent positioning, and capacity to handle large sales volumes, the richest 3D technology offering, and service support capabilities. As the leader among Chinese 3D printing companies, SHINING 3D has currently exercised a strong international influence with customers in more than 70 different countries in Asia, the U.S., Europe, Africa and the Middle East.
Media contact:
Ms Yuan
Tel: +86 571 82999050
Email: ruanyuan@shining3d.com
For more information, please contact us at
Tel: +86 571 82999050
Email: sales@shining3d.com
en.shining3d.com
Add News Story here