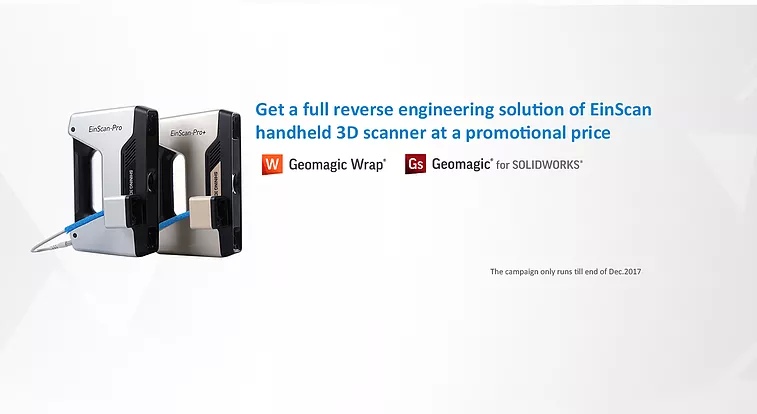 Hangzhou, China, 23th October 2017 – SHINING 3D, the leading company in 3D digitizing and 3D printing industry, teaming up with the world-leading 3D software company — Geomagic, has released a full reverse engineering solution. The campaign will allow EinScan handheld 3D scanner users to get access to the advanced 3D software for reverse engineering at an affordable price.
Starting today and through December 31st, 2017, SHINING 3D is offering a complete reverse engineering solution at a promotional price. Customers can get a combined 20% discount of EinScan handheld scanners and Geomagic software. The combined 20% discount consists of a 10% discount off the original price of scanner and another 10% discount off the original price of software. The software bundle provides the customer with a couple of options, including Geomagic Wrap and Geomagic for SOLIDWORKS.
EinScan-Pro & EinScan-Pro+
EinScan-Pro is a versatile portable handheld 3D scanner of the EinScan series, especially designed to handle all kind of challenging consumer, commercial manufacturing, engineering, design, education and other applications. This multi-functional 3D scanner offers both, portability, and accuracy thanks to its four versatile scanning modes.
The EinScan-Pro+, being a professional grade and high-performance handheld 3D scanner, offers a wide scanning range, faster scanning speeds and an enhanced handheld HD scanning mode. It can meet all the requirements of high accuracy and performance, when working with industrial parts, fine objects, and large objects with few geometrical characteristics.
Oscar Meza, VP of global sales at SHINING 3D, says: "By closely engaging with our customers, SHINING 3D understands their demands for a reliable and complete reverse engineering solution, while maintaining an affordable price. Since our goal is to offer affordable 3D digital solution for more people, SHINING 3D is offering a full reverse engineering solution, which combines leading edge tools at a reasonable price aimed to meet all the needs in reverse engineering applications."
Geomagic Wrap
Geomagic Wrap delivers the industry's most powerful toolbox to transform 3D scan data and imported files into 3D models for immediate use downstream. From engineering to entertainment, art to archaeology and manufacturing to museums, people from every walk of life are effortlessly reverse engineering perfect 3D models from scan data and 3D files using Geomagic Wrap.
Geomagic for SOLIDWORKS
Geomagic for SOLIDWORKS is the industry's premiere 3D scan-to-SOLIDWORKS solution. By importing the scan data from EinScan scanner, users can now effortlessly have a solid model in just minutes. The latest version streamlines the reverse engineer process, delivering the most efficient and up-to-date tools.
To learn more about the software bundle, visit https://www.einscan.com/einscan-reverse-engineering-solution.
About SHINING 3D
SHINING 3D was founded in 2004 and quickly became China's first OTC stock company in the 3D digitizing and printing industry. With business areas covering 3D scanning, 3D printing, 3D materials, 3D design and manufacturing service, and 3D network cloud platform, SHINING 3D is the industry leader in multiple aspects, including overall strength, sales volume, technology varieties, and service support capability. As the leading Chinese 3D printing company, SHINING 3D has won international influence with customers in more than 70 countries throughout Asia, the U.S., Europe, and the Middle East.
For more information, please contact us at
Tel: +86 571 82999050
Email: sales@shining3d.com
http://en.shining3d.com/
About 3D Systems Geomagic
3D Systems' Geomagic Solutions delivers industry-leading 3D scanning, reverse engineering, inspection and design tools for engineers worldwide. Geomagic software and technologies are used to shorten product design time-to-market, increase manufactured product quality and deliver comprehensive workflows for 3D capture, design, production and quality inspection.