SHINING 3D scanners and KVS Ltd, creators of QUICKSURFACE and Mesh2Surface software, facilitate the Reverse Engineering process, reduce cost and lower the learning curve.
Stuttgart, Germany, April 28th 2023 – SHINING 3D, a leading global provider of technologies for 3D digitization and KVS Ltd, a supplier of dedicated 3D scan-to-CAD software, announce their collaboration to provide the world's most efficient end-to-end reverse engineering solution to the market.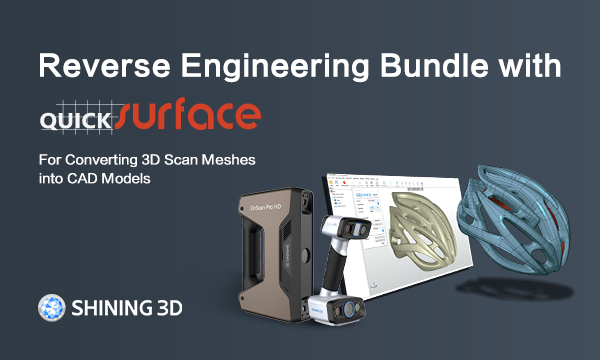 "QUICKSURFACE software enables SHINING 3D scanner users to create solid models from 3D scanned objects at ease. It is extremely user-friendly and saves time in the design process. We are excited to team up with KVS on our mission to make highly efficient 3D digitizing solutions accessible to everyone."
-Niels Stenzel, Sales Director 3D Digitizing EMEA, SHINING 3D
"At KVS we have always been impressed by the capabilities of the Shining3D scanning solutions. Our companies share the same ethos of providing the highest levels of performance and value to our customers, enabling them to do amazing things with technology. We are incredibly excited to work closely with Shining 3D to bring our combined solutions to the market."
-Kostadin Vrantzaliev, Product Manager, KVS Ltd
QUICKSURFACE is designed for anyone who uses 3D scanning to reverse engineer their scanned parts to produce CAD. It provides all the relevant tools to reconstruct any type of scanned shape. Providing precise curve and surface fitting with real-time deviation colour map, QUICKSURFACE allows the user to control the design intent of the respective project at any stage. This leads to early identification of problems. State-of-the-art free-form modelling capabilities allow even non-professional users to create complex forms with ease.
Features
・Parametric Modelling
・Working with Large Meshes
・Automatic Surfacing
・User Controllable Accuracy
・Free Form Modelling
・Mesh Realignment
・Real-time Deviation Control
・Geometric Primitive Extraction
・Hybrid Modelling – both

 organic & parametric shapes 

・Trimming & Edge filleting

 for solid modelling 
SHINING 3D scanners combined with QUICKSURFACE software offer a complete reverse engineering solution and enables anyone from small business to large enterprise to create solid models from 3D scans at ease. If you would like to learn in detail about the benefits of the SHINING 3D and QUICKSURFACE bundles, get in touch with us today!
About KVS Ltd
KVS released its first software in 2016, however, their expertise extends back to the very early days of non-contact 3D scanning, with the founding team having developed the original software for the first hand-held laser scanners in 1996. Today KVS offers QUICKSURFACE, a dedicated standalone scan-to-CAD software solution and Mesh2Surface, a plugin enabling easy scan-to-CAD creation directly within third-party CAD software. Both products have gained a reputation as the most cost-effective, powerful, and easy-to-use scan-to-CAD software products on the market.
About SHINING 3D
Since its foundation in 2004, SHINING 3D has been pioneering in independent research and development of technologies for 3D digitization, inspection and digital dentistry. As one of the market leaders, SHINING 3D offers mass-produced 3D products, advanced digital 3D technologies and comprehensive service for its customers operating worldwide. SHINING 3D has set itself the goal of offering efficient and accessible 3D scanners and 3D printers, enabling flexible production for very powerful, complex structures and making 3D digitization technologies accessible for everyone.