SHINING 3D, founded in 2004, focuses on the research & development, manufacturing, and application of high-precision 3D digital products over 19 years. The company is committed to becoming a 3D digital technology company with global influence, promoting the popularization and application of 3D digital technology, offering accessible efficient high-tech solutions.
SHINING 3D headquartered in Hangzhou, China; operated subsidiaries in Stuttgart, Germany; San Leandro and Tampa, The United States; Hong Kong, China.
A leader in professional 3D scanning solutions and digital dentistry
SHINING 3D is a scientific and technological innovation enterprise focusing on research & development of high-precision 3D digitizing and 3D printing.
SHINING 3D develops 3 business segments: Digital Dentistry, Einscan and Metrology, provides 3D digitizing technology system solution: 3D Scan- Intelligent Design- 3D Print.
The company has independently developed a number of core technologies in the 3D field and has over 300 authorized patents and over 100 software copyrights.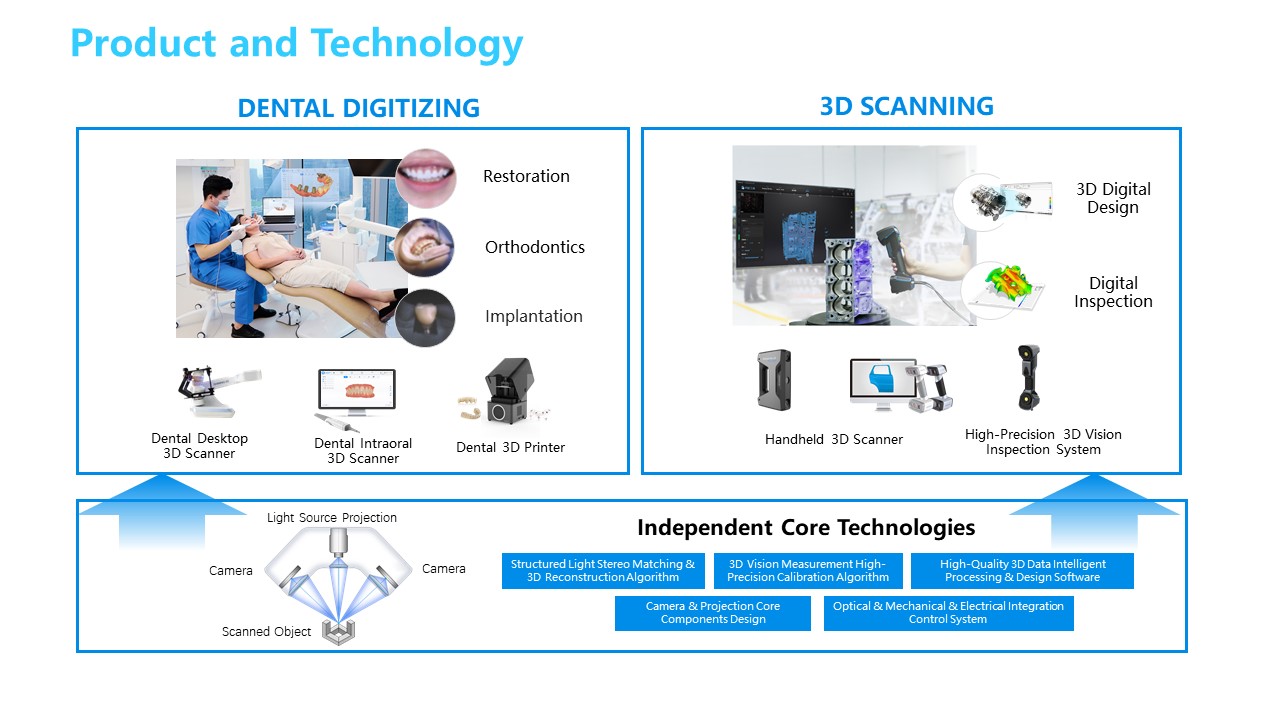 The professional 3D scanning business is committed to providing one-stop 3D digital solution, from 3D digitizing, 3D design to high-end manufacturing and inspection, including 3D data acquisition(professionla& metrology level), 3D CAD design software and 3D inspection software. The main products are handheld 3D scanner, desktop 3D scanner, laser handheld 3D scanner and 3D inspection system. SHINING 3D develops key technologies in LED light 3D scanner, portable 3D laser scanner, dual light source scanning, automated high-precision 3D visual inspection, portable optical tracking measure, 3D visual AI guidance and DLP digital light processing.
By using an intraoral 3D scanner and software as the first step of the end-to-end digital dentistry workflow, the digital dental business is committed to providing oral visualized consultation and oral digital solutions such as restoration, orthodontics, and implantology. The main product are the intraoral 3D scanner (mainly used at dental clinics to directly obtain 3D data models of teeth), the dental lab 3D scanner (mainly used in denture factories to scan dental silicone impressions or plaster models), and dental 3D printer (mainly used to print tooth resin models).
 Strict product quality control system
SHINING 3D continues to improve the product quality control system based on global standards. At present, the company has obtained ISO9001 quality management system, ISO14001 environmental management system, ISO45001 occupational health and safety management system, ISO13485 medical device quality management system, and MDSAP medical device single audit plan certification. The company conducts product development and production in strict accordance with these standards to ensure that product quality meets international quality and safety standards.
The company's products have passed international product standards such as CE, FDA, and FCC.

Attaching great importance to data security and personal information protection
As a digital technology provider, SHINING 3D abides by the laws and regulations and the international standard systems on data security and personal information protection. The company has obtained the certification of ISO/IEC 27001:2013 (GB/T 22080-2016) Information Security Management System, ISO/IEC 27701:2019 Privacy Information Management System, ISO/IEC 27017:2015 Practical Rules for Cloud Service Information security controls, and ISO/IEC 27018:2019 The Personally Identifiable Information(PII)Protection Management System in Public Clouds.