SHINING 3D, founded in 2004,  focuses on the research & development, manufacturing, and application of high-precision 3D digital products. The company  is committed to becoming a 3D digital technology company with global influence, promoting the popularization and application of 3D digital technology, offering accessible efficient high-tech solutions.
SHINING 3D  is headquartered in Hangzhou,China and has  subsidiaries in Chengdu and Tianjin, Germany (Stuttgart), and the USA (San Francisco).
Focusing on high-precision 3D digital technology for over a decade, a leader in digital dentistry and professional 3D scanning solutions.
SHINING 3D is a scientific and technological innovation enterprise focusing on high-precision 3D digital software and hardware technology based on computer vision. It is mainly engaged in the research & development, production & sales of digital dental and professional 3D scanning equipment & software.
The company has independently developed a number of core technologies in the 3D field and has nearly 300 authorized patents and over 100 software copyrights.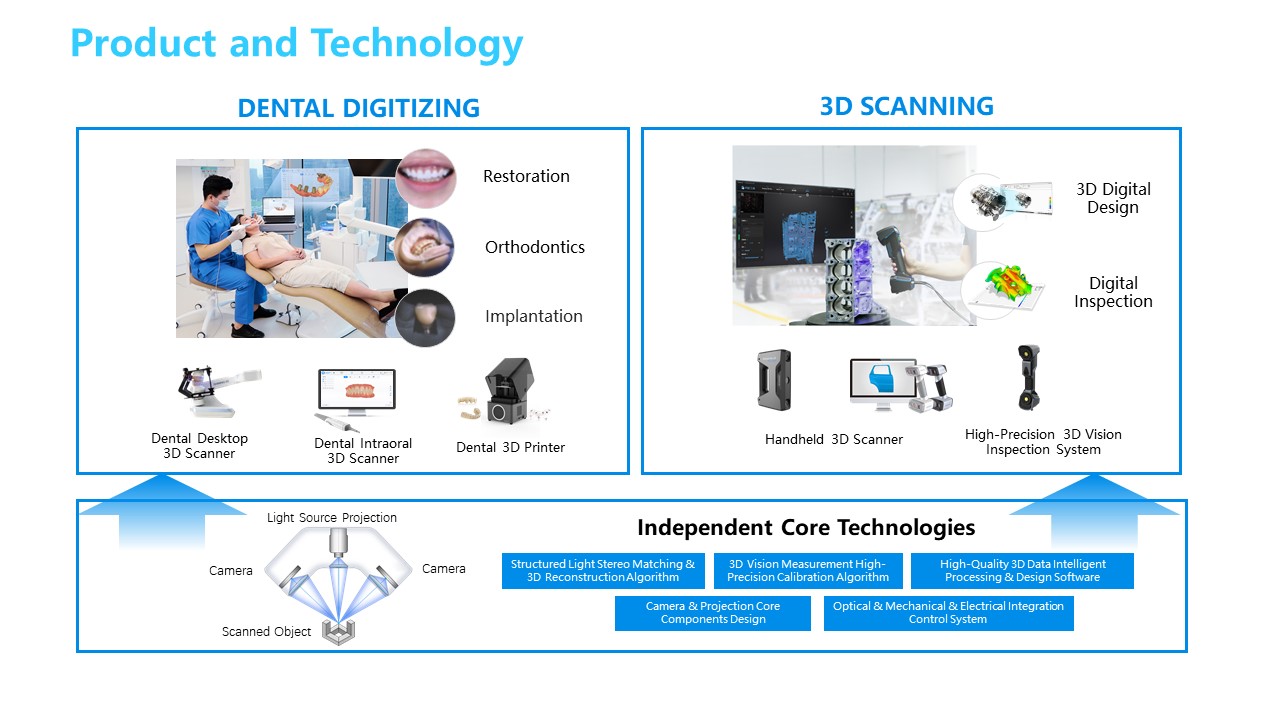 SHINING 3D has has independently developed core technologies such as structured light stereo matching and a 3D reconstruction algorithm, a 3D vision measurement high-precision calibration algorithm, high-quality 3D data intelligent processing and design software, camera and projection core components design, and optical, mechanical, electrical integration control systems.
The professional 3D scanning business is committed to providing high-precision 3D design and 3D inspection applications in the fields of industrial manufacturing, art and heritage , precision medicine, education, and scientific research. The main products are handheld 3D scanners (mainly used for digital design, archiving, interactive visualization) andhigh-precision 3D vision inspection systems (mainly used for 3D full-size inspection).
By using an intraoral 3D scanner and software as the first step of the end-to-end digital dentistry workflow, , the  digital dental business is committed to providing oral visualized consultation and oral digital solutions such as restoration, orthodontics, and implantology. The main product is the intraoral 3D scanner (mainly used at dental clinics to directly obtain 3D data models of  teeth), the dental lab 3D scanner (mainly used in denture factories to scan dental silicone impressions or plaster models), and dental 3D printer (mainly used to print tooth resin models).
 Strict product quality control system
SHINING 3D continues to improve the product quality control system based on global standards. At present, the company has obtained ISO9001 quality management system, ISO14001 environmental management system, ISO45001 occupational health and safety management system, ISO13485 medical device quality management system, and MDSAP medical device single audit plan certification. The company conducts product development and production in strict accordance with these standards to ensure that product quality meets international quality and safety standards.
The company's products have passed international product standards such as CE, FDA, and FCC.