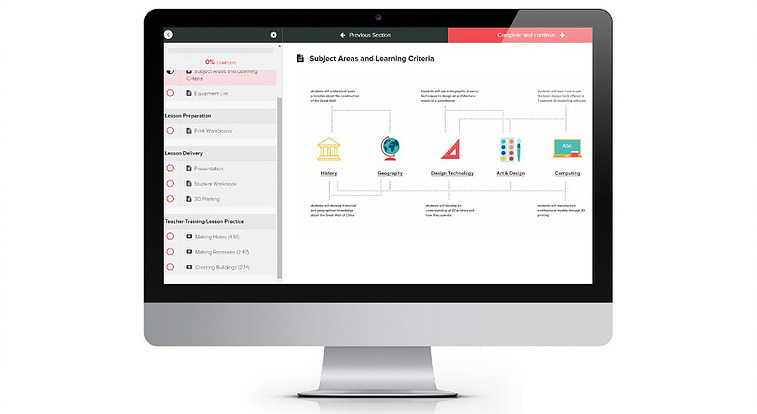 London, England, 24th Jan 2018—-SHINING 3D, the Chinese leading company, specialized in the development and manufacturing of 3D digitizing and 3D printing technologies, is exhibiting the advanced educational 3D solutions at Booth B164 in Bett Show 2018 in London. Seeing the enormous potential and a promising future of 3D technologies in the educational market, SHINING 3D who has launched two new EinScan accessories — EinScan Discovery Pack and EinScan HD Prime Pack at CES2018 has been fully prepared for 2018 and expects to bring innovation and change to the educational market.
The education package is the 3D digitizing solution that runs from 3D scan, 3D design, simulate & 3D print, offering customers with multiple options including the EinScan desktop 3D scanners EinScan-SE & EinScan-SP, EinScan handheld 3D scanners EinScan-Pro & EinScan-Pro+ and Einstart-C desktop 3D printer. Powered by the 3D scanners and 3D printers, SHINING 3D and their resellers have been developing the whole range of curriculum and training materials to meet diverse needs.
PrintLab Classroom recently launched by PrintLab, the SHINING 3D global Master reseller, is a creative, lesson plan portal for teachers looking to integrate 3D printing into core topics such as science, technology, engineering, arts, math and more. With the brand-new online education portal, PrintLab develops comprehensive packages to suit every school budget and level of experience, from complete beginner to fully functioning multi-subject 3D printing labs.
"SHINING 3D is excited to bring the transformation of education through 3D digitizing solutions," said Oscar Meza, V.P. of Global Sales at SHINING 3D, "We will continue to grow our offering to integrating 3D technologies into classroom, facilitating teachers and students having classes in modern and engaging ways."
About SHINING 3D
SHINING 3D was founded in 2004 and quickly became China's first OTC stock company in the 3D digitizing and printing industry. With business areas covering 3D scanning, 3D printing, 3D materials, 3D design and manufacturing service, and 3D network cloud platform, SHINING 3D is the industry leader in multiple aspects, including overall strength, sales volume, technology varieties, and service support capability. As the leading Chinese 3D printing company, SHINING 3D has won international influence with customers in more than 70 countries throughout Asia, the U.S., Europe, and the Middle East.
###
Media Contact:
Ms Yuan
Tel: +86 571 82999050
Email: ruanyuan@shining3d.com
Ms Icy Xie:
Tel: +86 571 82999050
Email: icy@shining3d.com
For more information, please contact us at
Tel: +86 571 82999050
Email: sales@shining3d.com
einscan.com