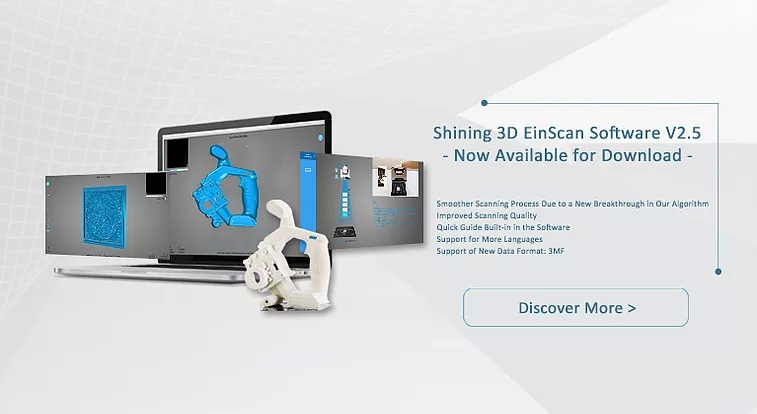 New updates include offering better user experience and providing higher quality and speed of scanning
Hangzhou, China – July 27- Shining 3D, the global leading company in the 3D digitizing and printing industry, announced the release of EinScan Software V2.5. With new features and enhancements, EinScan Software V2.5 has improved the overall experience of the software, including the file format added, scanning quality improvement, live customer support and multi-language support.
EinScan series scanners have become one of the most popular 3D scanners series in the world. By providing support for digitized designs, archiving, personalized customization and education, EinScan developed multi-functional handheld 3D scanners EinScan Pro and EinScan Pro+ and desktop 3D scanners EinScan series to fulfill numerous needs from all applications. Because of the low threshold and high scanning quality, EinScan series have allowed 3D technologies to enter more individuals and businesses.
The majority of upgrades were directed by EinScan users through the EinScan Software beta tester program. To thank for all testers participating the program and providing valuable suggestions, Shining 3D prepared 3D printed gifts, free products upgrading and round-trip package to 2017 Shining 3D global partner summit in Hangzhou. Six users in total won the awards, a Thailand tester and a French tester won the best awards.
EinScan Software V2.5 Upgrades
New in EinScan Pro & Pro+
The scanning process becomes more smoothly since the algorithm breakthrough for millions of cloud points
The scanning quality has been improved – more details of scanning data can be captured under handheld rapid scan and handheld HD scan modes.
New in EinScan All Scanners
The quick guide is integrated into the software – users can quickly know the next step by clicking the question mark in the software.
Add new data format 3MF (3D manufacturing format).
Customer support service of all Einscan scanners become more responsive and convenient.
Support multi-language including Spanish, Turkish, German, Japanese, Korean, Russian, French, English, simplified Chinese and traditional Chines – allow the users to easily switch languages.
Direct preview of ASC. STL. OBJ. cloud points files.
The EinScan users will receive the notification of EinScan software V2.5 on August 7th, 2017. Also, you can download the software https://www.einscan.com/software-download. To know more about EinScan Software V2.5 and EinScan products, please visit einscan.com.
About Shining 3D
Shining 3D was founded in 2004 and quickly became China's first OTC stock company in the 3D digitizing and printing industry. With business areas covering 3D scanning, 3D printing, 3D materials, 3D design and manufacturing service, and 3D network cloud platform, SHINING 3D is the industry leader in multiple aspects, including overall strength, sales volume, technology varieties, and service support capability. As the leading Chinese 3D printing company, Shining 3D has won international influence with customers in more than 70 countries throughout Asia, the U.S., Europe, and the Middle East.