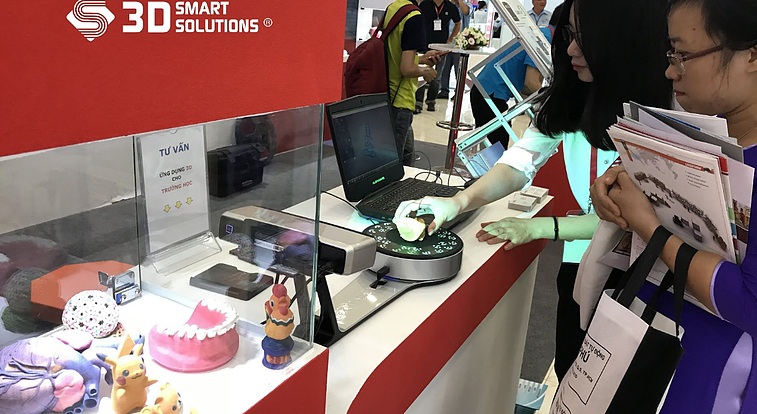 3D Smart Solutions (3DSS), SHINING3D's master reseller in Vietnam attended 3D Print Fiesta 2017 for 3 days from 7th June to 9th June, with Shining 3D's star product EinScan-SP, EinScan-Pro+, EinScan-Pro and metrology scanner FreeScan-X3. 3DSS introduced the total solution 3D technology package applied on research, design and manufacturing. Also the engineer team showed visitors a wide range of 3D printing and 3D scanning technologies.
Mr. Truong Tan Tong, the CEO of 3D Smart Solutions gave a speech about the application of 3D technology during the exhibition, received warm responses and questions from audiences such like what's the 3D technology application in education filed and industrial revolution 4.0.
The last day of the exhibition, a lucky customer won a SHINING 3D's EinScan-S 3D scanner. Congratulations for the successfully exhibition in Vietnam for 3DSS and thank for every custom's support. We are looking forward to next year's exhibition of 3DSS.
More about 3D Smart Solutions
3D Smart Solutions is a leader in specialized 3D printing and Scanning solutions. Their long term service includes supplying 3D Equipment & software and Service Bureau/ Outsourcing (Scanning, Reverse Engineering, Rapid Prototyping, Concept design, Mold Design). More information can be found at www.3d-smartsolutions.com, +84 8 7304 7788, or info@3dss.vn.