SHINING 3D Announces Strategic Partnership With ArtSystems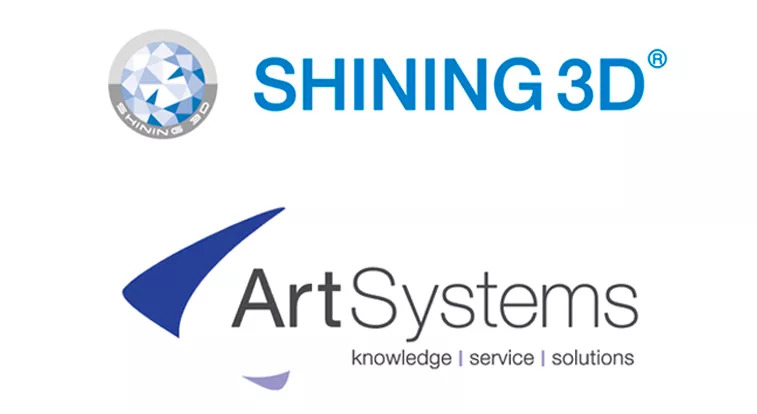 "As the demand for 3D digitizing and 3D printing technology continues to increase, we are excited to partner with ArtSystems to bring comprehensive 3D solutions to British customers," said Oscar Meza, vice president of global sales at SHINING 3D. Until now, SHINING 3D has opened two oversea offices to support growing global business and number of customers; one is in Stuttgart, Germany, and the other one is in San Francisco, California in the U.S. While attending this year's TCT SHOW, SHINING 3D can foresee a very important market growth potential in the UK.
As the longest established distributor in the additive manufacturing market, ArtSystems believes that the SHINING 3D product is the perfect fit in their 3D portfolio and Mr. Will Glass, 3D Product Specialist going on to say, "we are delighted to partner with SHINING 3D and are eager to deliver unique products to our clients who seek both high performance and cost-effective 3D solutions."
Leveraging ArtSystems's marketing expertise, this partnership can deliver higher levels of 3D digitizing and 3D printing products and service, thus strengthen both companies' business.
About SHINING 3D
SHINING 3D, founded in 2004, rapidly became China's first listed OTC stock company in the 3D digitizing and printing industries segment. SHINING 3D develops, manufactures and commercializes a wide range of 3D technologies, including 3D scanners for multiple industries and applications, 3D printers for both consumer markets and additive manufacturing, 3D materials, offers 3D design and manufacturing services, and a 3D network cloud platform. SHINING 3D offers a position of strength in the market, excellent positioning, and capacity to handle large sales volumes, the richest 3D technology offering, and service support capabilities. As the leader among Chinese 3D printing companies, SHINING 3D has currently exercised a strong international influence with customers in more than 70 different countries in Asia, the U.S., Europe, Africa and the Middle East.
Media contact:
Ms Yuan
Tel: +86 571 82999050
Email: ruanyuan@shining3d.com
For more information, please contact us at
Tel: +86 571 82999050
Email: sales@shining3d.com
en.shining3d.com
About ArtSystems
Established in 1986 and now part of Westcoast Holdings group, ArtSystems, the Nottingham-based specialist systems distributor and service provider, has seen significant growth in the past six years. Today, ArtSystems has a turnover in excess of £30 million, employs over 60 people and is one of the largest value added distributors in the UK. The company serves the design, graphics, signage and display markets with imaging and printing hardware plus material and consumable solutions from market-leading manufacturers such as Canon, Colortrac, HP, MakerBot, Onyx, Stratasys, Summa and Neschen.