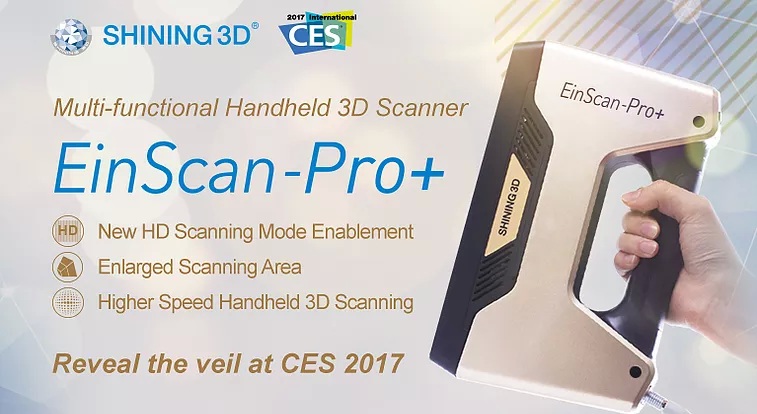 EinScan-Pro+ 3D handheld scanner and Einstart-C desktop 3D printer represent the most accessible 3D technologies on the market today for prosumers and consumers worldwide
The era of real consumerization trend of 3D industry has just begun: several innovative products are enabling users to digitally capture 3D objects and reproduce them more easily than ever before. With extensive experience and a large number of exclusive patents in the world of 3D scanning, Shining 3D brings the world-class 3D technology to CES 2017. On January 5th the company is officially debuting its new EinScan-Pro+ handheld 3D scanner and the Einstart-C desktop 3D printer.
At CES 2016, Shining 3D launched the EinScan-Pro 3D scanner. It features four scanning modes and is optimized for consumer and commercial applications in manufacturing, engineering, design, development, testing, artwork archival, animation and even human form acquisition. The new EinScan-Pro+ builds on the industry leading line scanning quality of the EinScan-Pro, while introducing a great number of innovations at an accessible cost.
These include:
The Handheld high definition scanning mode (Handheld HD Scan) now adopts a new international proprietary technology, achieving a perfect combination of 3D scanning speed and acquisition details.
The range of single-frame scanning has been increased by a factor of 1.6 times, in order to offer a comprehensive improvement in the scanning speed, in handheld scanning mode.
Shining 3D's cycle continues with the introduction of the new Einstart-C 3D printer. This new highly affordable desktop system is now offering state of the art features making it easy and intuitive to use for everyone.
The Einstart-C is a stylish and compact 3D printer, based on fused filament fabrication (FFF/FDM) technology. It is equipped with a single nozzle extruder and can print objects as large as 6″ x 6″ x 6″ using PLA, an eco-friendly material. Ideal for homes and schools, this truly plug & play system is fully enclosed to prevent injuries or burns while in operation; a sensor – which can be deactivated if necessary – checks that the door is closed before starting or resuming the 3D printing process. The new system also introduces a new auto calibration function with three built-in sensors inside the printing bed. By detecting the height of the sensors, the printer can fully automate the lengthy calibration process, even compensating for any difference in height during the print.
The Einstart-C features three printing modes:
As a standalone printer, it enables printing without any connectivity through its USB thumb drive.
Connected to a computer, with the enclosed USB cable.
Wireless printing, through a standard Wi-Fi connection.
Users can freely access Shining3D's rich online data library at 3DKer.com(www.3dker.com), select a 3D model and 3D print it on their Einstart-C with just a few clicks. With 4GB of local flash storage, the system will automatically save the print file before printing.
Meet us at CES
To find out more about Shining 3D's products at CES, please schedule a one-to-one meeting with us. Tell us more about your project or application, so that we can analyze it, identify your needs, and provide valuable, personalized solutions for your business.
Shining 3D CES Conference Schedule
Everyday 05/01 – 08/01
Sands Expo, Level 2, Halls A-D, Las Vegas, NV
Booth No.: 42335
11:30 – 11:50 Power Your 3D Education: 3D Scanning Education Curriculum (Nick Kloski,Co-founder and President of Honeypoint3D)
13:30 – 13:50 Shining 3D Ecosystem & Future Perspectives (Icy Xie, Marketing Director)
14:20 – 14:40 EinScan-Pro+ New Product Experiencing Report (Oscar Meza, VP of Global Sales)
15:00-15:20 Power your 3D Education: 3D Scanning Education Curriculum (Nick Kloski,Co-founder and President of Honeypoint3D)
16:15-16:35 Einstart-C New Product Experiencing Report (Oscar Meza, )
16:50-17:10 Shining 3D Ecosystem & Future Perspectives (Icy Xie, Marketing Director)
Contacts:
Tel: +86-571-82999050 
Email: sales@shining3d.com 
Website: www.shining3d.com
einscan.com
CES Event Website: http://event.shining3d.com/s/nhoka4#title-text
About Shining 3D
Shining 3D provides a wide-range of 3D digitizing and printing solutions including scanners, printers, materials, design and manufacturing services, as well as a fully-established network cloud platform. For more information please visit: http://en.shining3d.com/about.