EinScan H & EinScan HX Hybrid Light Handheld 3D Scanners launched
Hangzhou, September 16, 2020 – SHINING 3D, the global powerhouse from 3D Digitizing, through Intelligent Design to Additive Manufacturing and thriving innovator in the industry is adding a new line of Handheld Color 3D Scanners to the roundup of the proven EinScan Series. EinScan H and HX Handheld Color 3D Scanners are adding a new dimension of 3D Scanning capacity to the EinScan portfolio.
Based on many years of profound experience in 3D Vision Technology and 3D Inspection, evaluation of needs in the market and striving to elevate the EinScan experience to another dimension, SHINING 3D proudly introduces the EinScan H Series hybrid light source 3D Scanners.
Clash of rays – integrating TWO capturing technologies into ONE device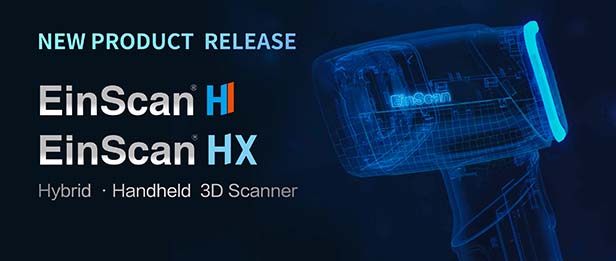 EinScan H and EinScan HX Hybrid Light source Handheld 3D Scanners innovatively integrate the proven EinScan LED light scanning technology with a second light source predestining the devices for a broader range of challenging applications.
EinScan H popularizes the application of portable color 3D scanning technology. Two light sources enable an adaption to specific scanning requirements with one flexible device. Using an infrared invisible light source, 3D data of hair and dark objects can be captured at ease and the built-in color camera delivers authentic color scanning data. The smooth and easy scanning experience assures a fast and reliable digitization of medium and large sized items. Innovative software algorithms, combined with the freedom of choosing the most suitable light source for scanning, qualify the EinScan H for high-quality full human body data acquisition including hair, authentic digital replication of outstanding art pieces, furniture digitization for reproduction and virtual display and many more. Typical EinScan features comprising user friendly handling and software, ergonomic design and plug-and-play characteristics round off the EinScan H Handheld Color 3D Scanner and make it the perfect companion for applications in the medical sector, art and heritage and education. Operate flexibly in a broad range of working environments with EinScan H, making portable color scanning accessible for everyone!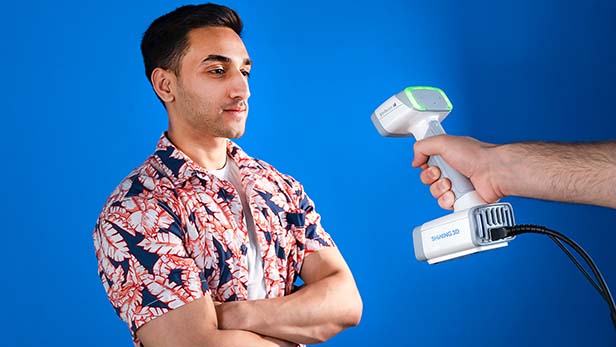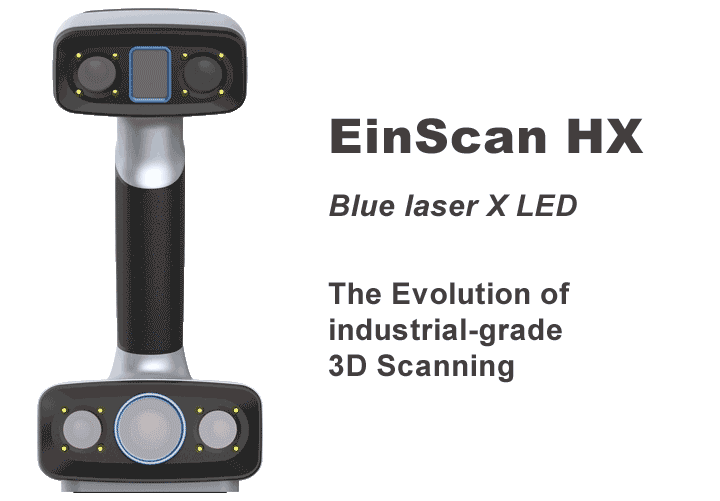 With dual blue light, EinScan HX combines the advantages of LED and laser, boosting the adaptability of scanning materials and ambient light to another dimension, and predestining the device for demanding industrial applications. In rapid scan mode, blue LED structured light is used for capturing object data. 3D data can be obtained quickly without having to apply reference points. The laser scanning mode is equipped with multiple blue laser lines ensuring high accuracy and enabling 3D scanning of reflective metal surfaces quickly, providing high-quality 3D data for reverse design, CAD/CAM and 3D printing. Scanning black surface and metal is possible now, powered by EinScan HX! Upgrading industrial scanning with easy to use high-tech equipment has never been more efficient!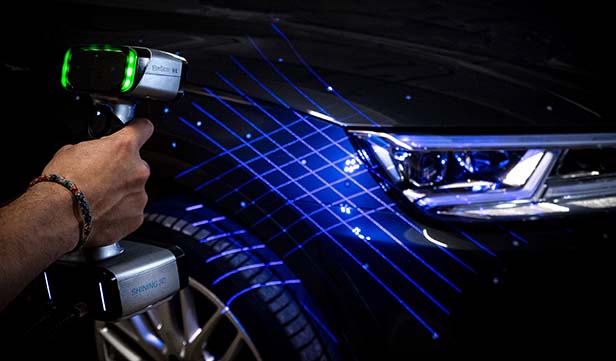 About SHINING 3D
Since its foundation in 2004, SHINING 3D has been pioneering in independent research and development of technologies for 3D digitization and additive manufacturing; SHINING 3D holds over 300 patents and more than 100 copyrights in these areas. As one of the market leaders, SHINING 3D offers mass-produced 3D products, advanced digital 3D technologies and comprehensive service for its customers operating worldwide. SHINING 3D has set itself the goal of improving efficiency when working with 3D structures, enabling flexible production technologies for very powerful, complex structures and making 3D digitization and technologies of additive manufacturing accessible – from the global enterprise to Hobbyists at home.
With comprehensive, easy-to-use and accessible solutions from the areas of "3D digitization", "intelligent design" and "additive manufacturing", SHINING 3D covers all requirements for digital 3D infrastructures in industrial production, medicine and biotechnology, in the optimization of Products, in education and many more.