The Siemens Virtual Startup day introduced cutting edge digital technology to rising industry stars
"There are many challenges for a startup – but none that cannot be solved."
– Siemens Virtual Startup Day
Under this slogan the Virtual Startup Day hosted by Siemens took place introducing the benefits of digital product development for the efficient conversion of ideas into products. The free event was intentionally tailored to give an elaborate overview about digital product development, the concept and advantages of the digital twin and how to design, optimize and manufacture prototypes.
Eric Rudolf The, Founder and CEO of Evolusi3D, SHINING 3D´s sales partner in Indonesia held one of the three expert workshops, tailored give an overview of the capacities of 3D scanning and 3D printing for Reverse Engineering and Rapid Prototyping. Evolusi3D´s mission is taking education, business and industry in Indonesia to the next level by means of 3D scanning, 3D printing and 3D software.
Next Generation Manufacturing Workflow: 3D Scanning – Solid Edge – 3D Printing
The world we are living in today is becoming more and more complex. In the course of digital transformation, offering customizable products has become a huge advantage for businesses across industries. Therefore traditional methods like manual measuring or physical design methods using wood, clay or wax for prototyping are continually decreasing in use. The rise of 3D digital technologies has played a crucial role in the course of these developments.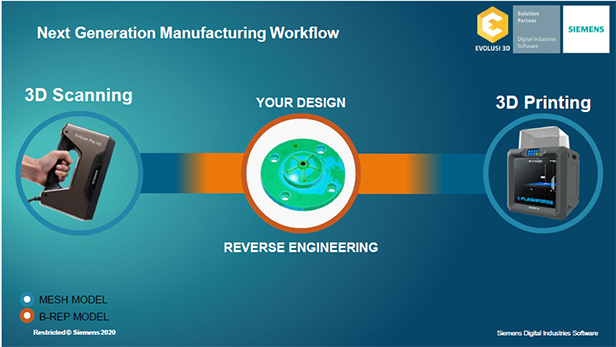 3D Scanning: More Efficient – More Affordable
3D Scanning has become more efficient and more accessible with the rise of high-quality reliable 3D digitizing solutions provided by SHINING 3D. Especially the widely renown EinScan series covering a broad field of scanning technologies, suitable for diverse application scenarios has helped businesses across the globe to enter into the era of digital manufacturing. It has never been easier to create authentic digital copies of any object one could ever imagine. The user friendly product design, the intuitive 3D scanning software and the smooth operation of the hardware make EinScan 3D Scanners the ideal tools for Product Design and Reverse Engineering workflows for 3D scanning beginners and professionals alike.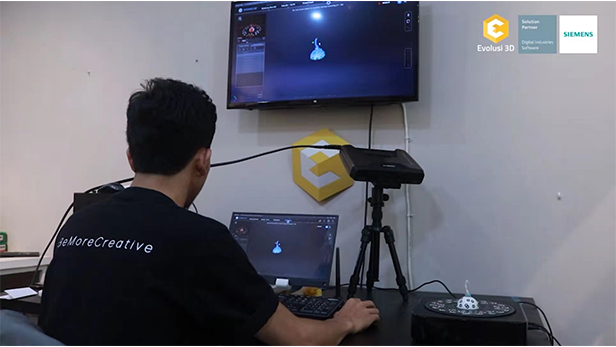 Solid Edge: Mechanical Design – Reverse Engineering
Solid Edge enables users to edit 3D scanning data and modify products efficiently by means of enhanced Reverse Engineering capabilities in the software. The improved performance of the Reverse Engineering Module boosts the efficiency of product development and enhancement tasks for limitless application scenarios. The latest Solid Edge software is included with every EinScan 3D Scanner to assist SHINING 3D customers in their digital design and manufacturing endeavors.