Time really flies. When we look back it feels like it was yesterday, that we enthusiastically tackled 2021 with tons of ideas and plans, jam-packed with product launches, updates and events. It seems like we just blinked, and now we are already at the end of the year. Wow, that was fast! And wow, it was a great year! We are so grateful for all the opportunities 2021 had in store. We are excited about the resonance of our product launches and updates in our growing community and in the market. We are happy about in-person events picking up again. We are encouraged by your trust and your support. Let´s take a step back and look at what this silly yet successful year had in store for Shining 3D.
Continuous Software Updates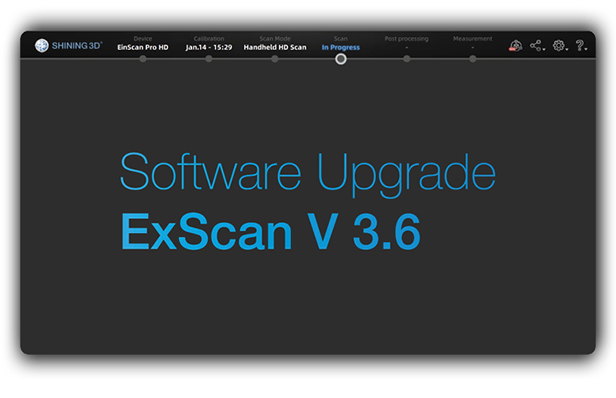 Throughout the year, we launched several software updates for the different 3D scanner lines. We always oriented our updates towards your direct feedback to us, providing fast, efficient and easy workflow enhancement on a regular basis.
Global Thought Leaders: SHINING 3D Is Navigating A 3D World
As a leading global provider of technologies for 3D digitization, 3D inspection and digital dentistry, we were selected to be featured in the Global Thought Leaders series, broadcasted by CBS News.

"Mining the insight of business leaders and senior decision makers across the world, the 'Global Thought Leaders' series explores the innovations that are driving an ever-evolving business landscape. From digital transformation, to energy efficiency and all of the way through to business processes, this series of insightful interviews and documentaries is educating the global business community on the innovations shaping the world of tomorrow." — globalthoughtleaders.org
Introducing the FreeScan UE
Innovatively adapting blue laser 3D scanning technology, convincing with high accuracy and stable repeatability capacities rounded off by easy and convenient hardware and software handling, FreeScan UE empowers professionals across industries to effectively and precisely upgrade their digital workflows in engineering and inspection tasks.
The FreeScan UE has been developed to cater to the needs and requirements of industry professionals and at the same time provide efficient and reliable solutions to tackle the challenges they are facing in their everyday working life. The SHINING 3D Team has thus developed the latest FreeScan handheld laser 3D scanner to foster excellency and high performance even in complex and difficult operation environments, suitable for expert users and beginners alike.
EinScan H & MSoft Integration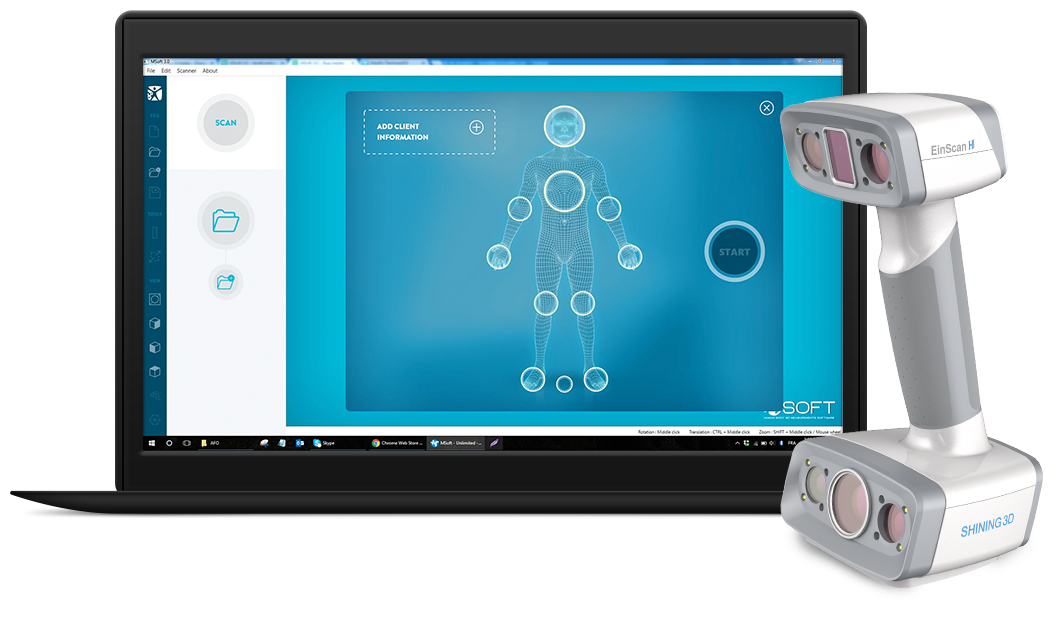 Joining Forces with Techmed 3D, we bundled the EinScan H with their MSoft software. This solution unlocks the potential for clinicians to get access to clean scans within minutes and creates a powerful tool for professionals worldwide who are ready to make the switch to 3D digitization.
Revining The Icons Of Historical Motorsport With FreeScan UE & Verisurf
Together with our friends from Verisurf, we scanned and measured an original Ford GT40 with the FreeScan UE in order to create an authentic replica with the latest production technologies and manufacturing processes. This project was realized in collaboration with CP Tech and Sautter Historic Racing.
Introducing The Industrial Content Series Metrology Monday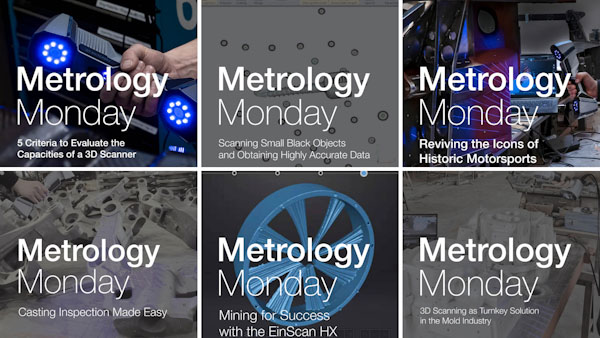 We established Metrology Monday to share real-life examples and give deep insights into our metrology and industrial 3D scanner world. #Metrologymonday delivers useful and interesting content, while at the same time informing on current product releases, software updates, features and news from behind the scenes of SHINING 3D Metrology.
Choose The Right EinScan 2.0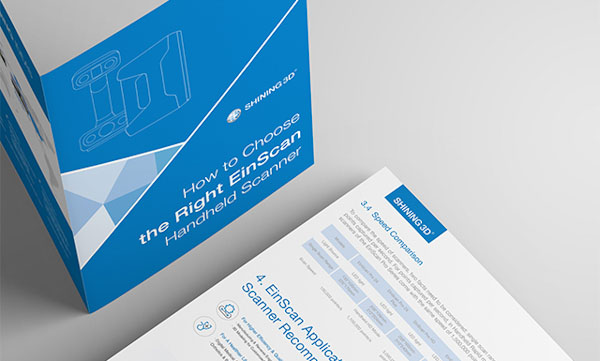 Having developed several series of proven 3D scanning devices and having worked with businesses and individuals from a broad array of industries, we have realized that thoroughly evaluating the requirements to the capacities of a 3D scanner is crucial to choosing the device exactly meeting your needs and that can save you a huge amount of money.
We released the updated edition of our 3D-scanner guide, your reliable companion on the journey to your find the EinScan 3D scanner that really meets your needs.
Want to learn more? You can download the full guide for FREE here.
Youtube Channel

With new informative, interesting and hands-on formats like EinScan Salon, exciting customer case videos, tutorials and product introductions, the SHINING 3D Youtube channel experienced huge growth in 2021. The SHINING 3D content team is looking forward to further recommendations and suggestions, to tailor the topics specifically to your needs.
New Dental Materials & Collaborations

Throughout the year, the SHINING 3D Dental team continuously worked on making a great variety of self-developed and third-party 3D printing materials available for use in conjunction with AccuFab 3D printers.
Besides launching DM12 Model Resin and TR01 Tray Resin, we validated Keyprint and Printodent 3D printing resins to make a great variety of material options available to our user community.
Reuniting at In-Person Events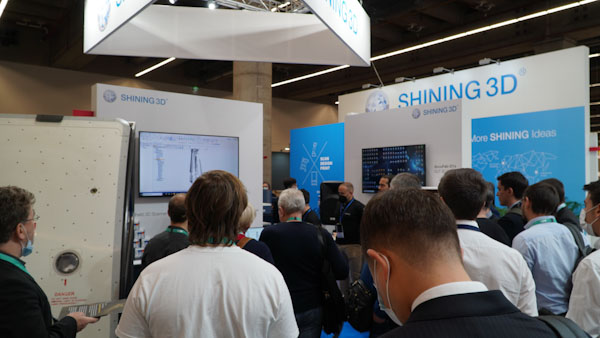 The global SHINING 3D team was thrilled to reunite with customers, partners, old and new friends at international industry-leading events which could finally take place offline and in person in the second half of 2021. Showcasing the latest product portfolio and launching several innovative new products were on top of the agenda.
AoralScan 3
Aoralscan 3 was launched at IDS Cologne in September. Our latest intraoral scanner improves the overall clinical experience allowing users to easily acquire digital impressions in a faster and more accurate way. Powerful and intelligent data processing capabilities make Aoralscan 3 the perfect companion for first-time users as well as experienced users who demand the most from their scanning system. Aoralscan 3 can be applied for a wide range of clinical indications,  always providing a state-of-the-art user experience with the best results.
AccuFab-L4D
The large-format dental 3D printer AccuFab-L4D has been developed in order to make 3D printing more accessible to everyone. Its light weight, large print size and user-friendly operation provides users with an exceptional 3D printing experience. Supporting various dental applications like dental models, orthodontic models, surgical guide, customized impression tray or gingiva mask it is the ideal tool for clinics and labs alike. The self-developed 3D printing software AccuWare assists expert and beginner users guiding smoothly through the whole 3D printing process for an easy and convenient operation.
AccuFab-L4K & Transcan C
As our goal is to make 3D digital applications accessible for everybody, we are developing solutions answering to our customer's needs. AccuFab-L4K and Transcan C empower fast, efficient, high-performing and accessible 3D printing as well as high-resolution 3d scanning. We are proud to continuously add innovations to our product portfolio, facilitating and upgrading the 3D digital workflow for more and more users around the world!
AccuFab L4K is a 3D printer designed to improve prototyping efficiency and shorten the product development lifecycle. With 4K resolution and a large print volume, AccuFab-L4K delivers extraordinary printing results and feasibility.
Transcan C is a professional-grade 3D scanner, capturing exceptionally high resolution and accurate scans of objects of a broad range of sizes. The 12 Megapixel cameras produce rich and detailed colorful 3D models, authentically generating a digital replica of an object.
Walter Spohn Trust Cooperation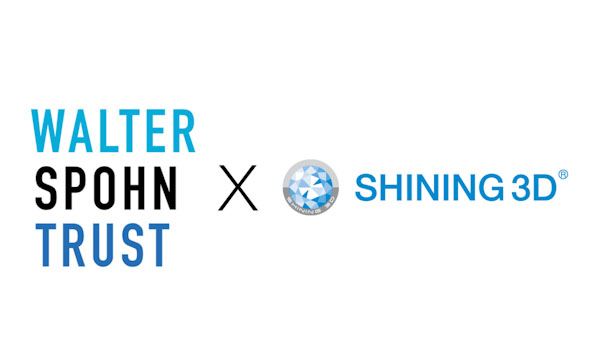 WALTER SPOHN TRUST(WST)is a non-profit organization with the mission of advancing clinical and practical education and scientific research in support of patient care in the field of Anaplastology. WST supports the profession by providing financial support for research and education with the goal of ultimately benefiting patients. SHINING 3D teamed up with WST to support their annual fundraiser and create more awareness of anaplastology and how 3D scanning can significantly improve and upgrade the workflow of the profession.
The whole SHINING 3D team is looking forward to an exciting 2022 full of in-person reunions, innovative new products, successful cooperations bringing more shining ideas to each and every corner of the world!
Stay safe and healthy and keep your eyes peeled for big announcements!
Team SHINING 3D