Do you remember the first time you used your EinScan 3D scanner?
Do you still have the data set of the first piece you scanned?
Or do you have some outstanding scanning projects you are eager to share with us and the whole EinScan community?
We want to see your scans!
This September, join EinScan users around the world as we share and celebrate projects from all kinds of backgrounds and applications:
#ShareMyEinScan
Get featured on our social media channels, win amazing prizes and connect with like-minded EinScan users!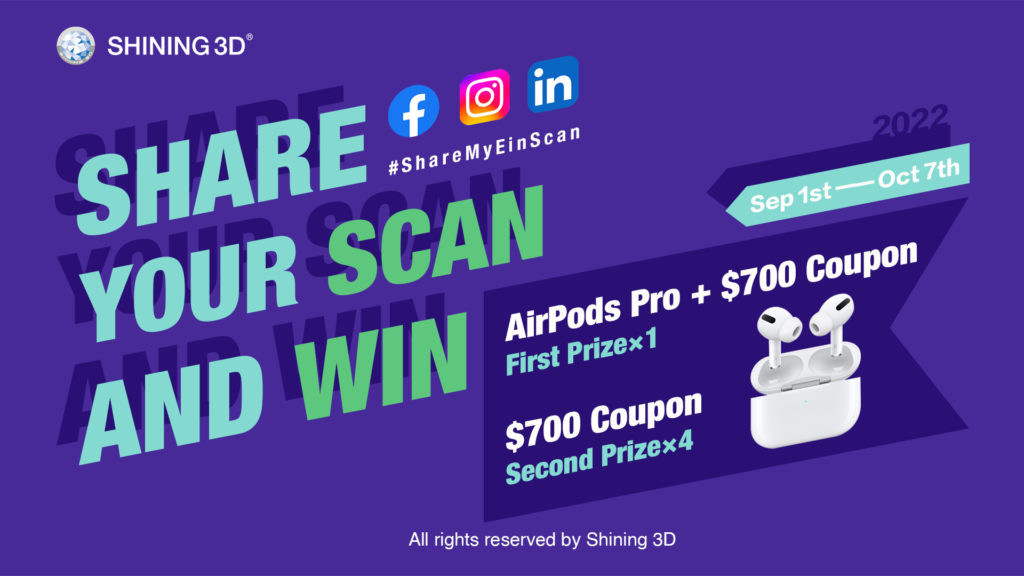 HOW TO JOIN
Step 1_Share your scan data! No matter if it is your first scan, the most impressive or meaningful! Share a photo, video, GIF, reel of your scanning project along with the EinScan model you use. There are no limits to your creativity!
Step 2_Use our special Hashtag #ShareMyEinScan on Facebook, Instagram or Linkedin and tag @shining3d so that we can find your entry!
Step 3_Get the chance to be featured on our social media channels, connect with other like-minded EinScan users and win!
WIN
Among all entries we give away a set of Airpods Pro and 700 $ Purchase Coupon Packages* for first prize and 4 coupon packages for second prize!
*500$ coupon doe EinScan Pro Series, H-Series, Transcan-C and AccuFab-L4K, 200$ coupon for EinScan Desktop 3D Scanners.