New cost-effective 3D scan-to-design solution is available to the market
SHINING 3D today announced that the company has partnered with 3D Systems (NYSE: DDD) to deliver a new scan-to-CAD solution. Geomagic® Essentials is launching this week as a bundled offering with SHINING 3D's latest multi-functional handheld scanner, the Einscan Pro 2X series.
Geomagic Essentials is an ideal solution for scan-to print and downstream reverse engineering applications as it extracts all the necessary elements of a scanned part for immediate use in CAD software programs. Many currently available CAD software programs have limited capabilities in regards to processing scan data. Geomagic Essentials facilitates this process, making the scan data compatible with native CAD workflows. With the new bundle, the power of Geomagic scan-to-design solutions is now accessible to designers desiring to integrate 3D scan data and part design.
The Einscan Pro 2X series of scanners continues SHINING 3D's tradition of high-quality products delivered at accessible price points, and the new bundled offering enhances its capabilities.
Visit https://www.einscan.com/einscan-software/einscan-reverse-engineering-design-bundle/ to learn more about the complete solution.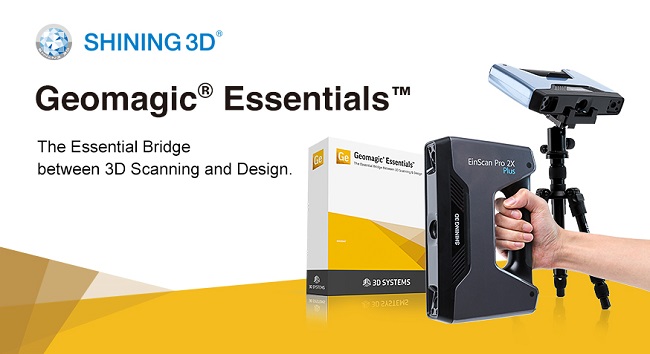 About SHINING 3D
SHINING 3D, founded in 2004, is pioneering independent research and the development of 3D digitizing and 3D printing technologies. SHINING 3D provides professional solutions covering "3D Digitizing – Intelligent Design – 3D Printing" for industries including industrial manufacturing, healthcare & life sciences, product customization, and STEM education. SHINING 3D is well-positioned in the market and has the capacity to handle large sales volumes, offer powerful 3D technologies, and provide strong support service. SHINING 3D's mission is to enable flexible production of high performance, complex structural products, and make 3D imaging and manufacturing technologies accessible to all; from at home hobbyist to large multi-national corporations worldwide. As the leader among Chinese 3D printing companies, SHINING 3D has currently extended a strong international influence with customers in more than 70 different countries in Asia and Pacific, Europe, North America, South America, Africa and the Middle East.
Forward-Looking Statements
Certain statements made in this release that are not statements of historical or current facts are forward-looking statements within the meaning of the Private Securities Litigation Reform Act of 1995. Forward-looking statements involve known and unknown risks, uncertainties and other factors that may cause the actual results, performance or achievements of 3D Systems to be materially different from historical results or from any future results or projections expressed or implied by such forward-looking statements. In many cases, forward looking statements can be identified by terms such as "believes," "belief," "expects," "may," "will," "estimates," "intends," "anticipates" or "plans" or the negative of these terms or other comparable terminology. Forward-looking statements are based upon management's beliefs, assumptions and current expectations and may include comments as to the company's beliefs and expectations as to future events and trends affecting its business and are necessarily subject to uncertainties, many of which are outside the control of the company. The factors described under the headings "Forward-Looking Statements" and "Risk Factors" in 3D Systems' periodic filings with the Securities and Exchange Commission, as well as other factors, could cause actual results to differ materially from those reflected or predicted in forward-looking statements. Although management believes that the expectations reflected in the forward-looking statements are reasonable, forward-looking statements are not, and should not be relied upon as a guarantee of future performance or results, nor will they necessarily prove to be accurate indications of the times at which such performance or results will be achieved. The forward-looking statements included are made only as the date of the statement. 3D Systems undertakes no obligation to update or review any forward-looking statements made by management or on its behalf, whether as a result of future developments, subsequent events or circumstances or otherwise.