Improving Reverse Engineering Functionality for the Einscan Pro 2X Line
SHINING 3D has released the latest version of the EXScan software, version 3.3 . This update focuses on improving the functionality of SHINING 3D's EinScan Pro 2X line of handheld 3D scanners and improves overall mesh editing functions. With the arrival of SHINING 3D's RED bundle, the need for more dynamic editing features in the initial scan software was highly requested. V3.3 brings multiple new options to better prepare your scans for reverse engineering and design workflows.
New Mesh Editing Functions in EXScan Software V3.3
Added feature creation


The ability to create feature functions including points, lines, planes. It will help alignment to the world coordinate system XYZ.
Added scan registration


Now you can quickly align your mesh data to the world coordinate XYZ, making post-processing and reverse engineering easier and faster.
There are two options to align the data.

Exact Movement
By entering the value, the scanned data can be offset or rotated to match the input coordinate and orientation.

3-2-1 System Movement
3-2-1 system movement (plane-line-point alignment) aligns the data by deletion of the degrees of freedom.

3-2-1 System Movement menu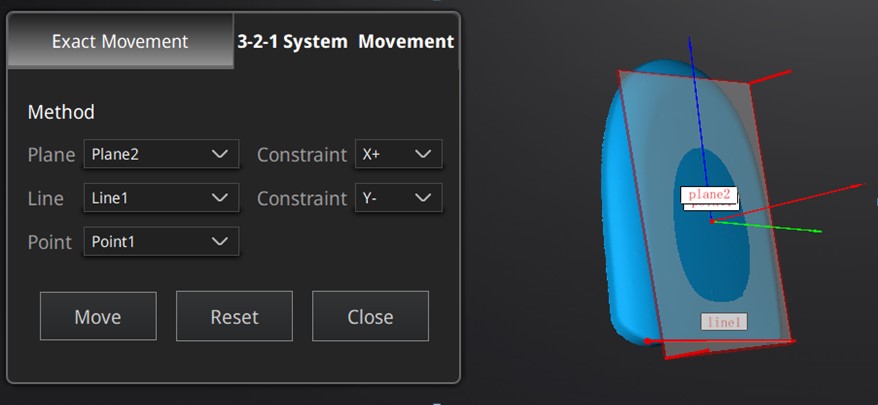 Data after 3-2-1 movement
Select a Plane in the drop-down menu, match it to the first axis in the Method drop-down. The arrows on the corners of the plane represent the plane positive direction. The normal vector of the plane will match the axis direction.
Select a Line in the drop-down menu, match it to the first axis in the Method drop-down. Beware the direction of the line to match it to the + or – axis. The projection of the line to the first plane will be parallel to the corresponding axis.
Select a Point in the drop-down menu. The data will be translated to match the point with the origin point (coordinate 0,0,0)

Added measuring function


The addition of measurement tools enables quickly analysis of scanned objects. Options includes distance, surface area and volume.

Distance
Calculates the distance between two points belonging to the surface of the data.

Surface Area
Calculate the area value of the selected data in mm2

Volume
Calculates the volume contained in a watertight mesh.

SHINING 3D prides itself on delivering a complete 3D scanning experience with the Einscan line of 3D scanners, the complete 3D Scan to 3D Design solution. We look forward to improving your overall workflow and functionality with our complete solutions. For more information on any of our products please reach out to us directly at sales@shining3d.com.