THE CHALLENGE
Ancient cities like Babylon, have been subject to years of plunder, neglect and ongoing conflicts reducing them to faint facsimiles of their illustrious past. Babylon has repeatedly been denied World Heritage Site Designation because the city lacks; clearly-defined boundaries, a comprehensive preservation plan and safeguards to ensure sustainable tourism. The future of Babylon is now an essential topic for heritage conservation.
Although the original splendor of places such as the wondrous "Hanging Garden" are long gone, new preservations attempts are being undertaken by the local Iraqi government and the WMF (World Monument Fund). Per the WMF, many challenges persist such as; repairing the damage caused by military conflict and assessing the effects of twentieth-century construction on ancient artifacts. Furthermore, the WMF is tasked with helping Iraqi authorities prepare the site for visitors to enjoy the "Cradle of Civilization".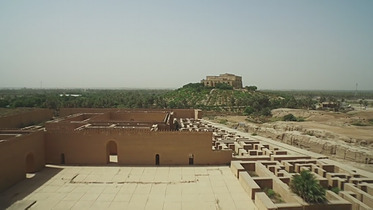 SHINING 3D focuses on the fusion and innovation between 3D scanning and printing. The company's cohesive solutions have been successfully applied to cultural relic archival, sculpture, scientific research and vocational education. Throughout the company's history, there has an emphasis on helping customers realize the value of additive manufacturing and its application to the restoration and archival of ancient artifacts.
THE SOLUTION
As part of the popular video series "The Trueman Show", Xinyu Zhang and Hong Liang, an adventurous travel couple traveled to the ancient city of Babylon. Their mission was to donate a SHINING 3D EinScan Handheld 3D Scanner and an EinStart-S 3D printer to the Iraq government. The goal of the SHINING 3D donation was to support local Iraqi preservation of cultural relics.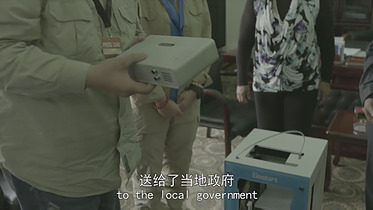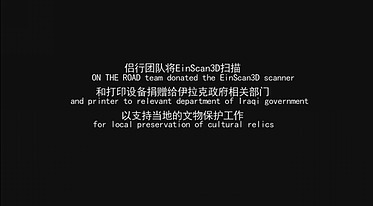 SHINING 3D has made significant breakthroughs in 3D archaeological perseveration technology and believes strongly in the establishment of an International Standard for cultural relic and archaeological site digitalization and archival. SHINING 3D newly developed scanning and printing technology will have broad research and application impact in this important field.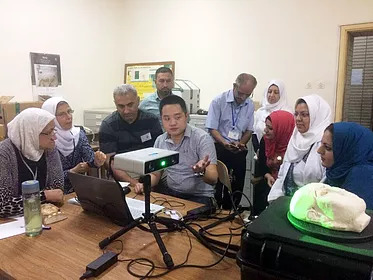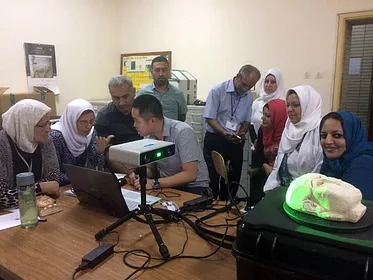 During their visit to the Babylon government office, SHINING 3D technicians delivered comprehensive training on the various applications of 3D scanning and 3D printing. They introduced valuable 3D scanning and printing concepts to local government officers to educate them in the capture and archival of ancient cultural relics. The EinScan-Pro's four operating modes make it the perfect choice because the multi-functional 3D scanner offers both portability and high-accuracy capture abilities.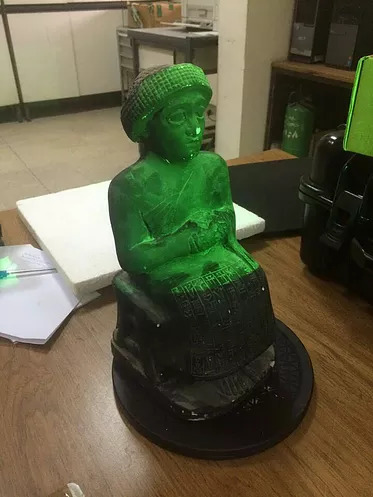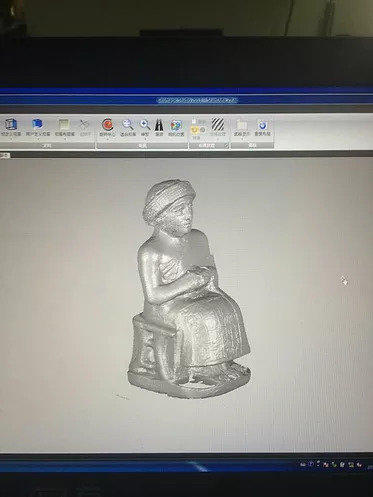 The example shown here illustrates how the EinScan 3D scanner acquired the surface data of a porcelain doll for archival as an 3D model in a computer. A CAD technician can then use the 3D model to recreate missing parts or to add a 3D printing support structure. The EinStart-S' innovative print technology will allow the Iraqi government to print delicate objects with smooth, accurate surfaces with easily removable 3D printer support.