Wouldn't it be great to work in a clean and comfortable welding factory while at the same time boosting productivity and efficiency? This was exactly the challenge undertaken by VRIC (Dalian) Welding Tech Company when they decided to revolutionize their welding technology.

THE CHALLENGE
VRIC (Dalian) Welding Tech Company is a top-level Chinese supplier of forging-die refurbishment services and welding materials. In order to dramatically increase productivity, they developed an innovative automatic-welding machine/3D scanner combination to replace the work done by manual welders. The search for a new solution ensued because manual welding creates a factory environment laden with heavy metal powder and as time goes on, the work environment gets worse and worse. Moreover, management realized that their manual welding workforce couldn't keep up with the company's growing productivity demands. They needed a solution that would resolve their productivity challenges while simultaneously improving the work environment.
THE SOLUTION
One of VRIC's key customers, GUILINFUDA, specialists in the engine crankshaft production issued a new order for an engine crankshaft die-mold. Instead of using the traditional manual methods to fulfill the order, VRIC engineers opted to try their new auto welder with the EinScan-Pro 3D Scanner. They needed an accurate 2D path for the welder to follow and so they used the Shining 3D EinScan-Pro scanner to capture a precise 3D digital model of the existing forging mold. Once they had stored the accurate 3D model, they could use the surface data to derive a 2D engineering path that would be used to control the auto-welding machine.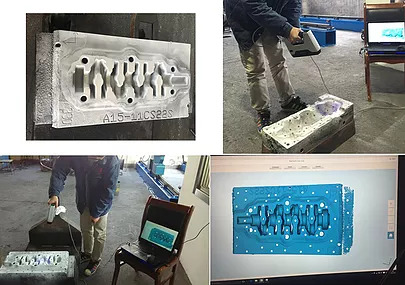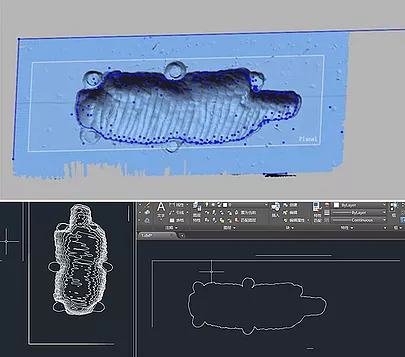 The EinScan-Pro multi-functional 3D scanner offers both portability and accuracy because of its four versatile scanning modes: Handheld rapid scan, Handheld HD scan, Automatic scan, and Free scan. Since the engine crankshaft mold was about one meter in length, they chose the Handheld Rapid Mode to acquire the 3D data. The EinScan-Pro's ability to capture high quality 3D scanned data from large molds makes it an invaluable component of the auto-welding machine.
Once the 3D scan was complete, they simply exported the precise STL data to Geomagic Design X for further modeling and optimization. The optimized Geomagic 3D surface model was then exported to AutoCAD so that they could generate the 2D engineering drawing required for the auto-weld process.
Results and benefits
Powered by the EinScan-Pro multi-functional 3D scanner, VRIC was able to completely automate their manual welding operations which resulted in the following:
Welding positional accuracy became more consistent

Less welding slag equals reduced removal cost

Reduced polishing cost

Welding speed was increased from 200-500mm per minute to 500-1500mm per minute

The working environment was greatly improved by reducing harmful metal powder
Industry: Forging Die Refurbishment Services
Previous Solution: Traditional Manual Methods
Benefit: Reduced cost, Improved Environment, Increased Accuracy