SHINING 3D is proud to introduce the EinScan-S Scan Sharing Act winner, AKE from Thailand. AKE undertook four ultimate tests for the EinScan-S and selected EinScan-S as his ultimate choice for Architecture and interior design.
It took some time for AKE to get used to working in a digital 3D environment. Back in 2004 when he was studying Architecture, AKE started using 3D for visualization, mainly for the exterior and interior building design. Back in 2004, 3D printers were unavailable so he had to create scale models of his buildings with paper and glue. At that time, his job was focused mainly on architecture and interior design. He owned a showroom selling furniture and decorative items but with a "hyper-surface" future, he started looking for new opportunities enabled by 3D technology."
AKE started first with 3D software and then later on employed 3D hardware. Ricoh Theta (360-degree video camera), which allowed him to capture his surrounding environment. Then he got iSense that was able to capture 360 degree of any 3D object.
"After that, I want something more capable more powerful and accurate and I found that the EinScan-S was the ultimate choice."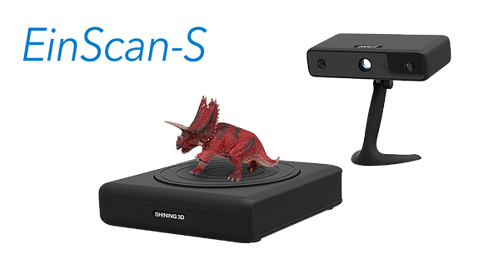 Before reaching this conclusion, AKE thoroughly tested EinScan-S' capability to see how easy it was to use and to analyze the quality of his 3D models. In his mind, he questioned, "how well does this low cost tool compete with other scanners ?
EinScan-S was tested using four different trials:
1. Buddha scan: Big object / Accuracy in detail / large file and polygon count / automatic form stitching / extensive and continuous scan/ free scan mode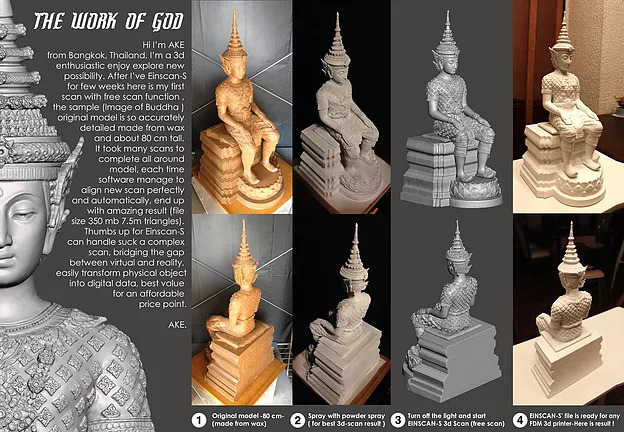 "The work of God"
"After I had my EinScan-S for few weeks, I completed my first scan with free scan function. The (Image of Buddha) original model was accurately detailed, made from wax and was about 80 cm tall.'' It took a number of different scans to completely capture the object. Each time he started a new scan, the SHINING 3D software managed to automatically align perfectly giving him an amazing result (350 MB files size with 7.5m triangles). He gave his ultimate "thumbs up" because the EinScan-S handled such a complex scan bridging the gap between the virtual and reality. He found it easy to transform a physical object into digital data especially because the EinScan-S offered the best value for an affordable price.
2. Food scan: Small object / Accuracy in color / texture mapping / automatic turntable scan
"Digital food"
After the first trial, it was time to attempt a full color scan. AKE performed the first color and texture scan on a fresh and ready-to-eat croissant. After a quick white balance test, he started an automatic scan with EinScan-S turn table. The whole full-color scan took less than 5 minutes to complete. AKE was pleased with the results: an accurate, naturally vibrant 3D model which was immediately ready for animation and color 3D printing. Good job EinScan-S!
3. Robot scan: Small object / Accuracy in detail / automatic turntable scan / ability to scale in size without losing detail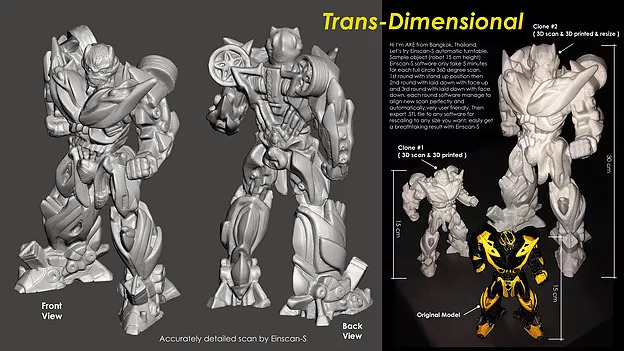 "Trans-Dimensional"
The next trial pushed the limits of the EinScan-S turntable. After calibration, AKE put his sample object (a robot 15 cm height) onto the turn table. The EinScan-S software only takes 5-minutes for each automatic 360-degree scan. For the 1st rotational scan, he stood his robot up. The 2nd scan was done with the robot face down and 3rd scan was completed with the robot face up. The SHINING 3D software automatically aligned each new rotational scan, delivering perfect results in a very user-friendly fashion. After scanning, AKE exported a neutral STL file so that it could be used with any design software. He was astonished at how easily he got such breathtaking results with the EinScan-S.
4. Emotional capture: live object / non static condition / rapid scan / Accuracy in detail / distance vs performance / different lighting condition / free scan mode

"My 3D-selfie with EinScan-S"
"I used this sample exercise is to push EinScan-S to its limit. By taking a selfie of myself in a live human, non-static condition with rapid movement. As shown by the pictures, the result was amazing and the EinScan-S' ability to capture every facial expression was very quick and accurate. EinScan-S passed all my "torture" tests and is officially my most-favored Desktop scanner ."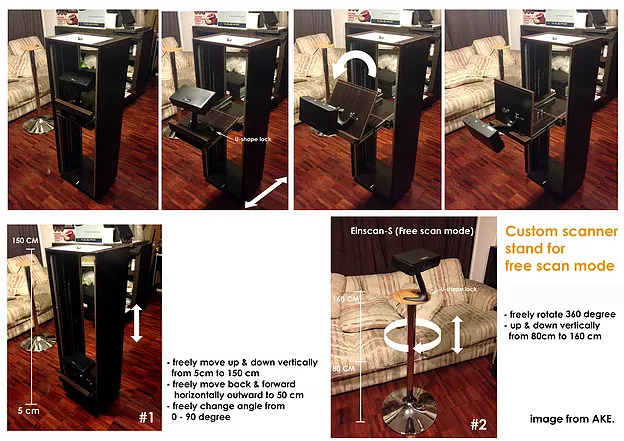 Custom Stand: creatively made for free scan mode
"EinScan-S passed all my tests and is officially my most-favored Desktop 3d scanner." AKE told us," It offers high-technology and high-end performance at an affordable price point."
Pros AKE listed:
High Accuracy
Color Texture Scan
Two Scan Options
Large Scan Envelope
Fast Scan Speed
Simple to Use
Affordable
With much experience in 3D CAD and Visualization software, AKE combines his know-how and vision synergistically with 3D scanners and printers. Any shape and form is possible and it's easy for him to create fully customized prototypes.
SHINING 3D Team
Email:sales@shining3d.com
TEL:+86-571-82999050
Skype:shining3d_sales
Facebook: www.facebook.com/shining3d
Twitter: www.twitter.com/shining3d
Instagram: shining3d
Company: www.shining3d.com