In recent years, the advancement of 3D digitization technology has revolutionized the field of cultural heritage preservation, providing a powerful tool to preserve cultural heritages. SHINING 3D, nearly 20 years experience in provider of 3D scanning and printing solutions, has partnered with Cloud Bud Culture Media, a company dedicated to the 3D digitization of cultural heritage, to provide cutting-edge 3D digital solutions for cultural heritage preservation.
Digital preservation of cultural heritages is the use of modern computer technology and 3D scanning technology for non-contact 3D scanning and data processing of cultural heritages, as a way to record the current state of preservation of cultural heritages. Compared to traditional manual recording, mapping, and photography, 3D digital technology provides a more effective and accurate way of recording and conserving cultural heritage. By using high-resolution 3D scanners, detailed 3D digital models of artifacts and sites can be created, enabling works such as preservation and restoration to be carried out more accurately.
3D scanning of cultural heritage
The process of 3D digitization of cultural heritages utilized the SHINING 3D EinScan Pro 2X 2020 Multifunctional Handheld 3D Scanner to capture 3D data of the cultural heritage. The 3D scanner supports two scanning modes, with an accuracy of up to 0.045mm in handheld scanning mode, to restore the 3D form of the cultural heritage in high definition and detail. It can also quickly obtain color information on the surface of the object through the extended texture module to truly restore the visual appearance. After scanning is complete, the data is processed using specialized 3D software to create a high-resolution 3D model of the cultural heritage.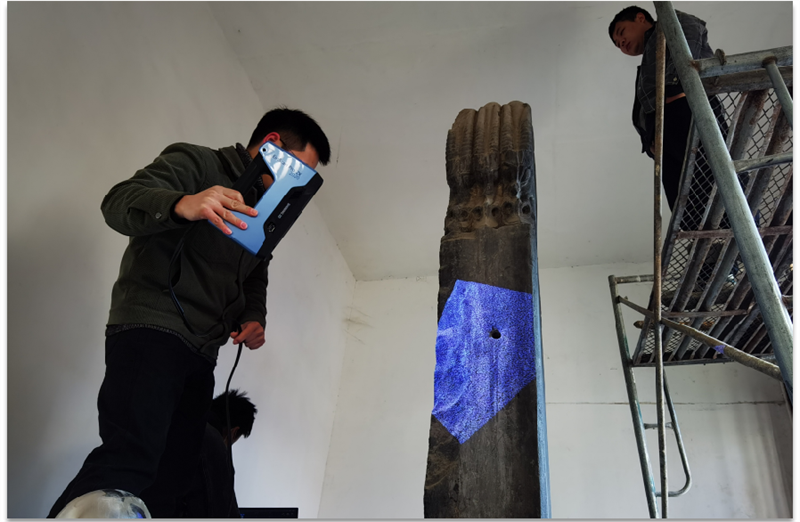 Using EinScan Pro 2X 2020 to scan a tablet of Western Jin Dynasty
The uses of 3D digital models for cultural heritage
3D digital models for restoration/preservation
The usage of 3D digital models in the restoration industry helps identify the deterioration and distortion of cultural heritages. It enables the study of how the pieces fit together in the case of fractured works without requiring any physical contact. With 3D printing technology, it also makes it possible to build molds of the missing pieces.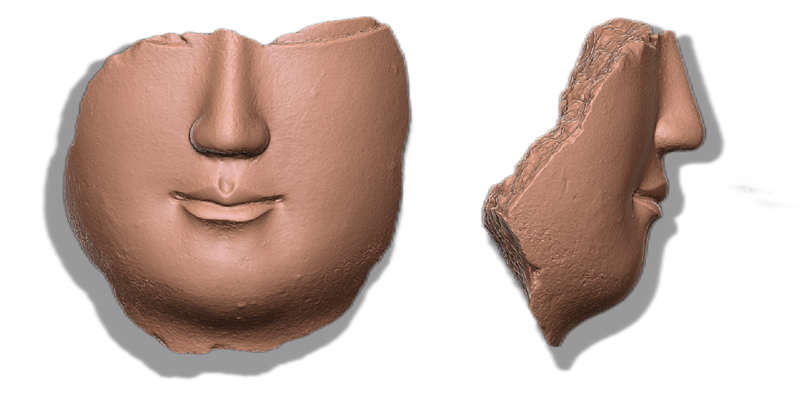 3D digital scanning of a incomplete clay Buddha face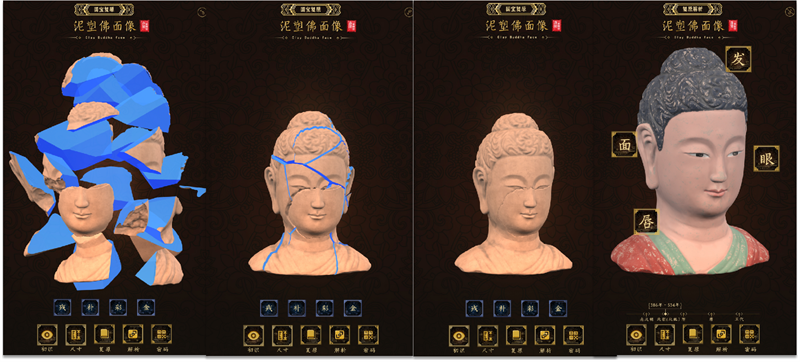 A virtual restoration display of a clay Buddha face
3D digital models for research
3D digital models of cultural heritages provide valuable resources for research. In some cases, researchers must take a trip to examine details in situ, but with the 3D digital model, it's almost like holding the original object in their hands. Researchers can see the cultural heritage from all angles and even zoom in and out, and make changes to it. Researchers can also archive the information permanently for further study.
3D digital models for cultural communication and exchange
3D digital models also open up new possibilities for communication and exchanges, because they can be applied in the field of AR and VR, which enables audiences truly feel the charm of cultural heritages. In addition, 3D digital models can be easily shared with other researchers around the world, fostering collaboration and advancing the field of cultural heritage research.
The cooperation between SHINING 3D and Cloud Bud Culture Media proves that the future of digital preservation of cultural heritages is very promising.