Name: REV WORLDS, Mitsukoshi Isetan Co., Ltd.
Service: a communication platform on a smartphone app for virtual cities, providing shopping and chatting experiences in virtual cities!
Location: Japan
Need: Convert multiple commodities to 3DCG continuously and quickly
Solution: EinScan Pro HD 3D scanner
Results: The "REV WORLDS" team successfully converted about 900 items to 3DCG through in-house work, significantly improving operational efficiency and reducing outsourcing costs.
Introduction
In the bustling world of virtual commerce, Mitsukoshi Isetan Co., Ltd. embarked on a journey to create the metaverse app "REV WORLDS". This app aimed to offer users a unique blend of virtual shopping and social interaction, set in a virtual city reminiscent of Shinjuku. However, they faced a pressing challenge: the continuous and rapid conversion of countless real-world products into high-quality 3D computer-generated (3DCG) models. The SHINING 3D EinScan Pro HD 3D scanner helped them overcome this challenge.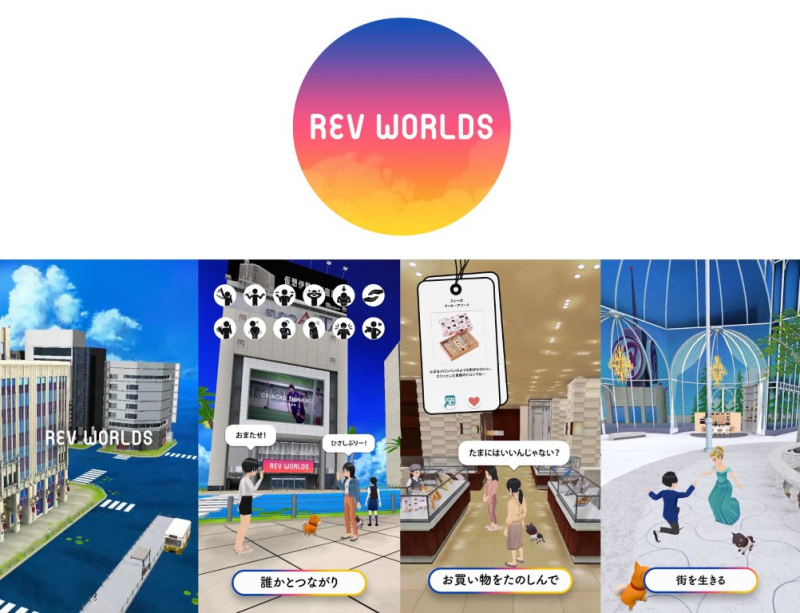 "REV WORLDS" merges the convenience of online shopping with the immersive experience of real-world connections within a virtual city.
Challenges
Before EinScan Pro HD's introduction, Mitsukoshi Isetan faced a major challenge in developing the "REV WORLDS" application. From the beginning of the application's business planning, the company aimed to produce 3DCG in-house. Mitsukoshi Isetan was the first to introduce large-scale scanning equipment into its studios.
However, in the "REV WORLDS" business, there is a wide variety of products to be scanned, ranging from large items such as household goods to small and medium-sized items such as clothing, shoes, and accessories. Large scanners cannot accurately and quickly convert small, detail-rich items to 3DCG.
In addition, since all items are in season, it is difficult to rent them for a while to a scanning studio to have them scanned. As a result, the development team needed a portable 3D scanner to bring to the store and use it on the spot.
EinScan Pro HD-The Most Suitable Solution
Japan 3D Printer Company demonstrated the scanning process for the "REV WORLDS" team with several scanners, with the EinScan Pro HD achieving the results closest to their goals.
User Friendly
The best thing about choosing the EinScan Pro HD is that the hardware and software are so easy to use that anyone can handle them. Even people with no computer-generated knowledge can learn quickly and perform various tasks. After the demo, the company borrowed the equipment for about a week and practically checked how they felt about operating it. Eventually, the EinScan Pro HD was officially adopted.

Simple scanning can be done by people from different departments (left),
scanning data of a shoe (right)
Two Scanning Modes
The "REV WORLD" team has various objects to scan, including different materials and shapes. The beauty of the EinScan Pro HD is that it can scan in two modes: handheld and turntable. Self-supporting items such as shoes, accessories and bags are scanned with the carousel, while everything else is scanned with the convenient handheld.

Scanning with a turntable (left), handheld scanning (right)
Software-compatible
"REV WORLDS" is a smartphone app, so we needed to make the data as light as possible," Mr. Asaga said. After scanning, the staff used EXScan Pro software to reduce the number of polygons to about 1/50th of a polygon, then used the "Decimate" function of Blender software to reduce the weight further and manually adjust the textures as necessary to complete the process.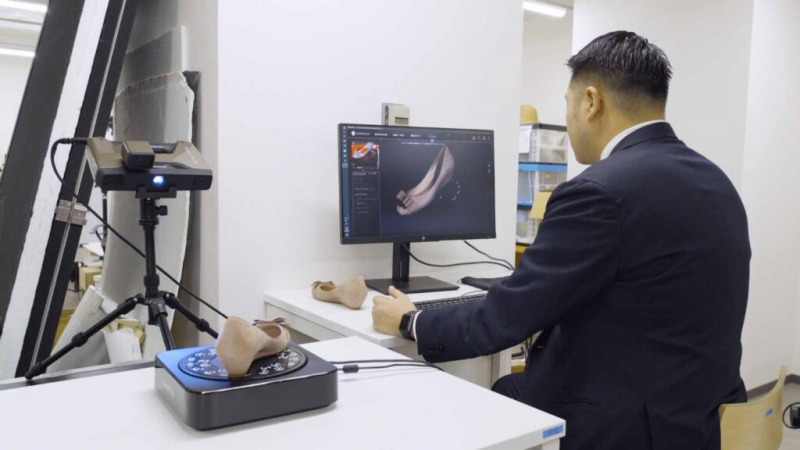 Processing scanning data
The staff is now so used to the process that each project takes about 15 minutes. In the past, when CGs were made by hand, it took two days to produce one or two products.
Improvements in efficiency
From a business rollout perspective, performing 3D scanning in-house improves operational efficiency and reduces outsourcing costs. The cost and time will be significant if you outsource your scanning projects. Using EinScan Pro HD, Mitsukoshi Isetan has realized overwhelming operational efficiency and cost savings.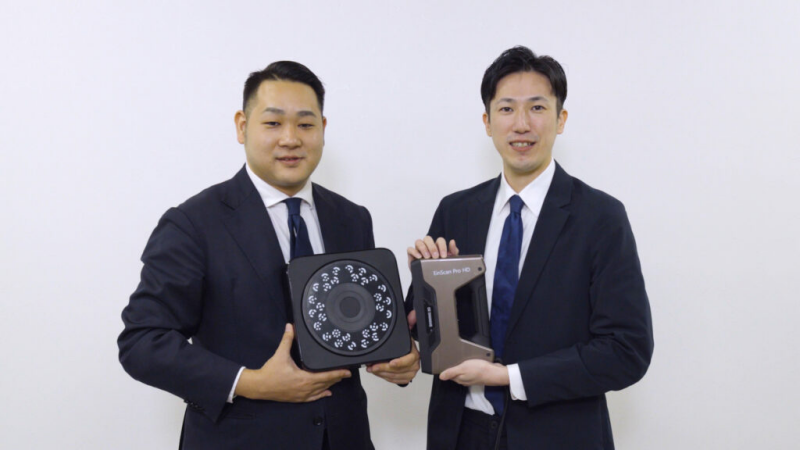 Digital Business Operation Department REV WORLDS Assistant Manager:
Ryota Asaga & Hiroki Kawata
Mitsukoshi Isetan's journey to build "REV WORLDS" exemplifies the power of innovative solutions. The EinScan Pro HD 3D scanner met and exceeded their expectations, enabling them to convert about 900 items to 3DCG efficiently.
Are you facing similar challenges in your business? Do you want to enhance your product digitization process, reduce costs, and improve efficiency? Reach out to us for a free consultation.