In the field of oncologic surgery, achieving clear surgical margins is a complex and challenging task. Margin status is the most significant of all pathologic risk factors, to achieve the objective of complete tumor removal and clear surgical margins while minimizing the retention of normal, unaffected anatomy, surgeons and pathologists frequently use intraoperative margin assessment through frozen cryosection analysis (FSA). Nevertheless, conventional evaluation methods often necessitate the surgeon to exit the operating room, consult with the pathologist, and then resume the procedure, which can be inconvenient and time-consuming.
Michael has recognized the necessity of enhancing communication between pathologists and surgeons during surgery. He works as an assistant professor at the Vanderbilt University Medical Center's department of otolaryngology. Michael hopes to conduct a prospective study to determine if 3D scanning can be incorporated into the surgical pathology workflow. It has shown that the technology reduces the communication time between surgeons and pathologists by providing surgeons with real-time feedback and detailed and accurate representation of ex vivo specimens.
3D Scanning Technique and CAD Margin
EinScan-SP Desktop 3D Scanner was used to capture and digitally reconstruct the 3D surface topography of fresh ex vivo surgical specimens, which is then used to record the site of edge sampling and slicing using CAD software. Specimens are taken directly from the operating room to the surgical pathology capillary room, rinsed with water, patted dry, and then placed on the scanner turntable for scanning. It is important to keep the room dimly lit to obtain better quality 3D scanned images. The turntable will automatically rotate to complete a full rotation to get a virtual 3D model. EinScan-SP has fast scan speed, the median image acquisition time was 8 min for total 40 specimens, of which 31 specimens (78%) had an acquisition time of less than 10 min.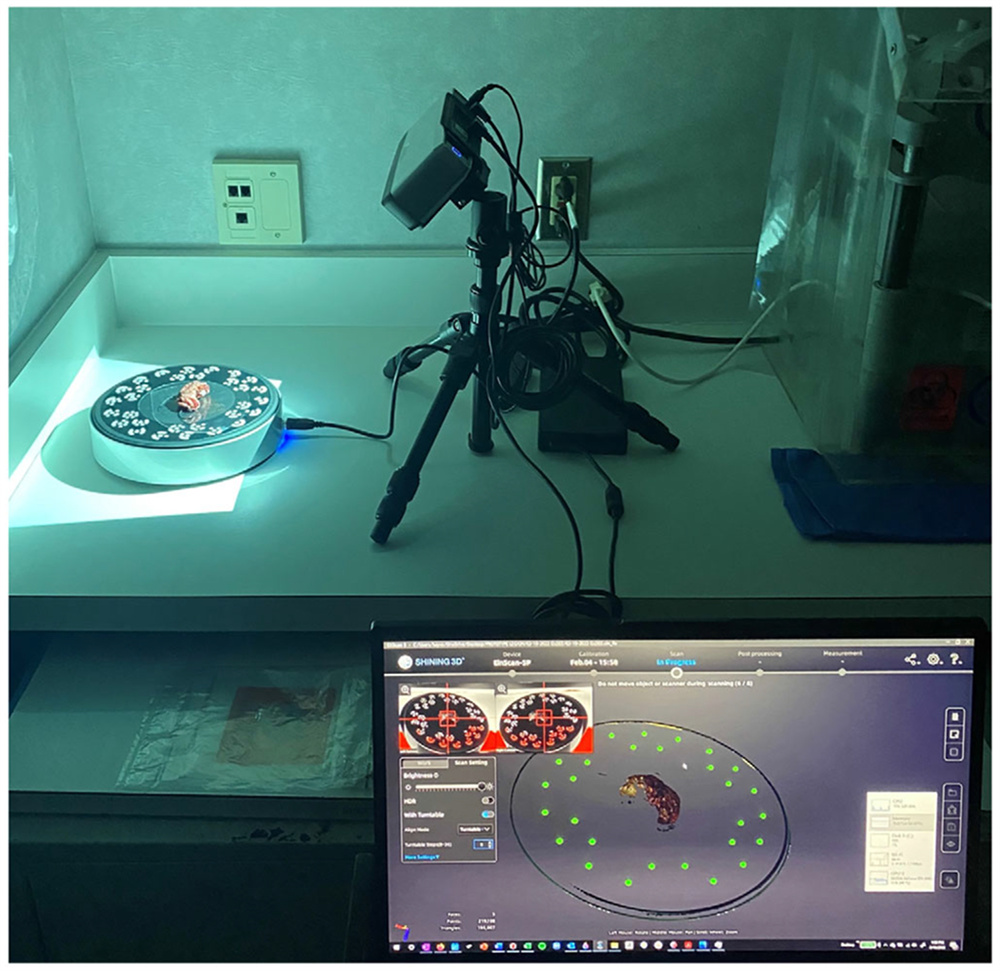 3D scanner setup during image acquisition with specimen on turntable
Following acquisition of 3D scanning data, the resultant 3D model of the en bloc resection specimen was exported in 3MF file format into a CAD software-Meshmixer. The research team member will delineate each anatomic site and type of margin onto the 3D model using a digital airbrush while the standard FSA protocol is executed. In every case, this procedure was carried out intraoperatively just after the surgical resection.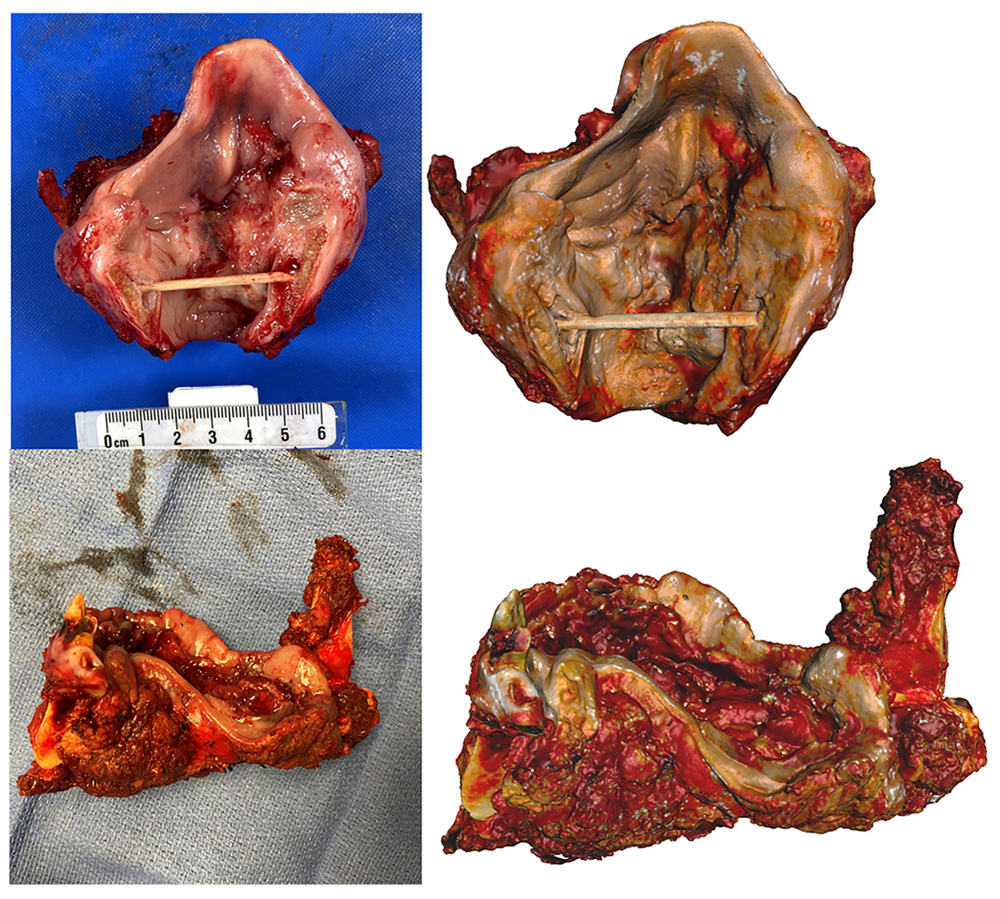 specimen photographs (left) and virtual 3D models (right)
Benefits of Virtual 3D Specimen Mapping
The 3D model of the specimen with real-time annotations can be displayed on a screen in the operating room, which provides a visual tool for the pathologist to communicate with the surgeon. Surgeons can now stay in the operating room and work with the pathologist on the analysis. Some surgeons noted that the frozen edges were clearly visible on the excised specimen, reducing ambiguity and allowing them and the pathologist to better understand each other's tumor geometry.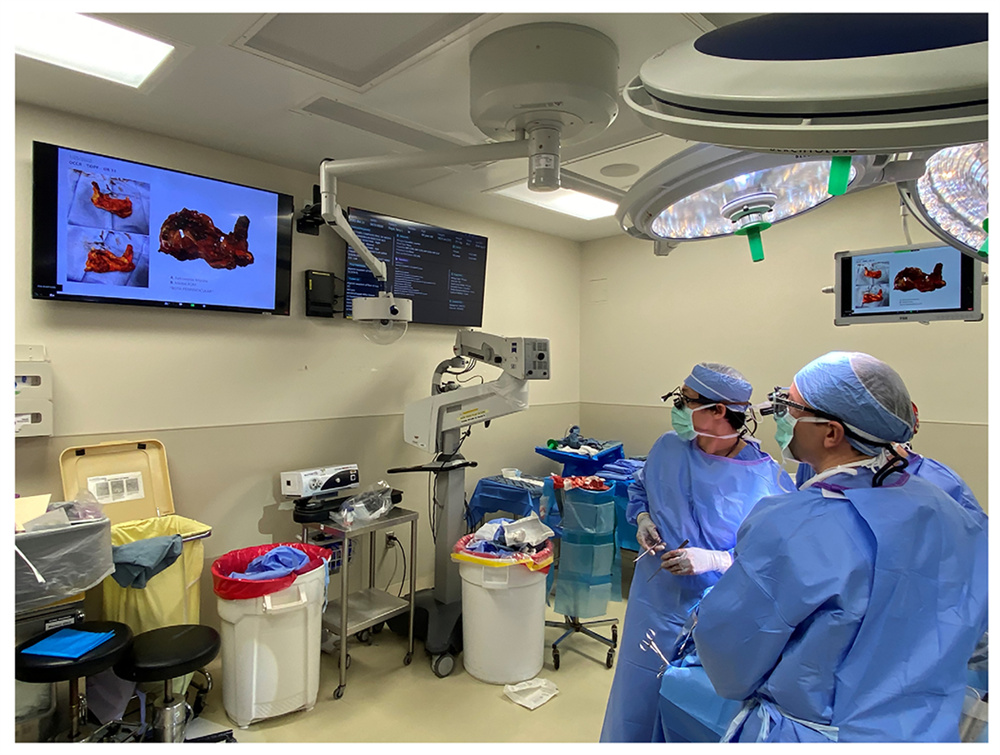 The 3D CAD workspace is displayed on overhead monitors for surgeons to view while the pathologist reports the frozen section diagnosis at each site
3D specimen maps were also valuable in the postoperative setting. It augments the postoperative communication of permanent surgical margins and delivery of the final pathology report. Final 3D specimen maps were distributed among pathology attendings responsible for signing out each case to serve as a visuospatial reference for the case. 3D specimen maps were also distributed to surgeons as a supplement to the written pathology report to aid in the visualization of any positive or close margins.

Postoperative virtual 3D specimen mapping results (CAD screen-captures, above; gross photographs, below)
"Virtual 3D specimen mapping creates a permanent 3D record of the gross morphology of the specimen. Precise anatomic locations of each tissue section and frozen into hematoxylin and eosin (H&E) slide are clearly documented, whereas currently, to our knowledge, there is no form of documentation which captures this important gross-level information, " Michael noted.
Michael's research on the feasibility of using 3D scanning in the operating room has shown promising results. 3D scanned spicements can reduce the cost of communication between surgeons and pathologists, provide surgeons with real-time feedback, more detailed and accurate representation of specimens, and enables archiving of 3D digital specimens. It is exciting that 3D scanning is assisting surgeons in and out the operating room!
*All images in this article are based on the original article The computer-aided design margin: Ex vivo 3D specimen mapping to improve communication between surgeons and pathologists, which can be viewed at Wiley Onine Library.