Swedish company nioform is dedicated to the 3D modeling and robotic manufacturing of molds, sculptures, and artistic models. Recently, nioform was commissioned to 3D scan five tall, bronze sculptures from the 1800s. Joakim, the company's founder, trusted the EinScan H for this 10-hour-long process.
– Company name: nioform
– Company size: Individual business
– Location: Mariestad, Sweden
– Product offering: Robotic milling for artists, architects, and designers
– Need: Upgrade from outdated structured light scanning and photogrammetry
– Solution: SHINING 3D EinScan H
– Results:

> Scanning time reduced by 50-75%
> More reliable workflow with real-time feedback
> Professional 3D scanning now offered as a service
Introduction
Joakim single-handedly runs nioform, a small business dedicated to 3D modeling and robotic manufacturing. He works with styrofoam for plastic coating, creates polyurethane models for bronze casting, crafts unique objects out of wood, and more – he's a true maker, eager to build anything and everything.
With the aid of digital tools, Joakim physically reproduces his customers' ideas. He generally 3D scans the models and prepares the scan data for CNC milling. He then manufactures them in-house with his two industrial robots or sends the models out to local foundries.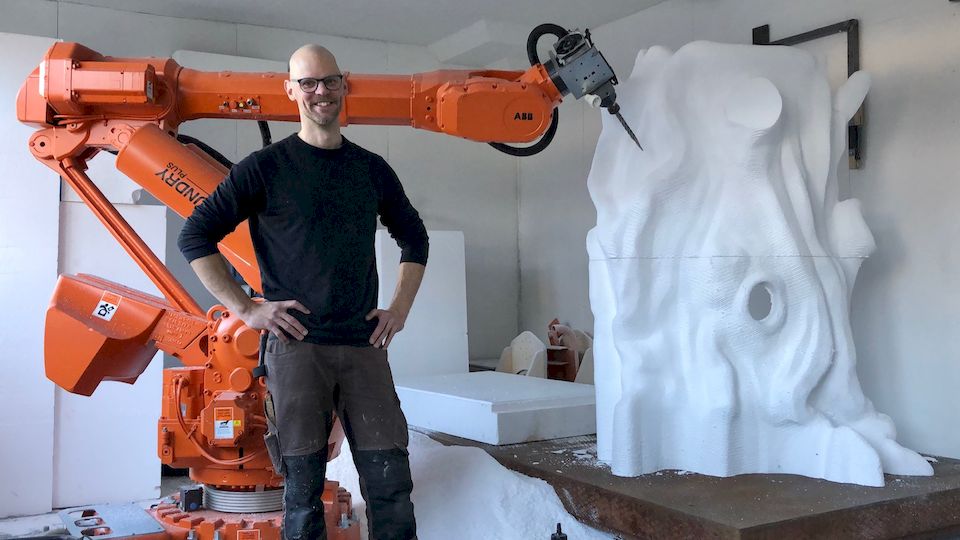 A client recently commissioned nioform to capture a set of five bronze sculptures from the 1800s. The client needed to secure the sculptures' 3D data for future reproduction, and of course without damaging the originals. These large sculptures were located outdoors and measured between 1 and 1.5 meters tall – quite a big project!
Comparing 3D scanning technologies
Joakim has been familiar with 3D scanning technology for around 15 years, ever since the first DAVID 3D scanner kit. He's been using early versions of the DAVID structured light scanner (a stationary, desktop device) as well as photogrammetry.
Both technologies work well on small or medium-sized objects, but each presents disadvantages incompatible with the bronze sculpture project.
For example, much of the workflow with the DAVID scanner involves manual repositioning and data alignment. "Although the DAVID scanner is a workaround for [some] objects, it's a very slow and outdated process," Joakim explained. As an individual business owner and passionate maker, Joakim would rather spend time crafting.
And with photogrammetry, the objects must have a recognizable pattern. Smooth, mono-colored objects – like a bronze sculpture – are hard (if not impossible) to capture with photogrammetry. Plus, as Joakim adds, "you don't get feedback during the photography session on whether or not you have enough images."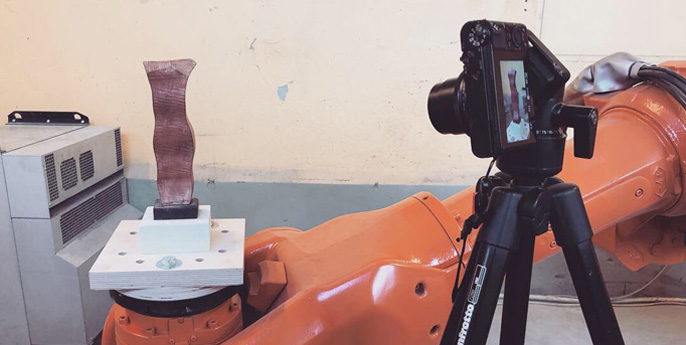 The full photogrammetry process can take several hours, and you'll only see if you took enough images once the calculation process is complete. Having to restart a whole photo session is time-consuming and can be frustrating, especially when dealing with large and/or complex objects.
It isn't always possible, either, when you no longer have access to the object or if the client is located far away.Considering these limitations, neither the DAVID scanner nor photogrammetry would've been suitable tools to capture the bronze sculptures.
Finding an adequate 3D scanning solution
"I needed a fast, reliable method for 3D scanning. Something that gives real-time feedback and allows me to scan all the types of surfaces that typically land in my workshop," expressed Joakim.
It so happened that one of his customers had recently purchased a SHINING 3D EinScan H for their own purposes, and were quite happy with it.
The EinScan H is a handheld 3D scanner leveraging both structured LED light and infrared light to capture 3D geometries. Its built-in camera also acquires the object's colors and offers a large field of view for faster scanning.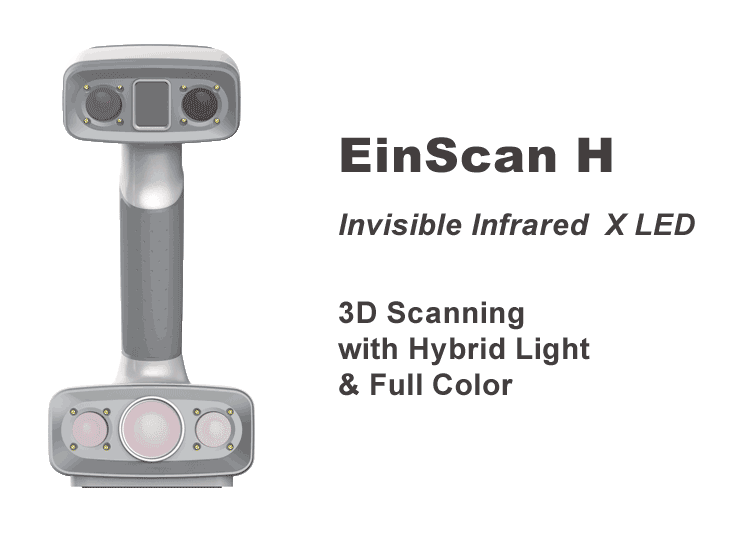 Via his customer, Joakim got a first glimpse of the EinScan H's output quality and was intrigued by its cost-efficiency. He was particularly interested in its capability with large-scale objects.
To put it to  the test, Joakim's first scan involved a large, 3-by-4-meter object. He happily found that the scan was successful at the first attempt, and without markers.
A few more scanning sessions later, Joakim was convinced. "The Einscan H gives real-time feedback during scanning with virtually no setup necessary. The accuracy [(up to 0.05mm)] is more than enough for my applications. I can scan monochrome surfaces of any size and shape – even outside, with some consideration of lighting conditions."
He also appreciates the fact that data can be auto-aligned and processed directly in the scanner's software.
Overcoming the challenges of outdoor 3D scanning
While the SHINING 3D EinScan H was just what Joakim needed, the bronze sculptures still posed a couple of challenges.The first one involved lighting conditions – an important factor for any 3D scanner.
Since the large, bronze sculptures were outdoors, broad daylight could potentially interfere with the projected light patterns. Joakim worked around this by starting his scan session at dusk and continuing throughout the night.
He was able to 3D scan all five sculptures in a single, 10-hour-long session.The second challenge was getting power input for the PC and the 3D scanner. Four of the statues were close enough for the 70-meter-long cable setup but the fifth one was out of reach.
The solution was to use a portable power generator, despite initial concerns: "I was worried that the generated power would be too "dirty" for the equipment but learned that the PSUs and transformers can handle just about anything. Not a problem."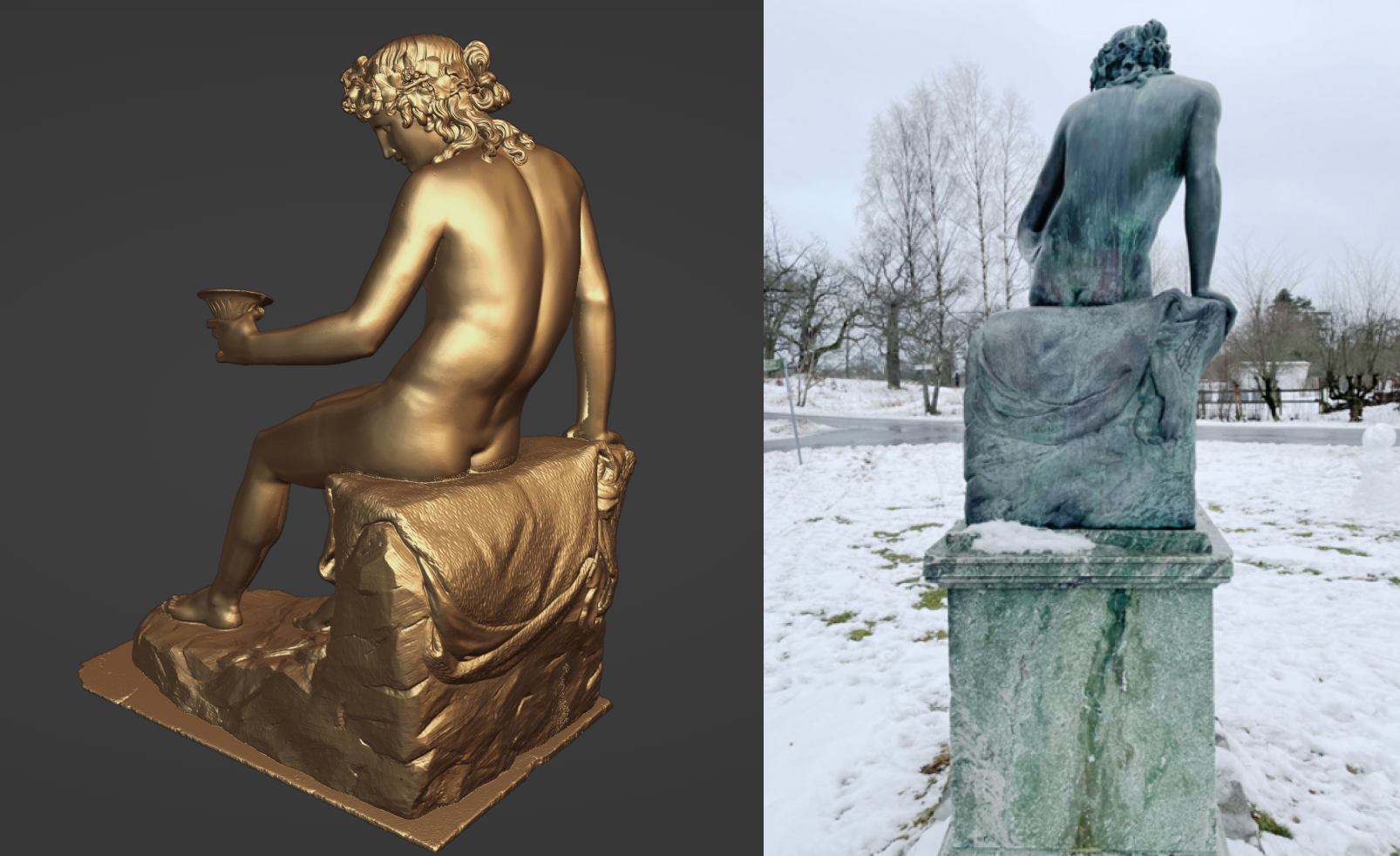 In the end, Joakim spent about 2 hours per sculpture, including all the moving around and power management. According to him, "a typical scan of a medium-size object may have taken around 3 to 4 hours with photogrammetry, given that the surface was suitable and that the results were satisfactory on the first try."
Thus, he reduced his scanning time by at least 50 to 75%, while experiencing a smoother process. "Photogrammetry wouldn't have been a reasonable option in this case. The EinScan solution was the only way for me to get the job done," he added.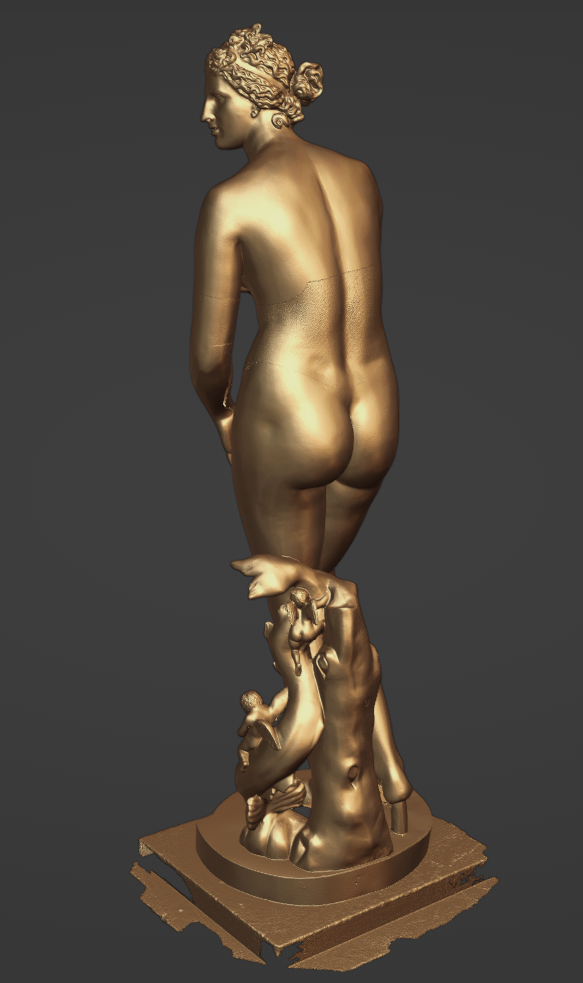 Conclusion
Joakim's business, nioform, thrives around building 3D objects from ideas and/or 3D scans. His past 3D scanning methods proved inefficient for several use cases and objects, such as the bronze sculptures.
With the SHINING 3D EinScan H, he no longer has to worry about object size, shape, or pattern. Plus, he saves a considerable amount of time that he can now use for additional projects.
Joakim is also keen to experiment with new ways to use his 3D scanner, namely face scanning with the eye-safe infrared mode. "The idea is to scan living subjects and reproduce them in clay using robotic milling, as a base for further sculpting by the artist."
We can't wait to see nioform's next projects! Stay tuned for more from Joakim at nioform.
If you feel that your current 3D capture processes are taking too much time and effort, feel free to reach out to us for a free demo. Our range of plug-and-play 3D scanners can help you streamline your work and let you focus on higher-value tasks.