Goldsmithing with the EinScan Pro 2x
When people first think of applications for 3D scanning, their minds jump straight into industrial applications, high-end metrology, and reverse engineering mechanical parts. These were the traditional applications for 3D scanning, but we have come a long way through the years. Modern 3D scanners such as the EinScan Pro 2X line have shown that they have a myriad of applications ranging from small at home hobbyist projects, all the way to high end reverse engineering. The EinScan Pro 2X line has brought down the entry costs for new users to get into 3D scanning and design, and as a result we are seeing a rise in creative applications for 3D scanning technologies. Applications that traditionally could not use 3D scanners due to costs have began adopting modern methods to improve their craft thanks to affordable 3D scanners. Schnider & Hammer AG is one such company and they're sharing with us an interesting project they were able to tackle using the EinScan Pro 2X.
About Schnider & Hammer AG
Founded in 1993, Schnider & Hammer have specialized in traditional goldsmithing for over 25 years but always had a curious interest in breaking down the barriers of the craft. From the very beginning they have worked with 3D design and rapid manufacturing tools to deliver quality products to their customers. They have created wonderfully expressive pieces of jewellery, such as the impressive Weissenstein collection but their hunger for creativity has led them to expand their traditional methods in search of something more. One of their dreams was to be able to create jewellery that mimics nature. The surfaces of trees, rocks, and other organic/naturally occurring shapes would make for unique pieces but implementing these designs using traditional methods proved to be too difficult. Simply put, the natural occurring shapes were too difficult to replicate by hand.
Selecting a 3D Scanner
After much deliberation Schnider & Hammer made the decision to purchase a 3D scanner. They were intrigued by the technology and knew that that a 3D scanner would be able to bridge the design gap they were currently facing. There were plenty of 3D scanners on the market, but they needed one to meet their specific requirements. The EinScan Pro 2X was exactly what they were looking for; a professional level 3D scanner with an attractive entry cost. To top it off, the EinScan Pro 2X was also extremely user friendly and allowed for a wide range of applications due to its multifunctional nature. It was the perfect tool for their application.
Using the EinScan Pro 2X
Their biggest challenge in using the EinScan was that their desired scan models were natural, meaning they were outdoors. All 3D scanners use light as their source, meaning that scanning outdoors is a huge challenge regardless of the scanner. They also needed a way to power the scanner outdoors as all scanners require an outside power source to operate. The EinScan's compatibility with a wireless battery meant that they were able to go outdoors using laptops and scan their objects, as long as there was sufficient shade on the surface of the areas they were scanning. The surface area of trees met this requirement as the leaves from the treetop provide enough shade for the scanner to work outdoors.
The scanner quickly gathers the data and within a handful of minutes the file can be exported out of the EinScan's software and into the desired 3D modelling software. The final scan model is rich in detail, capturing even the smallest of ridges in the tree bark's formation. This level of detail can only be created by nature and is exactly what Schnider & Hammer look to include in their jewellery collections. The scanned object keeps all of its character and can be readjusted and fit accordingly using design software. So much of what is recreated from nature loses that spark, the features that define it. 3D scanning provides a non-destructive way to recreate and digitize the world around us and a multi-functional 3D scanner like the EinScan Pro 2X takes it to the next level in usability and price.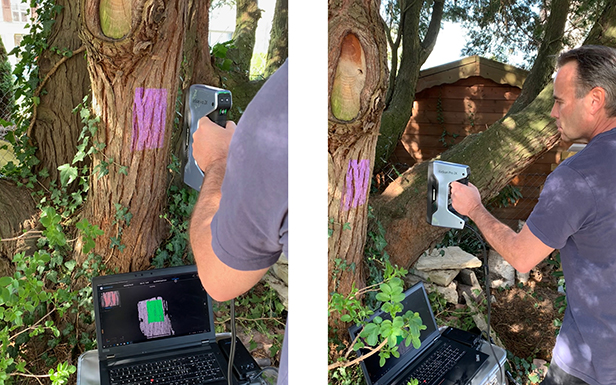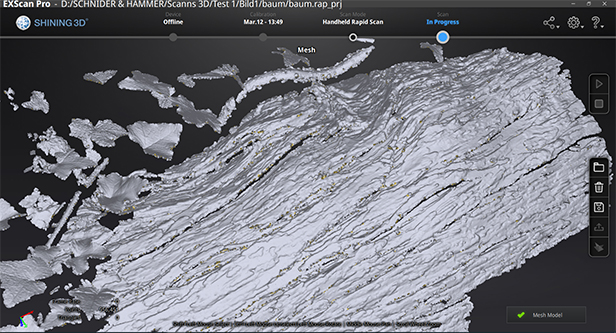 Scanned data in EXScan Pro software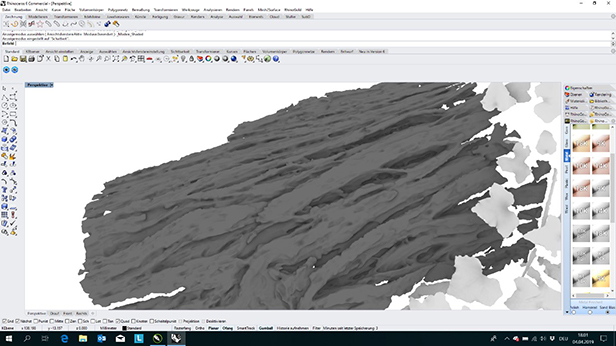 3D modeling in Rhino3D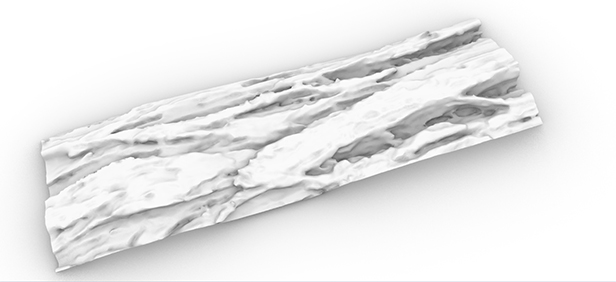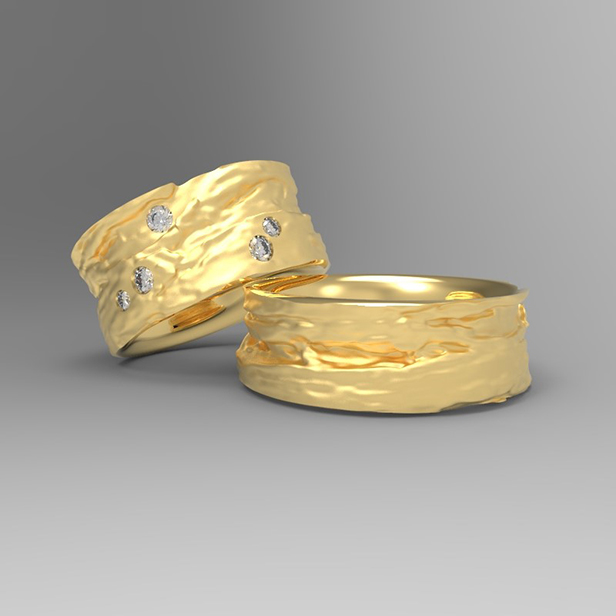 Rendering of the finished ring model
The completed 3D model is fit into the required shape of their project. This time they fit the tree bark into a ring, but the models can be fit into all different shapes and sizes. The completed part can then be manufactured using traditional means which help to keep the high-quality feel.
Summary
The EinScan Pro 2X line has brought down the entry costs for new users to get into 3D scanning and design, and as a result we are seeing a rise in creative applications for 3D scanning technologies. Traditional hand-crafted industries are quickly adopting 3D scanning and expanding their workflows. 3D digitization has never been more accessible than with the EinScan Pro 2X line of 3D scanners. For more information on 3D scanning applications, pricing, or just general information you can reach out to us directly via sales@shining3d.com