Vietnamese company LONG NHÂN fabricates all kinds of castings for industrial parts. They integrated SHINING 3D's EinScan Pro 2X 2020 for reverse engineering castings to speed up their workflow.
Company Name: CÔNG TY TNHH SẢN XUẤT VÀ THƯƠNG MẠI LONG NHÂN
Company Size: 20+ employees
Location: Vietnam
Product: Castings ranging from cooling fans to motorcycles and electric cars
Need(s): Faster casting design and production process
Solution: SHINING 3D EinScan Pro 2X 2020 multifunctional 3D scanner
Result(s):
Simplified 3D Data Acquisition
Enhanced Design Flexibility
Reduced Mold Production Time
Introduction
LONG NHÂN is a small Vietnamese company mainly engaged in designing, developing, producing, and selling castings. They design castings for products ranging from cooling fans to motorcycles and electric cars. The company uses the latest 3D scanning tools to scan these items and uses the 3D data to design and produce innovative products.
In reverse engineering, the ability to quickly and accurately capture 3D data is paramount. LONG NHÂN recently decided to integrate SHINING 3D's EinScan Pro 2X 2020 3D scanner into their workflow. It enables them to leverage the power of 3D scanning for reverse engineering and product design to accelerate production.
Using the EinScan Pro 2X 2020 to Reverse Engineer Castings
LONG NHÂN uses the EinScan Pro 2X 2020 to capture 3D data of existing castings, enabling them to engage in reverse engineering processes. By scanning the physical objects, their engineers can acquire accurate digital representations of the objects' geometries.
This allows for seamless integration into CAD software, where the engineers can efficiently refine and modify the scanned data to create the desired design.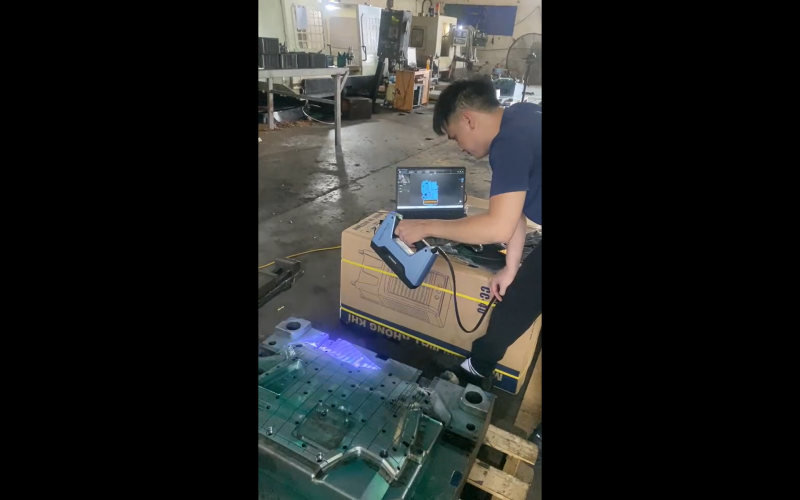 LONG NHÂN staff is scanning a large cooling fan part with EinScan Pro 2X 2020.
Advantages of 3D Scanning for Reverse Engineering Castings
To reverse engineer castings, the EinScan Pro 2X 2020 is a valuable ally on several levels.
Simplified, Efficient 3D Data Acquisition
The EinScan Pro 2X 2020 3D scanner provided LONG NHÂN with a more efficient method of obtaining 3D data than traditional techniques. Traditional, manual data acquisition on castings is challenging, not to mention time-consuming. Castings come in all sizes and usually feature unevenly curved surfaces.
However, with a 3D scanner, you can obtain 3D data in minutes. The EinScan Pro 2X 2020 is equipped with three scanning modes to cover small and large castings:
Fixed mode
Handheld HD mode
Handheld Rapid mode
*Want to choose the right scanner based on the size of the object? Click here to learn more.
In fixed mode, the EinScan Pro 2X 2020 can achieve an accuracy of 0.04mm. This mode is ideal to render highly accurate 3D models of the castings. It's best for small to medium sized castings to be scanned with turntable automatically.
Scanning example: Using the fixed mode.
With the handheld HD mode, the LONG NHÂN team can capture fine, intricate details of the castings in high resolution.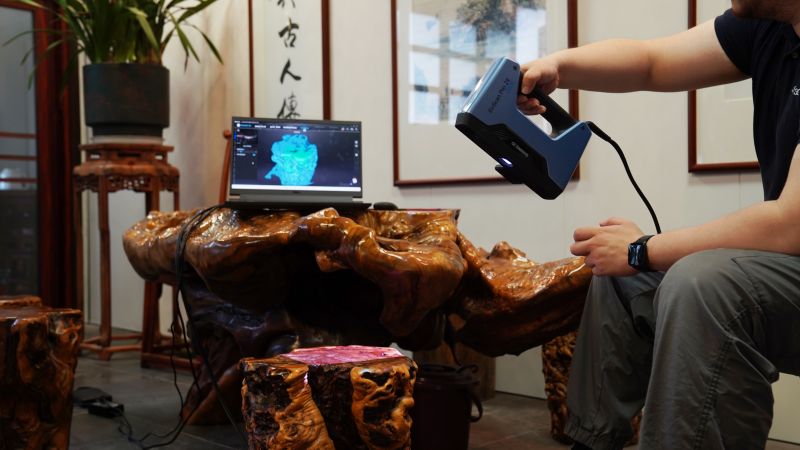 Scanning example: Using the handheld HD mode.
The handheld rapid mode can achieve a scanning speed of up to 1,500,000 points/s. It's the most efficient option for larger castings.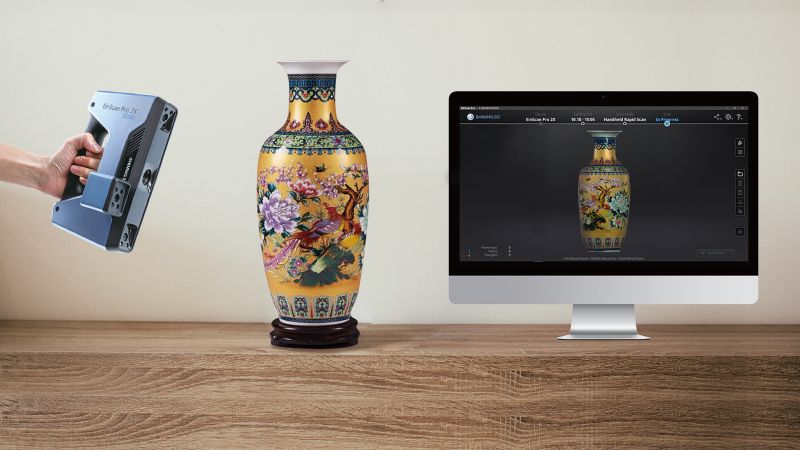 Scanning example: Using the handheld rapid mode.
Different modes can be used on different areas of a same casting, too. For example, the LONG NHÂN team can first use the handheld rapid mode to quickly scan large castings. Then, for zones with more intricate details, they can use the handheld HD mode.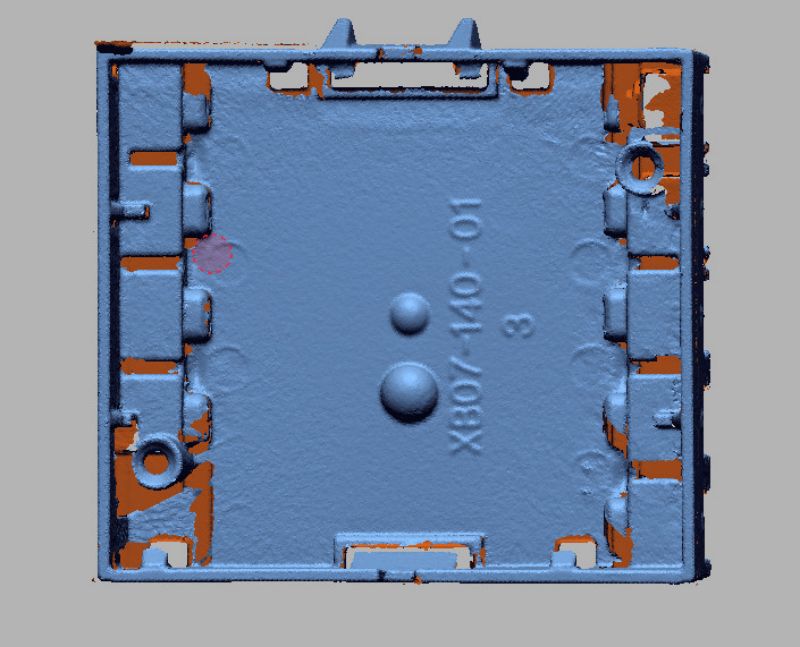 Scanned data of a casting with a high level of detail.
Enhanced Design Flexibility
By utilizing the scanned 3D data in CAD software, LONG NHÂN's engineers can freely explore design modifications and improvements. The digital representation of the object allows for precise measurements and easy manipulation.
The LONG NHÂN design team is now empowered to optimize the products' aesthetics, functionality, and performance. This flexibility enables the company to deliver superior products that meet their customers' evolving needs.
LONG NHÂN staff reverse engineering castings to redesign them based on the 3D scanned data.
Reduced Mold Production Time
LONG NHÂN experienced a significant reduction in mold production time after implementing the EinScan Pro 2X 2020 solution. The traditional method of mold production is generally plaster mold casting, which is time-consuming and labor-intensive.
With their 3D scanner, LONG NHÂN engineers can quickly capture 3D data and expedite their design iterations. This leads to faster turnaround times and increased productivity. Currently, the production time for small and uncomplicated castings to create the mold is reduced to a mere 1-2 hours.
Similarly, even for large castings encompassing intricate details, the mold fabrication process can be accomplished within a single day.
Conclusion
Integrating the EinScan Pro 2X 2020 3D scanner has been instrumental for LONG NHÂN. It has enabled the team to simplify 3D data acquisition, gain design flexibility, and reduce their mold production times.
The scanner's accurate measurements and geometries enable seamless integration into CAD software, empowering engineers to optimize product design iteration. Its three scanning modes cater to different casting sizes and surface complexities, resulting in superior products and faster turnaround times.
If you're reverse engineering castings the traditional way, the EinScan series may help speed up your workflow! Feel free to reach out for more information or a custom recommendation.