CP Tech is unique, offering a blend of technical excellence, passion and performance that is unrivalled in the motorsport industry. With a proven track record taken from more than 20 years of experience CP Tech has an established customer base in motorsports, automotive and future mobility. Engineering excellence, innovation and design flair is instilled into everything they do, from powertrain and chassis design, driving dynamics up to production and final manufacture. CP Tech can focus on the design and development of a single component, or employ the full capability of its engineering specialists to take concepts through to the final completion of customer requirements in prototype or even small series.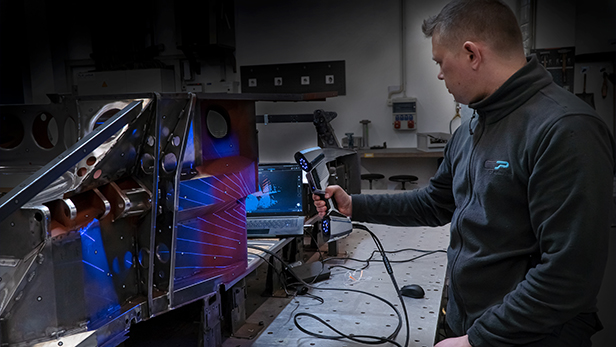 A very special customer of CP Tech is Sautter Historic Racing. The company has dedicated itself to the construction and restoration of historic vehicles, prestigious brands such as Bizzarrini, Ford GT40 or Austin Healey, as well as support in motorsports. They are well-known in the racing scene as Gotcha Historic Racing Team. For several decades CP Tech and Sautter Historic Racing have been working together to bring the icons of historic motorsports to today´s race tracks. With SHINING 3D and Verisurf, they have found partners who are paving their path to even more authentic, precise and powerful replicas by means of groundbreaking technological innovation in 3D scanning, digital inspection and reverse engineering.
Back to Le Mans of the 1960s: bringing the Ford GT40 to life
The Ford GT40 is bursting with motorsports history and prestige. The legendary battle between Ferrari and Ford at the Le Mans 24 hours endurance classic will never be forgotten and can still be relived today in numerous documentaries and films. From 1966 to 1969 the Ford GT40 dominated the motorsports world. The name is derived from the Gran Turismo class and the total height of 40 inches. CP Tech and Sautter Historic Racing bring this icon to historic racing in the 21st century.
Together with SHINING 3D and Verisurf, an original Ford GT40 can be measured entirely in order to create an authentic replica with the latest production technologies and manufacturing processes.
Back to the future: 3D Scanning the GT40 frame with the FreeScan UE & Inspection and Reverse Engineering with Verisurf
The FreeScan UE 11 is the latest handheld laser 3D scanner from SHINING 3D. It is the ideal companion to precisely digitize reflective metal parts and thus is the perfect fit to capture the frame of the historic Ford GT40.  First of all, reference points are applied all over the frame of the GT40. These are needed for the 3D scanner to be able to recognize the surface to be scanned. The reference points on the frame were recorded in the first place, optimized and then laser scanned with the FreeScan UE with a resolution of 0,8 mm. By doing so many details can be captured: all those small drill holes, the attachments, the sheets, all these relevant things that need to be achieved in 3D. Later on, the scan data is imported automatically from the SHINING 3D scanning software into the Verisurf software. In Verisurf, the data is inspected and a best fit comparison is conducted in order to how precisely the frame has been captured by the FreeScan UE. Another important aspect is the integration of parts, with initially unavailable CAD data, into the CAD data set. This is accomplished by means of Reverse engineering. FreeScan UE and Verisurf are the perfect match for high precision 3D Scanning, Reverse Engineering and Inspection.
The special thing about the FreeScan UE and Verisurf is, that the scan data can be imported from the SHINING 3D software directly without the need of using an interface, which is a tremendous advantage when working with different 3D digital technologies. In this project, the brand-new software package, the Offline Scan Data Suite 2021 Edition, which has been specifically developed for the scanner market, in order to provide full functionality from Reverse Engineering, through Reconstruction to Quality Control to the customer was used.
The professional all in one solution from SHINING 3D and Verisurf
About Verisurf
Verisurf Software, Inc. is a measurement solutions company committed to delivering advanced surface analysis, quality inspection, assembly guidance, and reverse engineering.  Verisurf products and processes are vital to maintaining a digital thread between design, engineering, manufacturing, and finished part validation.  Based on a powerful CAD platform, Verisurf is committed to digital Model-Based Definition (MBD), open standards, and interoperability with all coordinate measuring machines and CAD software. Verisurf solutions help manufacturers produce higher quality products in less time. For more information about Verisurf, visit www.verisurf.com.
About SHINING 3D
Since its foundation in 2004, SHINING 3D has been pioneering in independent research and development of technologies for 3D digitization, inspection and digital dentistry; SHINING 3D holds over 300 patents and more than 100 copyrights in these areas. As one of the market leaders, SHINING 3D offers mass-produced 3D products, advanced digital 3D technologies and comprehensive service for its customers operating worldwide. SHINING 3D has set itself the goal of offering efficient and accessible 3D scanners and 3D printers, enabling flexible production for very powerful, complex structures and making 3D digitization technologies accessible for everyone.