– Name: Kanagawa Rehabilitation Center
– Location: Japan
– Need(s): More efficient customization of assistive devices
– Solution(s): EinScan H, Raise 3D Pro 2
– Result(s):
● Simplifies the process of replicating assistive devices without burdening the patient
● Reduces assistive devices manufacturing time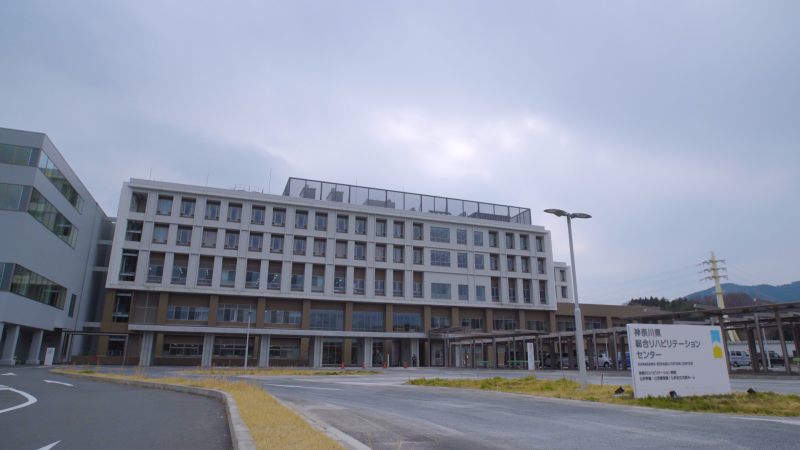 The Kanagawa Rehabilitation Center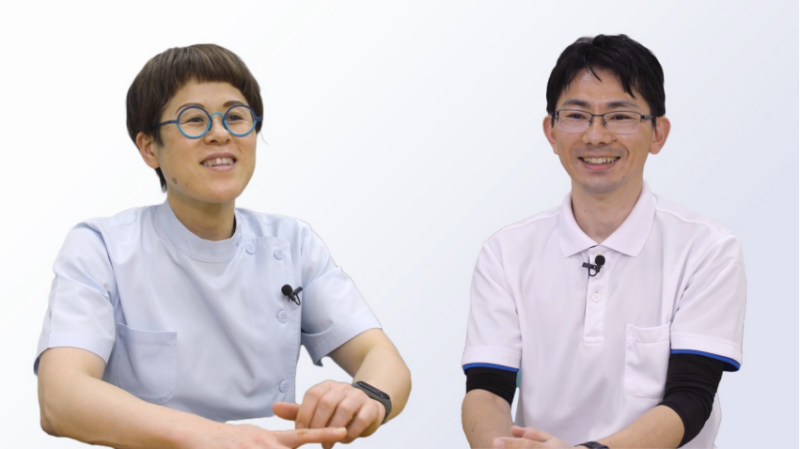 Occupational therapist Ms Aiko Ichiki and rehabilitation engineer Mr Kenta Matsuda
Project Background
The Kanagawa Rehabilitation Center was established in Atsugi City in 1973. This facility, offering comprehensive rehabilitiation, supports the local prefecture's medical and welfare endeavors. Together, they have supported the social reintegration of more than 90,000 patients.
To improve the quality of care and assistance they provide to people with disabilities, the Kanagawa Rehabilitation Center adopted more modern technology. They opted for SHINING 3D's EinScan H and Raise 3D's Pro 2 3D printer. The goal was to create custom-fit assistive devices, also called assistive technology, to meet each patient's unique needs.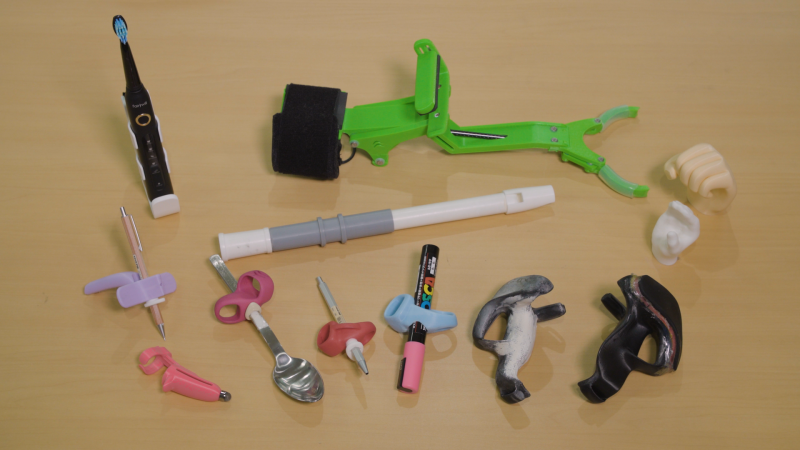 A few examples of 3D printed assistive devices
Challenges with traditional assistive device fabrication
Before introducing the 3D scanner and 3D printer to their workflow, the Kanagawa Rehabilitation team encountered two main challenges.
On one hand, reproducing intricate designs with tailored measurements was difficult.
"When we receive a request from a patient saying, 'My assistive device is broken, please make the same one,' it is very difficult to make the same handmade assistive device even experienced therapists cannot make the same one. The more individualized the item, the more time it takes to manufacture. We had a desire to somehow solve that challenge" occupational therapist Ms Ichiki explained.
On the other hand children often faced discomfort and difficulty keeping still during traditional plaster moulding. Even some adult patients are anxious during plaster immobilization.
3D printing assistive devices with the help of 3D scanning
Implementing the 3D scanner and printer brought several notable benefits to the Kanagawa Rehabilitation Center.
Firstly, accurate 3D scans of patient body parts and assistive devices greatly simplifies the process of replicating assistive devices. 3D scanners can capture much more data (and more accurately) than manual measurements. because of the increased availability of data. With an accuracy of 0.05 mm and a volumetric accuracy of 0.1 mm/m, the EinScan H generates dense point clouds or polygon meshes. Making modifications or designs on an accurate 3D model makes trial and error easy.
Secondly, 3D scanning allows for comfortable, non-contact measurements of the patients. The EinScan H, hybrid handheld 3d scanner, uses white LED light, and also infrared light, which is invisible to the human eye. With its scanning speed of up to 1.2 million points per second and a large, 420*440mm FOV (field of view), the EinScan H captures body parts in no time.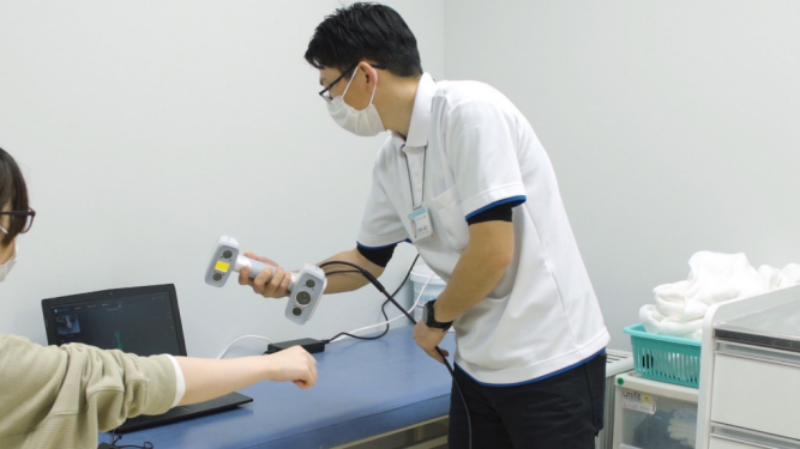 Scanning a patient's arm using the EinScan H 3D scanner
The software also boasts an optimized alignment algorithm, which automatically compensates slight movements.Thanks to the scanner's built-in color camera, the resulting scans are reliable and, in photorealistic color.
Lastly, by using design software and 3D printers, the Kanegawa Rehabilitation Center can reduce the fabrication time. 3D printing assistive devices in-house ensures faster relief for the patients and more flexibility for design iterations.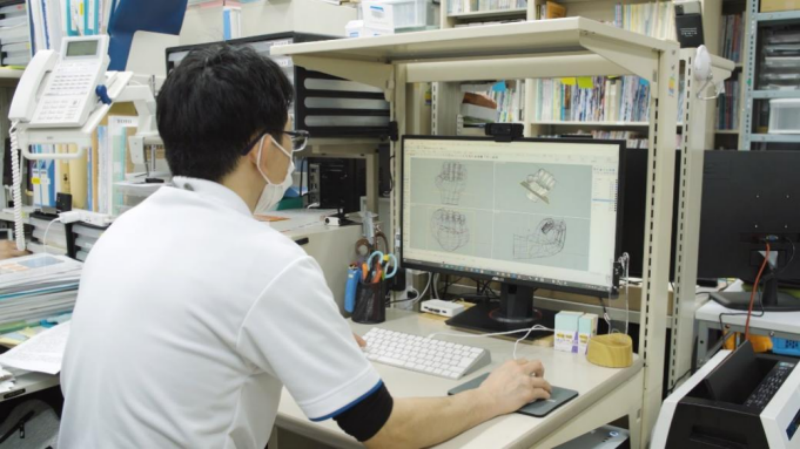 Engineer Mr Kenta Matsuda is designing in software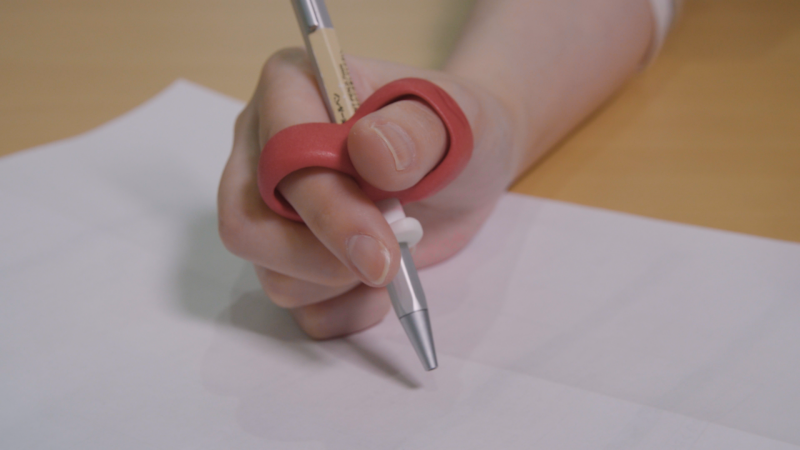 3D printed assistive device mounted on pen
Conclusion
By integrating 3D scanning and 3D printing to their workflows, the Kanagawa Rehabilitation Center was able to address its pain points. Traditional assistive technology fabrication involved lengthy processes for the technicians and sometimes discomfort for the patients, especially children.
3D scanning with the EinScan H enabled the team to provide a more enjoyable experience for both sides, all while providing much more data than traditional, manual measurements. 3D printing the assistive devices offered more flexibility in terms of rapid prototyping and enabled patients to receive their devices more quickly.
Leveraging both of these cutting-edge technologies is helping the Kanagawa Rehabilitation Center in its mission to provide personalized, effective assistive devices.
Do you think 3D scanning and 3D printing can help your medical center? Feel free to reach out to our team for advice or find out more about the EinScan H.
*SHINING 3D will soon make a major update to EinScan H. Please stay tuned!