Project Background
With over 35 years of business experience and an extensive history working on Ferrari vehicles, Italian Design and Racing, based in Mesa, Arizona, is a custom fabrication and restoration company that specializes in Italian exotic cars. Their engineering team is using the EinScan HX Handheld 3D scanner to preserve a vintage racing car body which was placed on a more modern Ferrari chassis.
Chris Carpenter, lead technology engineer, talked about his experience with 3D technology and how the hybrid light source 3D scanner completely changed their workflow.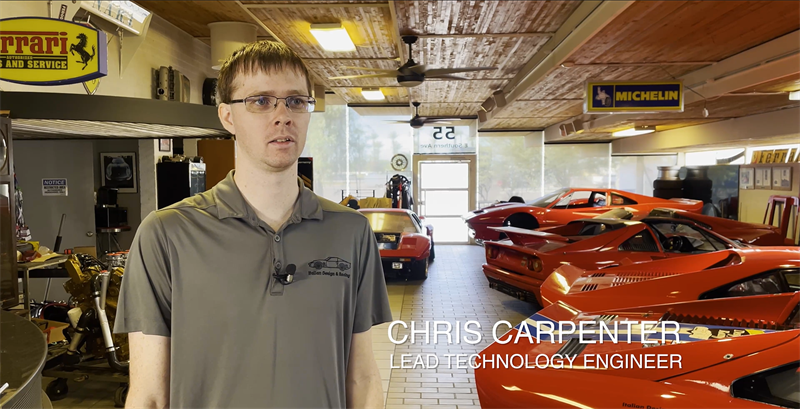 The lead technology engineer, Chris Carpenter
After a crash destroyed the original Ferrari 750 Monza Spyder body, an aspiring young car builder, Peter Monteverdi (a Swiss car maker and creator of the car brand Montiverdi) designed the first gullwinged door body to be used on a Ferrari chassis, which at the time was built by Sauter out of Switzerland in 1957.
The gullwing body had been kept by private collectors off of its original chassis. "We're looking to restore the car body", Carpenter said, "We've adapted a more modern Ferrari chassis and drive train to restore its bespoke look." Therefore, the EinScan HX Handheld 3D scanner was a natural part of the project.
What Restorers Do with a 3D Scanner
Restorers not only need to scan the body and chassis to find the right installation point, but also need to scan various sizes and shapes of parts. Even a small error or misalignment can skew the assembly of the doors and chassis.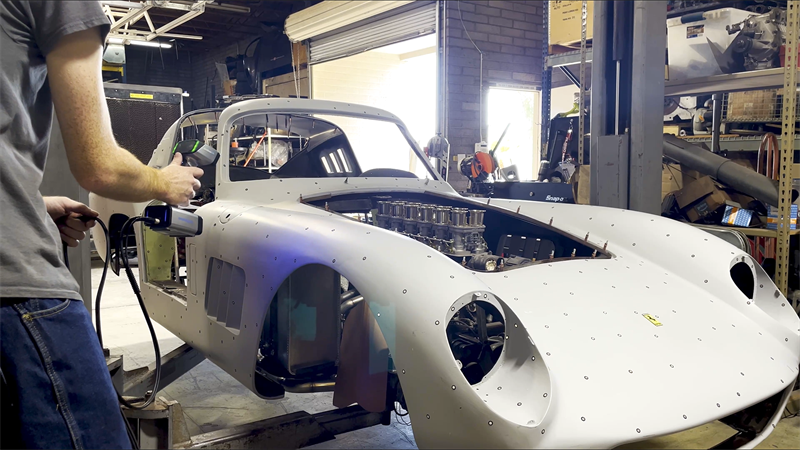 Scanning the car body with markers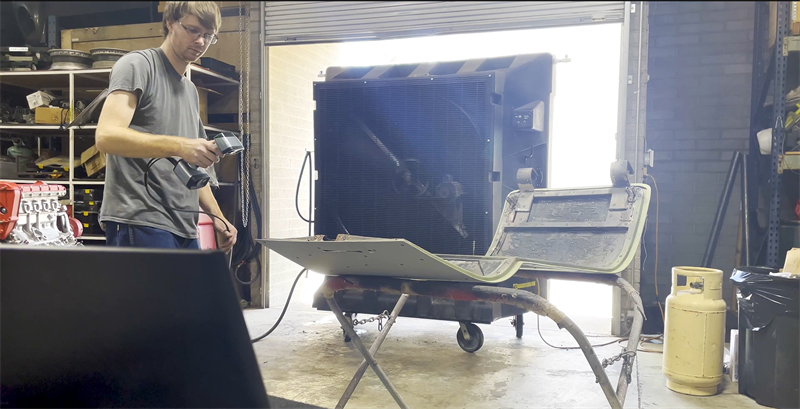 Scanning the gull wing door
Advantages of Hybrid Light Source 3D Scanner
Since the EinScan HX Handheld 3D scanner can scan by features or markers, it has the flexibility to scan objects of any size. "The EinScan HX can use both laser and structured light, which helps us solve a variety of different types of projects and also helps us speed up our design work", Carpenter said.
The laser is less sensitive to ambient light and performs better on reflective surfaces such as body panels, while the blue LED light allows for a rapid scan mode, quickly providing more interior and engine compartment data to test fit parts and better understand the clearance of custom parts. The combination of two light sources saves working time and improves efficiency.
Significance of 3D Scanning Results
The scanning data will have long-term consequences for the field of racing car restoration. The scans can be used by fabricators as a reference to assist in recreating the car's original shape, saving time and resources in the event of damage done to the vehicle. It may also be used for additive manufacturing, through reverse design and 3D printing to make parts that are no longer in production or hard to find.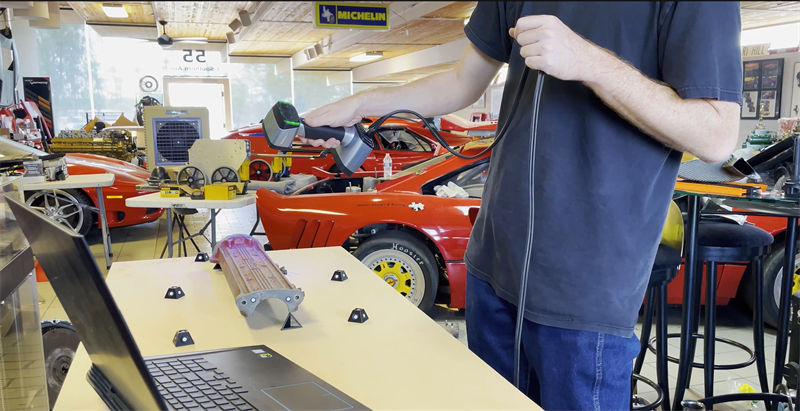 Scanning a car part of Ferrari
Click here to find out more about 3D scanners in the automotive field.