Swedish artist Lisa Jonasson turned to nioform for digital sculpture enlargement. She needed to replicate her sculptures at about twice their size for a children's playground. Nioform used its EinScan H to 3D scan the originals and make upscaled, styrofoam models. These models were then cast and molded in aluminum at a local foundry.
Name: nioform
Company size: Individual business
Location: Mariestad, Sweden
Product or service: Robotic milling for artists, architects, and designers
Need: Accurate solution to digitally enlarge handmade sculptures
Solution: SHINING 3D EinScan H
Results: Fast and accurate model enlargement
Introduction
Joakim is a resourceful maker from Sweden who runs his own milling and modeling business, nioform. He physically reproduces his client's ideas with the help of industrial robots and other digital tools. A few months ago, Joakim purchased an EinScan H to upgrade his 3D scanning services.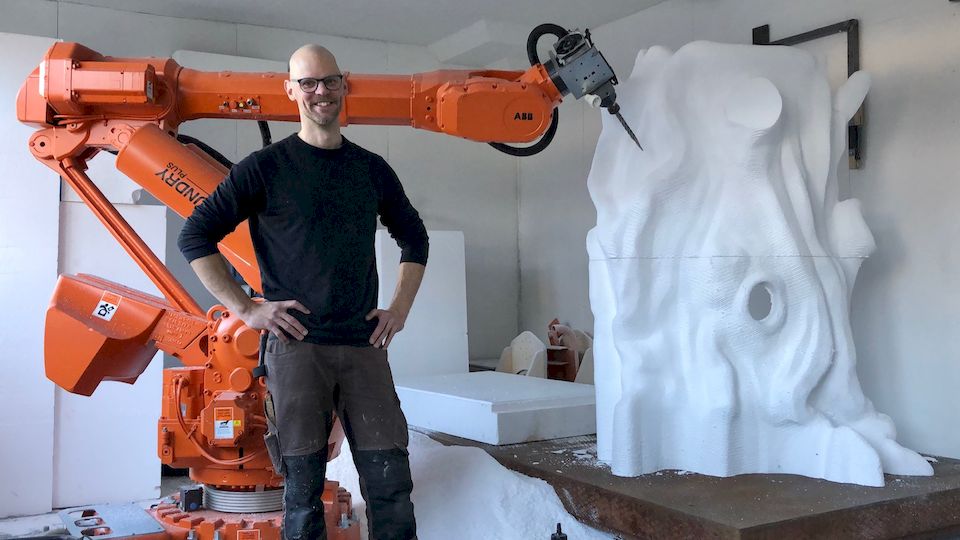 One of his first projects with the EinScan H involved 3D scanning large bronze sculptures for a digital archiving application. He was able to go about 50 to 75% faster with his new 3D scanner and was pleased to receive real-time 3D scanning feedback on the job.
Joakim now shares another side of his business with us: digital sculpture enlargement. Digital sculpture enlargement consists of creating accurate, larger replicas of original sculptures.
Colorful and talented artist Lisa Jonasson turned to nioform to digitally enlarge two of her sculptures. They were both under 2 meters high, and the goal was to manufacture them in aluminum in double the size. The replicas were to be installed on a local children's playground.
These are the two sculptures that Lisa needed to replicate: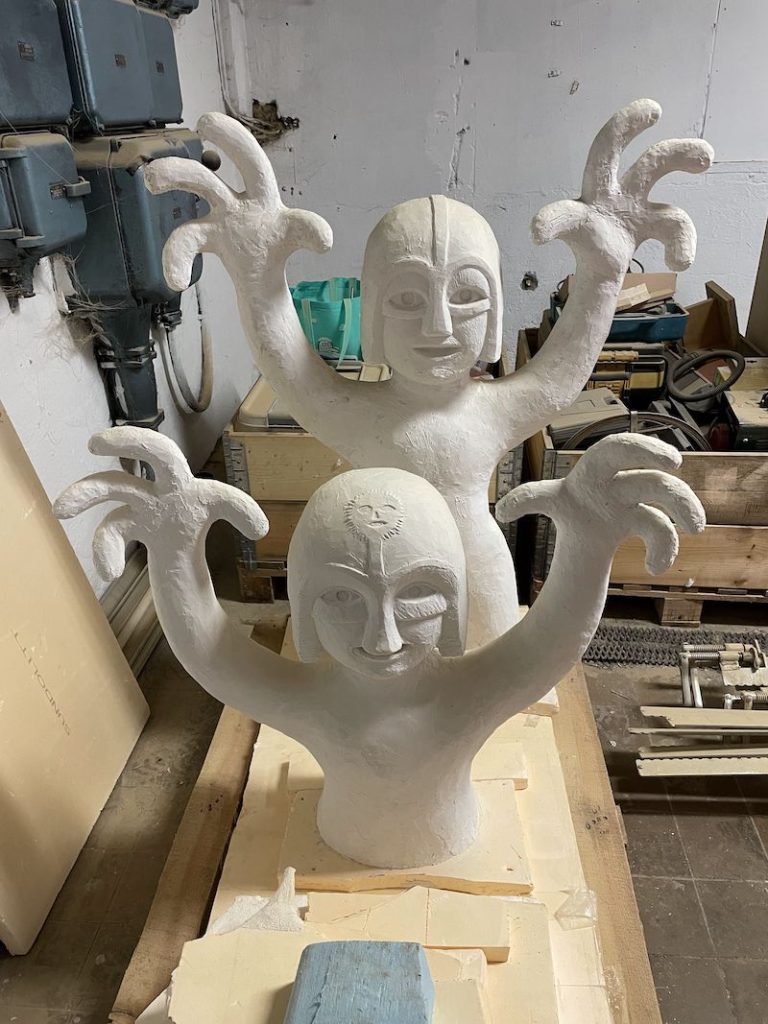 Digital sculpture enlargement: balancing detail and production time
Lisa Jonasson's art (visit her Artsy page to explore her work) often contains many small, intricate details. It's a big part of what makes her work so unique.
In this case, the plaster-like sculptures wore each manual flick of Lisa's chisels and rifflers – lovely, crafty details that Lisa did not want to lose in the enlargement process. "Her wish was to transfer as much possible detail to the reproduction as possible, within a reasonable budget," Joakim said.
The sculptures' faces bear the most details: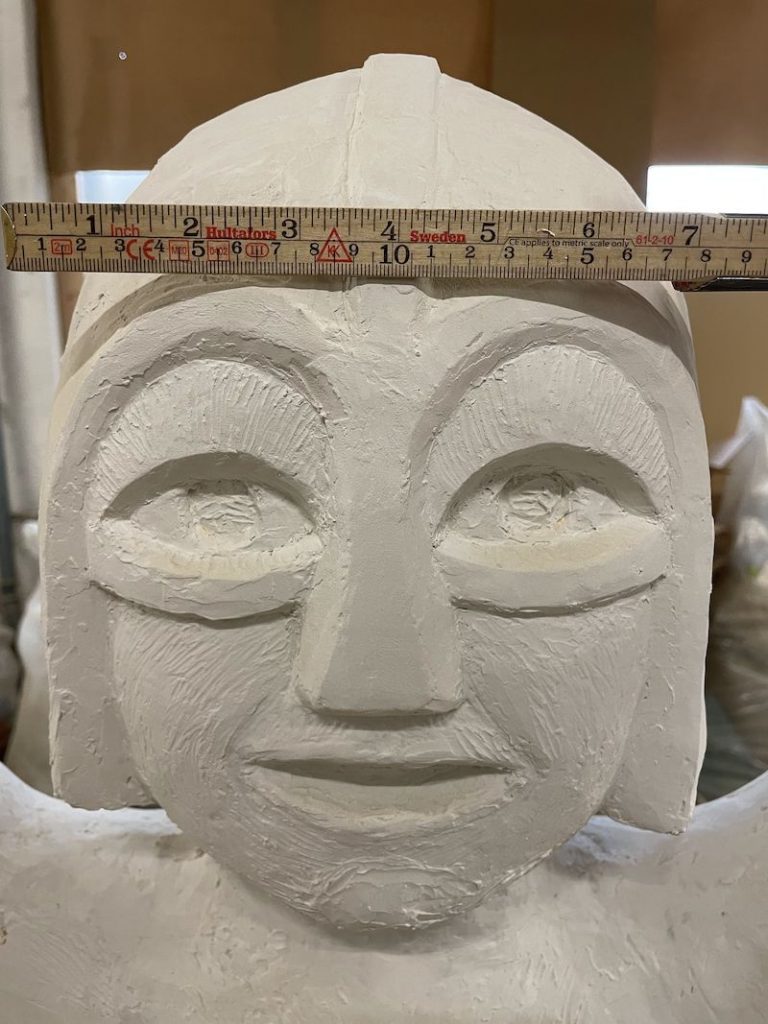 The more details the CNC robot must draw, and the smaller and trickier the movements must be, the more time it will take. Of course, the more time involved, the heftier the invoice. Hence, the challenge here was to find a cost-effective 3D model resolution.
Plus, "there is a limit to what resolution is possible depending on the size of the milling bits and, sometimes, on the material," explained Joakim.
He used a D16 (8-mm radius) ball nose bit at 3-mm stepping for most of the CNC milling. For the more detailed areas like the sculptures' faces, he used a smaller, D3 bit (1.5-mm radius).
"Styrofoam can't really hold much more detail than that. There's no point in scanning at the highest resolution if the manufacturing process won't carry all that information through," he added.
Enlarging the sculptures with the help of the EinScan H
Joakim got the portable EinScan H to replace his old DAVID 3D scanner, an outdated, stationary solution. He still uses his traditional photogrammetry setup for some projects, but this technology doesn't work well on monochrome objects like Lisa's sculptures.
Thus, the EinScan H was a great alternative once again (read about the previous situation in nioform's large bronze sculpture case study).
This handheld 3D scanner offers an accuracy of up to 0.05mm, and a maximum point distance – i.e., resolution – of 0.25mm. Joakim set his EinScan H's resolution to 0.5mm for this project. He figured that it was a good balance between level of detail and poly count.
It took Joakim about three hours to 3D scan both statues for their digital enlargement. With a 0.5mm point-to-point distance, he was able to translate the general essence and the statues' expression into the larger, styrofoam copies.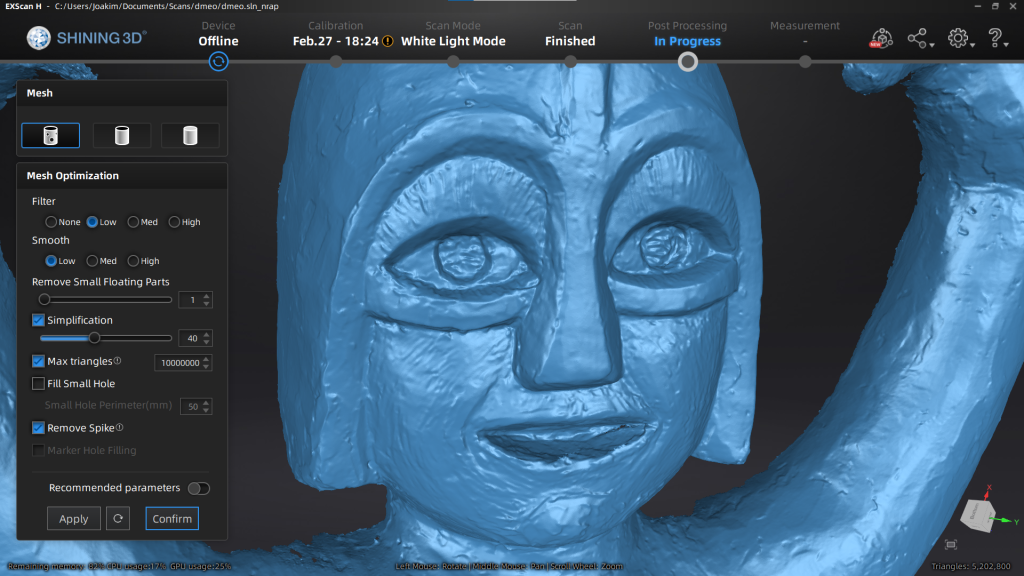 In addition, these replicas were meant to be worked on manually before the final casting and molding stage: "It's mostly a matter of giving it a personal touch with some handmade traces, and removing some of that 'computed' look it could otherwise radiate. My job is just to help the artist get to that chapter faster," he commented.
After post-processing the 3D scans with SHINING 3D's proprietary EXScan software, Joakim exported them to Blender and Rhino3D for finetuning. He then ran them through SprutCAM to produce the right file format for manufacturing.
His CNC milling robot worked for around 7 hours to carve both statues. The replicas look just as great and cheerful as the smaller originals: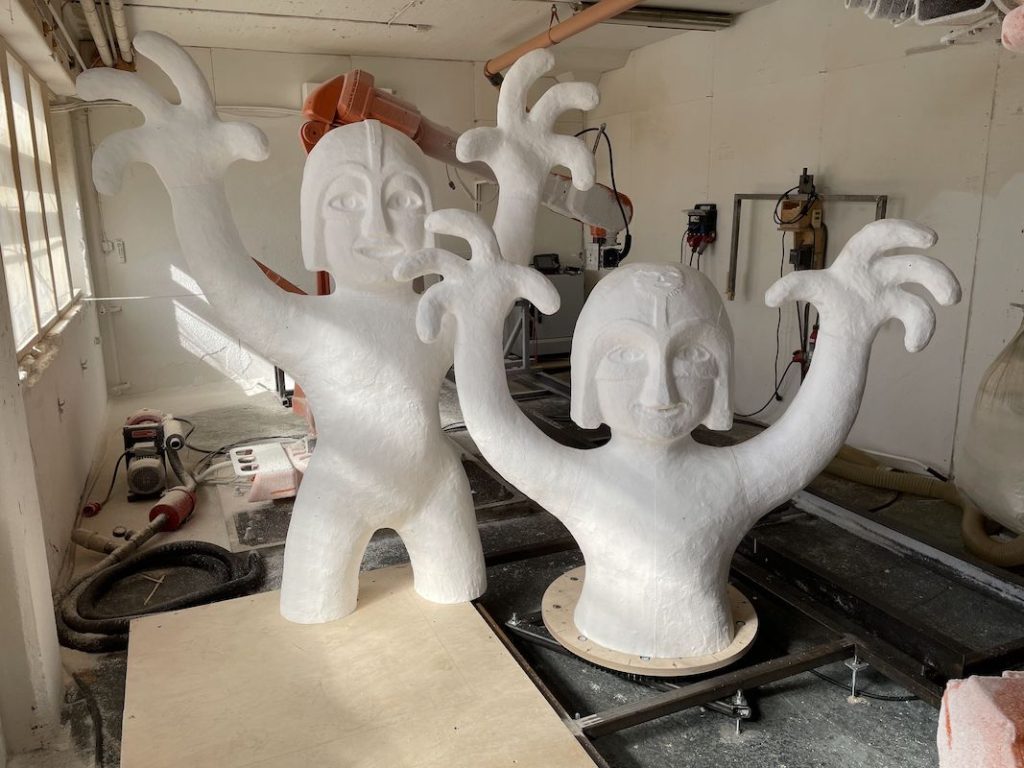 Once Joakim was done manufacturing the styrofoam sculpture enlargements, he sent them away to the local aluminum foundry.
Conclusion
While accuracy and resolution are important specifications to consider when choosing a 3D scanner, they aren't always essential. In this digital sculpture enlargement case, Joakim chose a cost-effective resolution for his client.
"I have no doubt that the EinScan will meet my varying accuracy requirements for many years to come. Together with photogrammetry, for scanning buildings and landscapes, I consider my scanning toolbox to be complete," he concluded.
We're glad that the EinScan H can be of help for such artistic projects all around the world. If you're interested in using 3D scanning for digital enlargement, feel free to reach out to our friendly experts. We'll gladly set up a demo and help you determine if our 3D scanners are right for you.