Anton de Wit offers 3D scanning, reverse engineering, and mechanical design services in the Netherlands. In this article, he provides a peek at his work and at his SHINING 3D scanner ROI for the EinScan Pro 2X Plus and EinScan HX.
Name: de Wit 3D Engineering
Size: Individual business
Location: Schijndel, Netherlands
Services: 3D scanning, reverse engineering, and mechanical design
Needs:

Upgrade from an obsolete 3D scanning solution
Acquire an additional 3D scanner for larger parts

Solutions: SHINING 3D EinScan HX and EinScan Pro 2X Plus
Results:

ROI in under 1 year for the EinScan Pro 2X
ROI in under 2 years for the EinScan HX
Introduction
Anton de Wit operates de Wit 3D Engineering in the Netherlands. He specializes in mechanical design (about 70% of his activity) and reverse engineering (the remaining 30% of his time). Around 2013, he started exploring the potential of 3D printing as a faster and easier way to fix broken parts.
It was a leap forward compared to traditional fabrication methods and delays, but significant time and effort were of course still needed to produce accurate 3D models. After a while, Anton started looking into 3D scanning and purchased a second-hand DAVID SLS2 scanner.
For years, Anton somewhat struggled with this initial 3D scanning solution, which lacked user-friendliness and presented limitations.
"It is a nice scanner, but not very easy to use," he said. (A familiar feeling that Joakim from Swedish company nioform mentioned in his story about 3D scanning large, bronze sculptures.)
As his business grew, he sought more efficient ways to capture 3D data.
Opting for SHINING 3D EinScan scanners
Anton chose to upgrade his setup with the SHINING 3D EinScan Pro 2X Plus and an automatic turntable, and has scanned hundreds of parts with it over the years.
This handheld structured light 3D scanner is a popular choice for engineers and designers. It proved to be an efficient and helpful tool for Anton's professional needs as well.
However, while it was a great fit for small to medium-sized parts, it was not the case for larger parts. Anton decided to purchase another 3D scanner from the EinScan series to fill in the gap.
"For bigger parts, I bought the HX scanner. I am very pleased with the SHINING 3D scanners because they are very easy to use and you get high-grade professional results," he added.
The EinScan HX 3D scanner is indeed more suitable for larger objects, with its scan size recommendation starting at 30cm (versus 3cm for the EinScan 2X Plus). It also offers greater versatility as a two-in-one 3D scanner: structured LED light for fast scans, and blue laser technology for intricate details and trickier surfaces.
Anton's 3D capture toolkit also includes a FARO Gage Plus and a MicroScribe, both portable robotic CMM arms. He also uses a Mantis F6 Smart to scan larger-scale environments like industrial conveyor belts.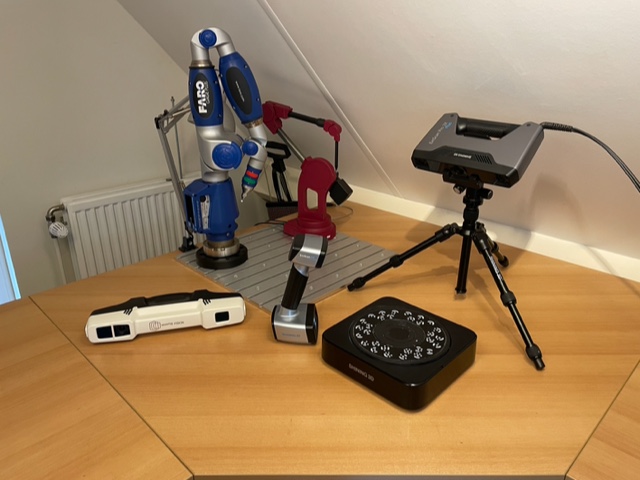 SHINING 3D scanner ROI: quick and effective

With his two SHINING 3D scanners, Anton has already carried out numerous projects: "I scanned the complete diff of a Bugatti EB110, the exhaust of a McLaren MP720, and a whole lot in between."
When asked what his SHINING 3D scanner ROI looks like after all these jobs, Anton expressed that he can't pinpoint an exact number or link his ROI to one particular job. "But," he continued, "30% of my business exists because I have 3D scanners and I know how to use them."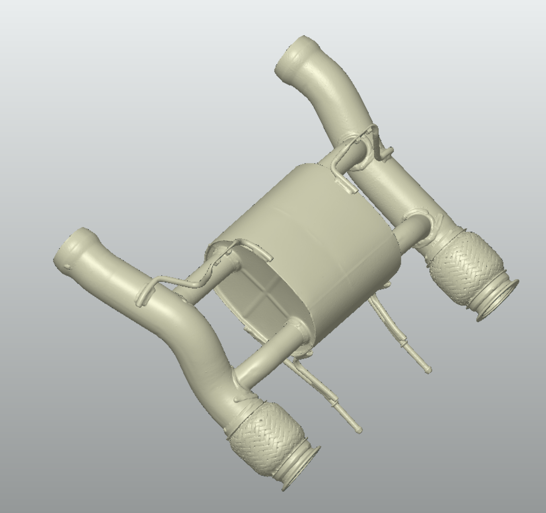 He estimates that he broke even with his EinScan 2X Plus in under a year, and for the EinScan HX, it took him about a year and a half to two years. This seems like a reasonable ROI for a service that makes up a third of his activity.

Anton's preferred reverse engineering and CAD software options
For 3D design after the 3D scanning process, Anton started out using the Xtract3D add-in for SolidWorks. He states that it's a good basic reverse engineering option at an affordable price.
When the parts in his projects became more complex in terms of geometry, he decided to purchase QuickSurface software and the Mesh2Surface SolidWorks add-in.
Anton explains that Mesh2Surface combines "the best of a reverse engineering tool in a strong CAD environment."
He described his 3D-scan-to-CAD workflow in a case study published on Mesh2Surface, about "bringing class cars to life". For that project, he 3D scanned and completely recreated the damaged, vintage part.
Using this add-in with SolidWorks is convenient for him. SolidWorks is a popular solution in his country, the Netherlands, so he can easily exchange native CAD files with his clients. For really complex shapes, he uses QuickSurface.
QuickSurface is included in SHINING 3D's reverse engineering bundle, offering a smooth scan-to-CAD workflow
Examples of de Wit 3D Engineering's work
Anton kindly shared a few of his projects with us to show what kind of results you can obtain by using 3D scanning and CAD software.
For instance, he recreated an old Peugeot truck's logo. Dating back to the 1930s, more or less, the logo was broken. He scanned the original part and was able to recreate it as new.
He used the EinScan Pro 2X Plus and a turntable for this project, as well as for a job involving the wheel hub on a Lancia HF Integrale rally car: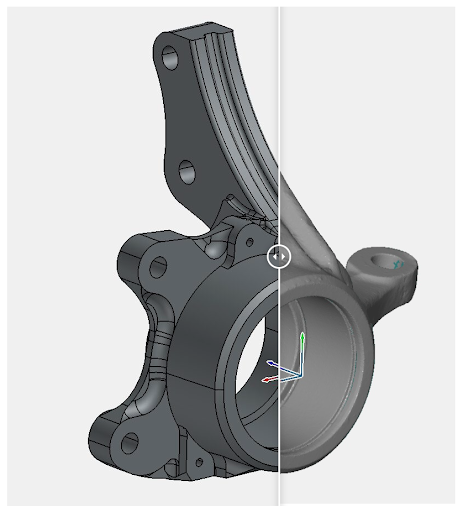 As for examples from the EinScan HX, Anton brought up this air box for a dirt bike. He 3D scanned the bike in Rapid scan mode, and 3D printed the new parts in TPU.
To see more of his reverse engineering examples, you can visit the de Wit 3D Engineering website.
Conclusion
After several years with the same tools, Anton de Wit needed to streamline his workflow with more intuitive solutions. He first opted for the EinScan Pro 2X Plus and, satisfied with the results, purchased a second SHINING 3D scanner, the hybrid EinScan HX.
He achieved his SHINING 3D scanner ROI in under one year for the Pro 2X Plus, and under two years for the HX. We look forward to seeing more of de Wit 3D Engineering's projects.
Are you in the market for a handheld 3D scanner? Feel free to reach out for guidance from our team, who can help you find the best fit for your needs and budget.
You can also use our Product Selector – by indicating your use case, preferred resolution and accuracy requirements, and industry, you can get an instant recommendation. (No email or sign-up required.)